Welcome to Didim, Turkey! A hidden gem on the Aegean coast, this town offers a unique blend of ancient history, stunning beaches, and thrilling activities. Discover the top 15 things to do in Didim that guarantee an unforgettable travel experience.
1) Visit Didyma
Credit: Source link
Didyma is an impressive archaeological site located in Didim. As the ancient Greek sanctuary, it is home to the Temple of Apollo, known for its famed oracle. Wander around the extensive ruins and marvel at the once magnificent temple. The stone columns and intricacies of the structure will transport you back in time, making you feel a part of its long-gone eras. No visit to Didim is complete without experiencing the aura of this historical wonder.
2) Relax at Altinkum Beach
Credit: Source link
Named after its golden sands (Altinkum translates to 'golden sand'), Altinkum Beach is a popular destination for locals and tourists alike. The beach is blessed with clear, warm waters that invite a refreshing dip. If you prefer, you can also simply unwind on the beach, soak up the sun, and enjoy the idyllic view. Beachside restaurants and cafes make it easy to spend an entire day here, and you might even get to witness a mesmerizing sunset over the Aegean Sea.
3) Discover Miletus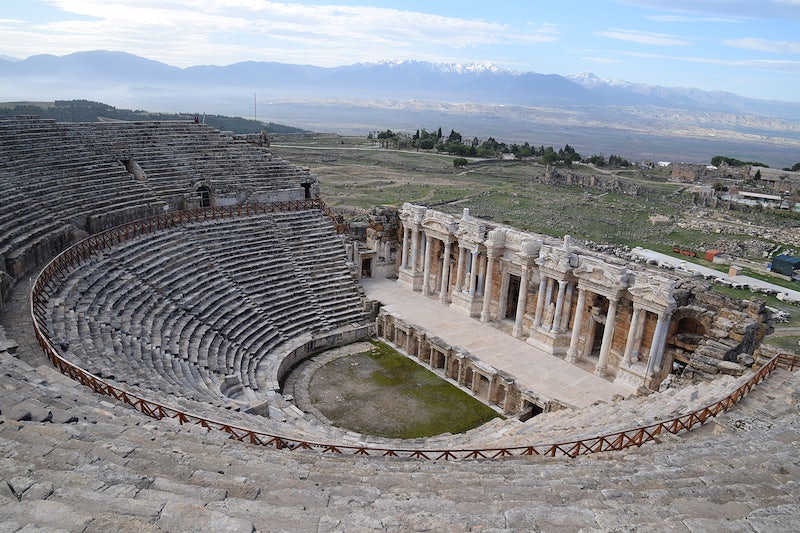 The ancient city of Miletus holds an important place in history. It was once a prominent city in the Hellenistic and Roman periods, and today, its ruins stand as a testament to its former grandeur. Discover the theater, the baths, and the well-preserved city walls, among other structures. A visit to Miletus is like stepping into a history book, offering a fascinating look into the lives of ancient civilizations.
4) Visit the Miletus Archaeological Museum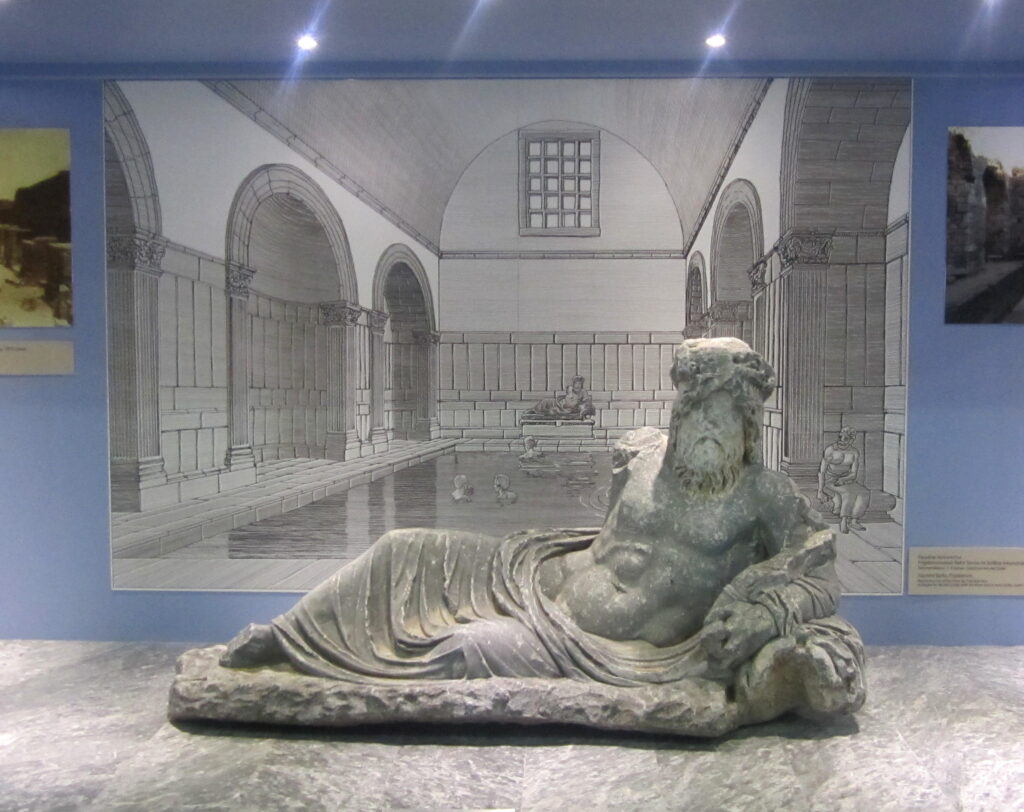 Located close to the ruins of Miletus, this museum is a treasure trove of historical artifacts excavated from the area. The collection includes statues, inscriptions, and artifacts that depict the life and culture of the city in its heyday. A visit to the Miletus Archaeological Museum will enrich your knowledge about this historical city and its remarkable past.
5) Explore Manastır Koyu
Credit: Source link
Manastır Koyu is a picturesque cove tucked away in Didim. Its scenic beauty will captivate nature lovers and those seeking tranquility. The crystal-clear waters, lush greenery, and peaceful atmosphere make it an ideal spot for relaxation. Pack a picnic and head to this stunning cove for a serene escape from the city bustle.
6) Take a trip to Lake Bafa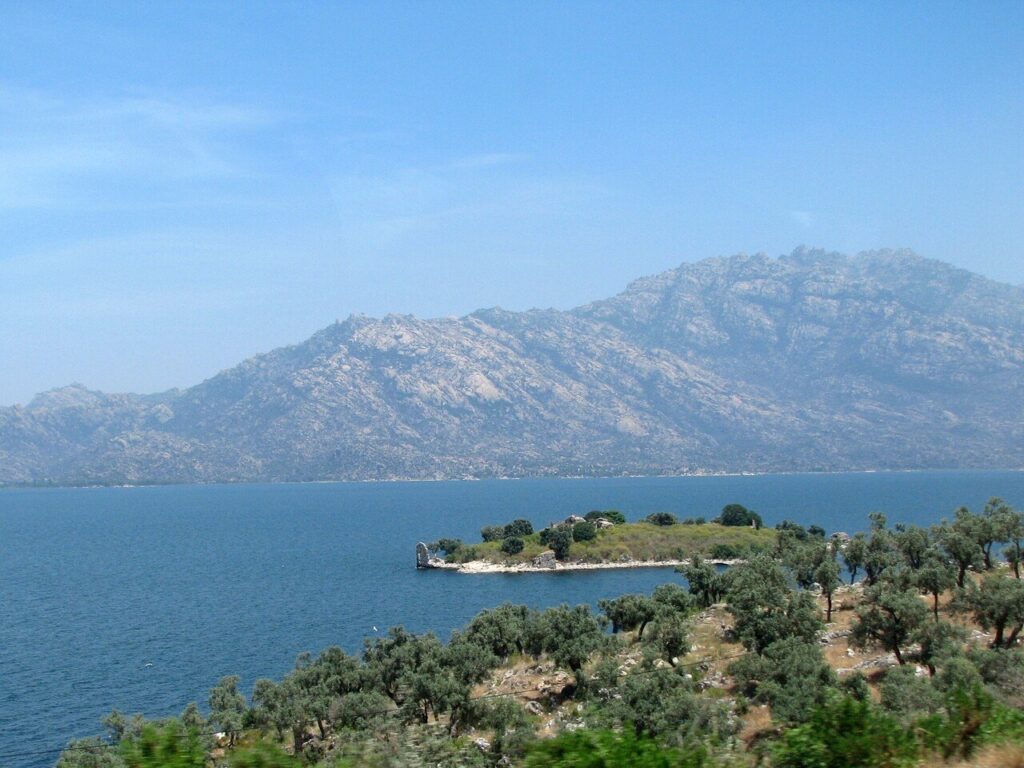 Lake Bafa is a natural wonder nestled between mountains and olive groves. This place is not just a haven for nature lovers but also a sanctuary for birdwatchers. Boat tours are available for those who wish to explore the lake and its surrounding area. You might also enjoy hiking around the lake and soaking up the area's peaceful vibe.
7) Visit the Priene Ruins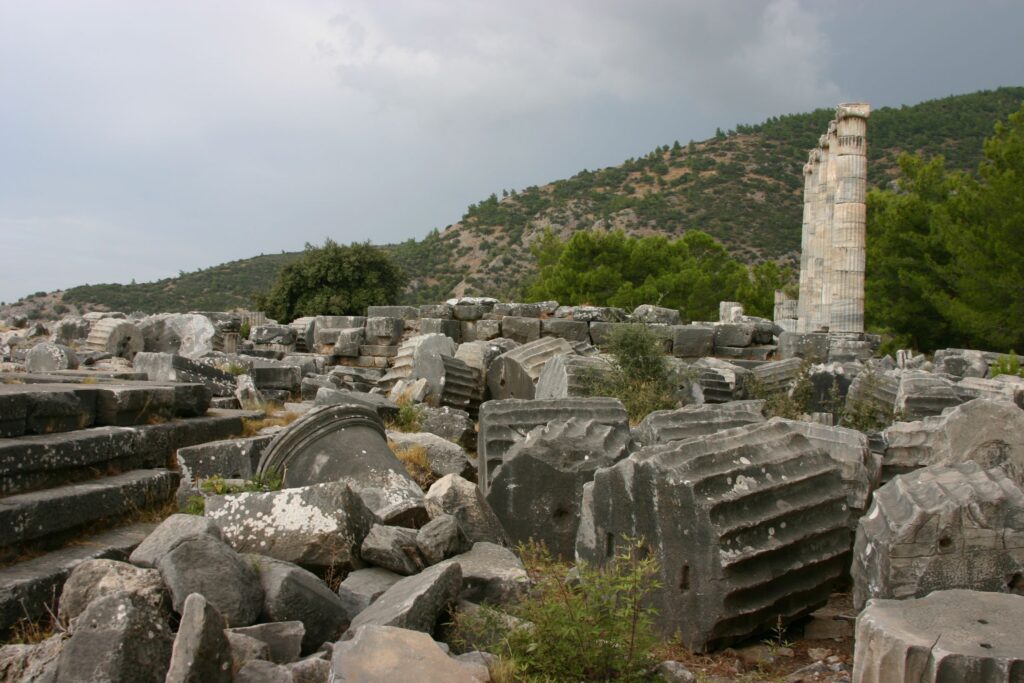 The ruins of Priene, an ancient Greek city, hold many mysteries. The city was strategically designed with a grid plan, and the remnants of its public buildings, temple, theater, and residential areas are still visible. As you wander around, you'll find yourself appreciating the city's advanced urban planning and architectural prowess in ancient times.
8) Enjoy water sports and scuba diving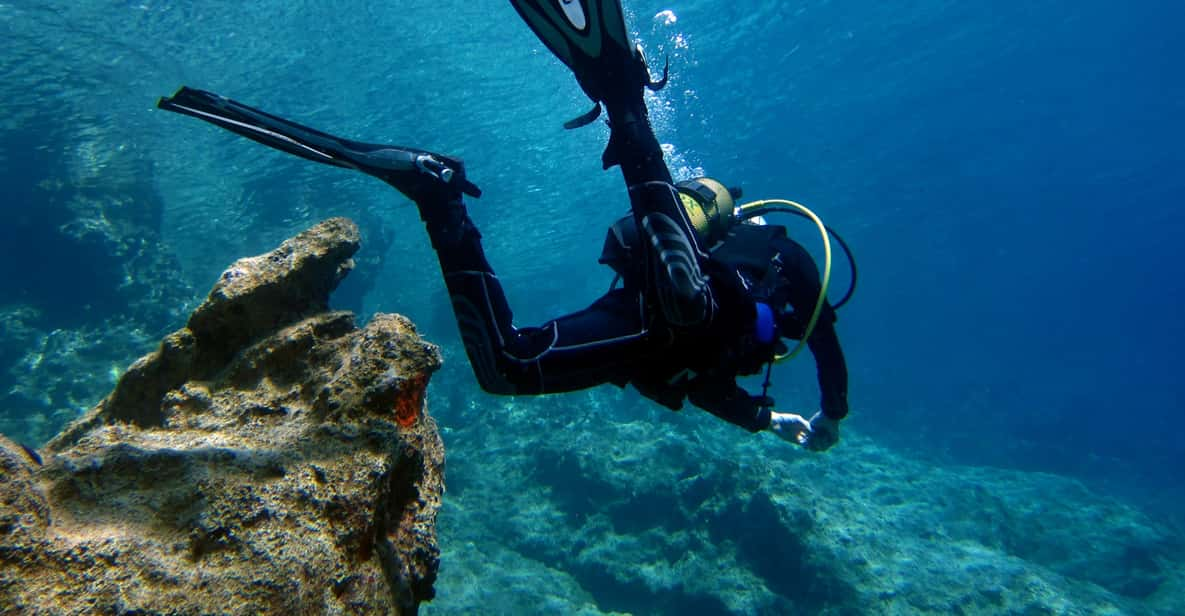 Credit: Source link
Didim is an ideal spot for water sports enthusiasts. From jet-skiing to windsurfing, a plethora of activities awaits you. Scuba diving is particularly popular due to the rich marine life and clear waters in the area. Discover the underwater world and create unforgettable memories.
9) Visit Aqua Parks near Altinkum
Credit: Source link
For a fun-filled day, head to one of the aqua parks near Altinkum. With water slides, wave pools, and play areas, these parks offer enjoyment for the whole family. Cool off from the summer heat while making a splash!
10) Take a boat trip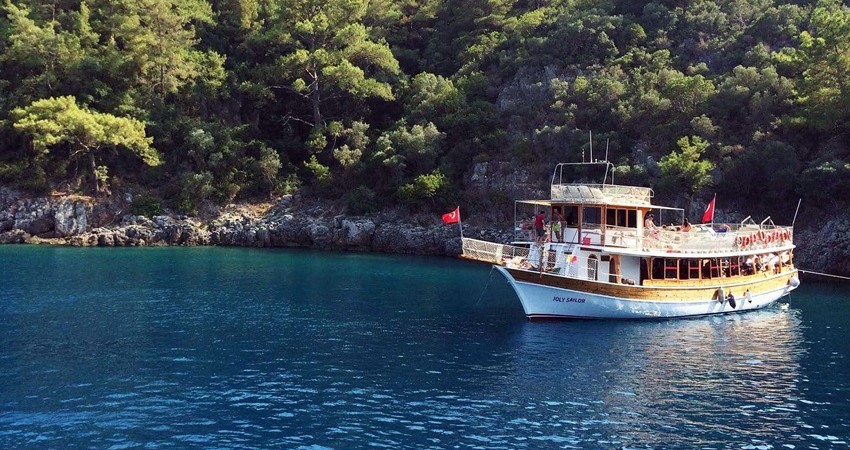 Credit: Source link
Boat trips are an enjoyable way to see Didim's beautiful coastline. Discover hidden bays, pristine beaches, and fascinating coves. Some trips also offer the chance to go swimming or snorkeling in secluded spots. So, hop on a boat and enjoy the stunning Aegean scenery.
11) Visit Didim Beach Club
Mocha Beach Club, Didim – Picture credit: Source link
Didim Beach Club is a trendy spot offering a range of amenities for a perfect beach day. You can relax on the sunbeds, enjoy a refreshing swim, or relish delicious food and drinks. With its lively atmosphere and excellent service, it's an ideal place to unwind and soak up the sun.
12) Explore Saplı Ada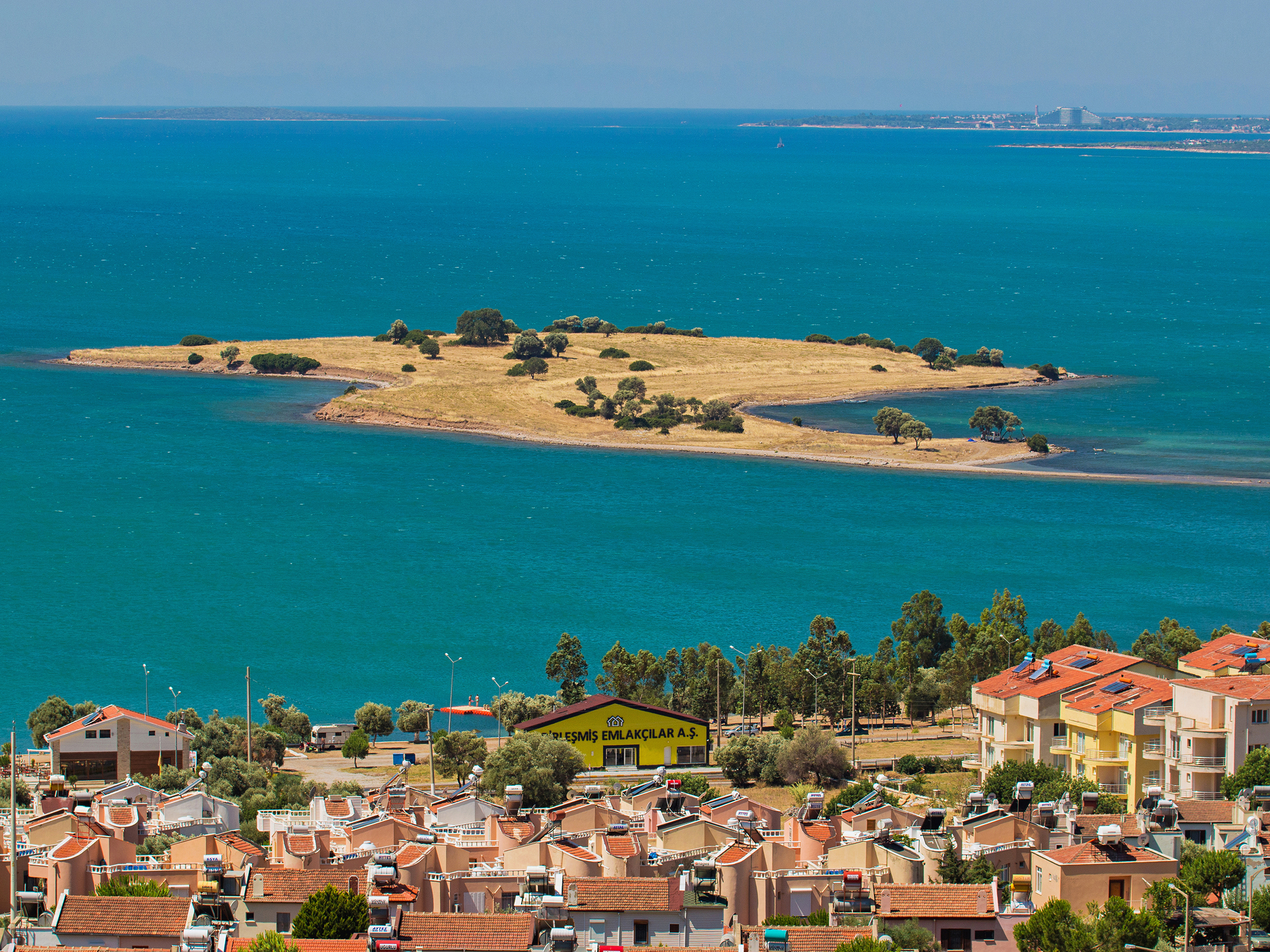 Credit: Source link
Saplı Ada is a charming little island in Didim offering breathtaking views and a peaceful atmosphere. A trip to this island is an adventure in itself, and upon arrival, you can enjoy swimming, sunbathing, or exploring the natural surroundings. Don't forget to bring your camera to capture the beauty of this island!
13) Visit the Milet Muzesi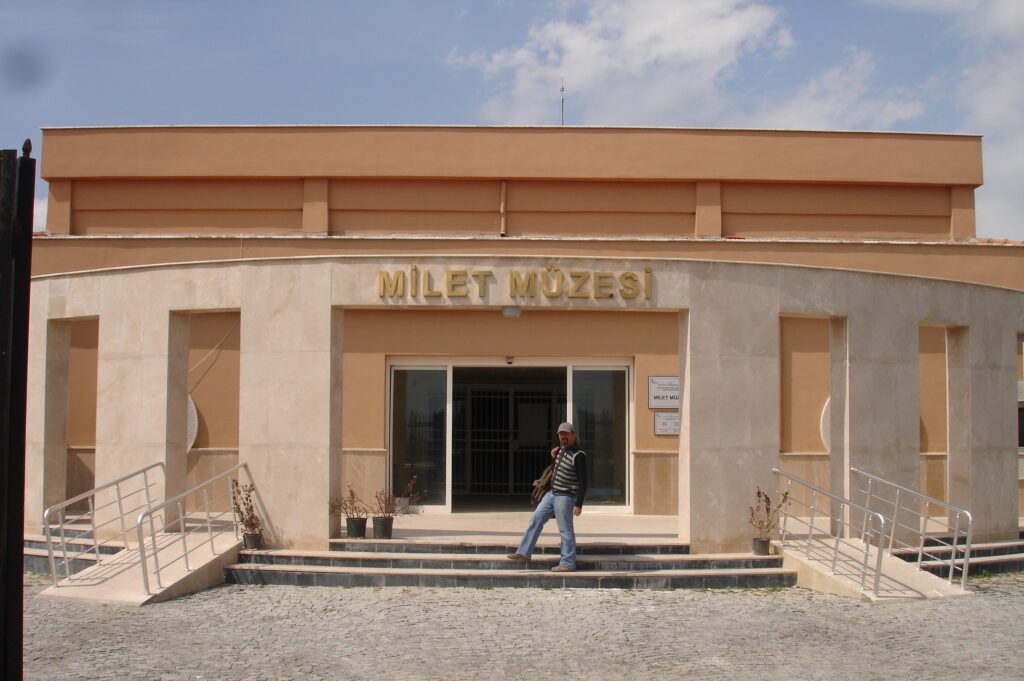 The Milet Muzesi houses a collection of artifacts and exhibitions dedicated to the history of Miletus. From intricate sculptures to ancient inscriptions, every object tells a story about the city's rich past. Visiting this museum offers an enriching experience and a deep insight into the region's history.
14) Explore Didim Aquapark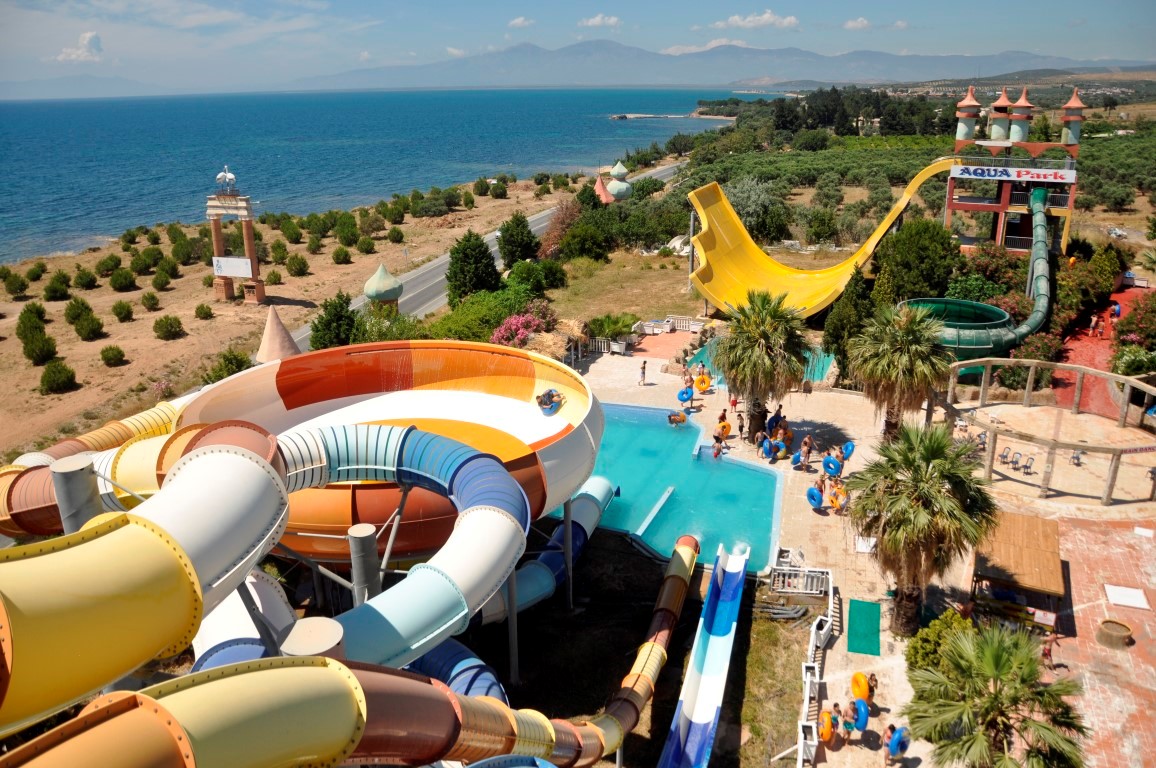 Credit: Source link
Another destination for a day filled with fun and excitement is the Didim Aquapark. With numerous slides, pools, and games, it offers activities for both kids and adults. Whether you are an adrenaline junkie or someone looking for a relaxing day, this aquapark has something for everyone.
15) Visit Didim Marina
Credit: Source link
A stroll around Didim Marina can be a delightful way to spend an evening. You can admire the beautiful yachts, enjoy a meal at one of the many restaurants, or simply take in the beautiful views. This marina is a hub of activity and offers a unique atmosphere, making it a must-visit.
Didim, with its blend of history, natural beauty, and modern attractions, is a destination that offers something for every traveler. Whether you're a history buff, beach lover, or adventure seeker, you'll find plenty to do and see in this beautiful Turkish town.
Frequently Asked Questions
What is Didim like in Turkey?
Didim is a charming town located on the Aegean coast of western Turkey. It's a popular holiday destination known for its golden sandy beaches, clear turquoise waters, and warm, sunny climate. The town has a laid-back atmosphere, making it a perfect place for relaxation. However, it's also rich in history, with plenty of ancient ruins and archaeological sites to explore, including the famed Temple of Apollo at Didyma.
Is there a market in Didim?
Yes, there is. Didim hosts a vibrant local market where you can experience the authentic Turkish bazaar culture. It's held every Saturday and is the perfect place to shop for fresh produce, textiles, spices, and traditional Turkish goods. It's also an excellent opportunity to interact with the locals and immerse yourself in the town's everyday life.
What is Didim known for?
Didim is primarily known for its historical significance. It's home to the ancient Didyma site, where the renowned Temple of Apollo stands. This temple was one of the most important oracles in the ancient world, second only to Delphi. Besides its rich history, Didim is also famous for its beautiful beaches, particularly Altinkum Beach, and a variety of water sports activities.
Is Didim Turkey worth visiting?
Absolutely, Didim is well worth a visit. Whether you're a history enthusiast, a beach lover, or an adventurer, Didim has something to offer for everyone. Its combination of beautiful landscapes, ancient ruins, lively markets, and warm Turkish hospitality makes it an excellent choice for a unique and enriching travel experience.