From sun-kissed beaches to ancient ruins and beautiful vineyards, the town of Datça in Turkey's Mugla province is a treasure trove of unique experiences. Let's delve into the top 12 activities and attractions that should definitely make it to your itinerary.
9 Things To Do In Datca
1) Visit Knidos Antik Kenti
Immerse yourself in the rich tapestry of history that Knidos Antik Kenti, the ancient city located at the westernmost point of the Datça Peninsula, has to offer. As you walk amidst these impressive ruins, you'll be transported back to a time when this city was a bustling centre of trade and culture. Learn about the architectural styles of the era as you examine the remains of the two harbors, the amphitheater, and the Temple of Aphrodite. Every stone and artifact here tells a tale of the civilizations that once thrived, making this a must-visit for history enthusiasts.
2) Relax at the Beaches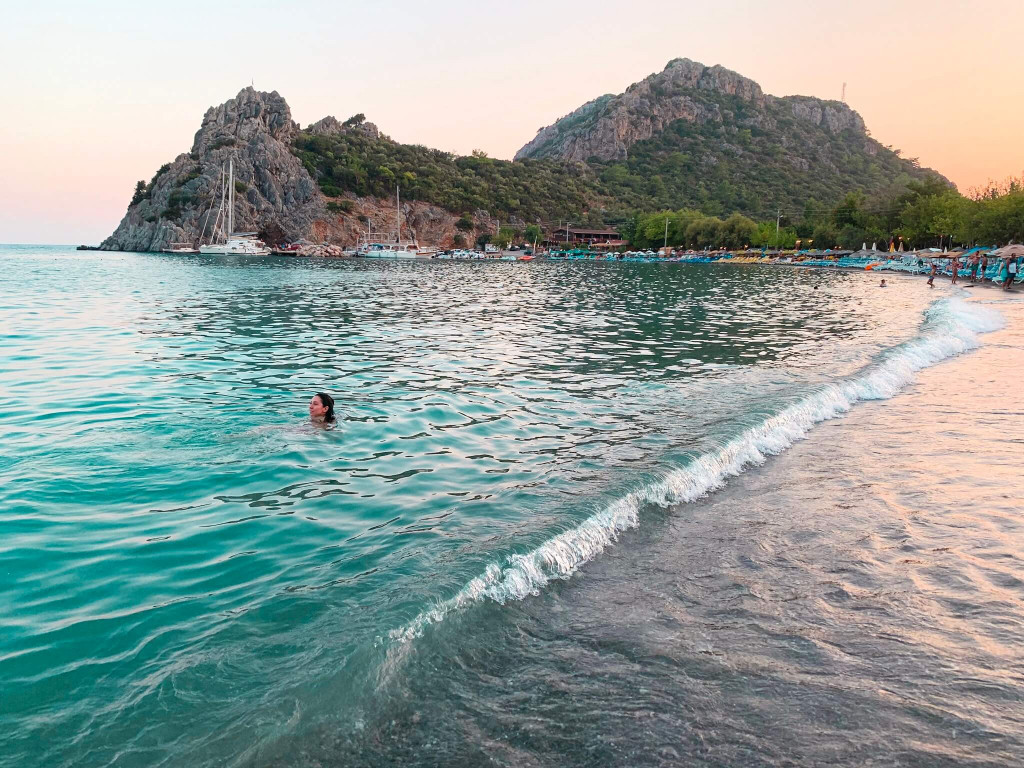 Hayitbuku Plaji – Image credit: Source link
The town of Datça is blessed with a number of stunning beaches that are perfect for those seeking relaxation. Among them, Hayitbuku Plaji, Ovabuku Plaji, and Akvaryum Koyu stand out. With their calm waters, golden sands, and warm sun, these beaches offer a great setting for a relaxed day of sunbathing, swimming, and even beach games. Pack a picnic and spend your day listening to the gentle lapping of waves against the shore.
3) Indulge in Local Cuisine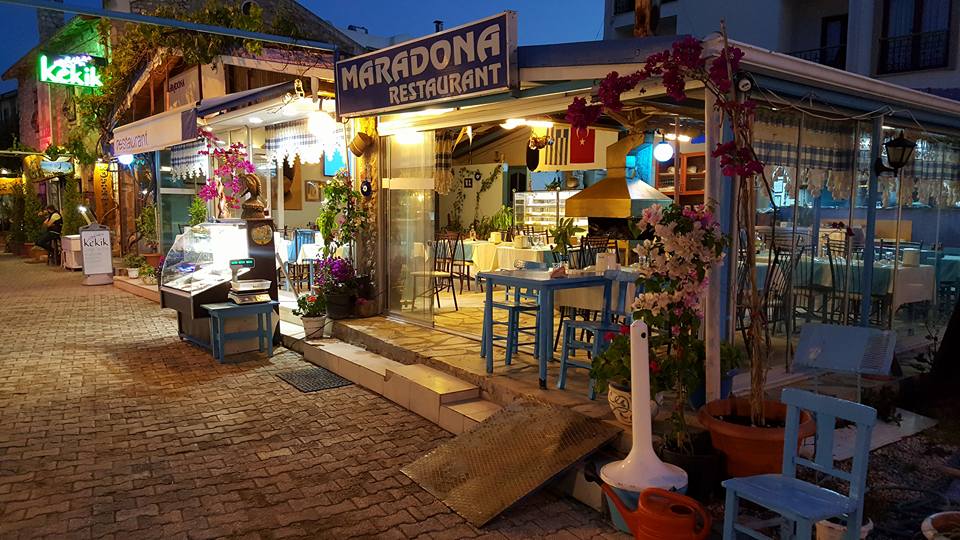 Maradona Restaurant, Datca
In Datça, your taste buds are in for a treat. Known for its seafood and Mediterranean-inspired cuisine, the town is a paradise for foodies. From traditional mezze and grilled fish to the famous Turkish kebabs and sweet baklava, the local cuisine is rich and varied. Make sure to dine at the local restaurants, where chefs use the freshest ingredients to create mouth-watering dishes.
4) Visit the Ancient Ruins of Knidos
Venture further into the Datça Peninsula to uncover more of the region's history at the ancient Greek city of Knidos. From the well-preserved theater and the grand temples to the necropolis, these ruins offer a glimpse into the city's past. Learn about the architectural practices, societal structure, and religious customs of the ancient Greeks who once lived here.
5) Explore Old Town Datça
The charm of Old Town Datça is irresistible. Home to many historic buildings, including the Datça Mosque and the Eski Hamam (Old Turkish Bath), the town is a delight for history buffs. The winding cobbled streets, lined with old stone houses and vibrant bougainvillea, lend an old-world charm that's truly enchanting.
6) Take a Boat Tour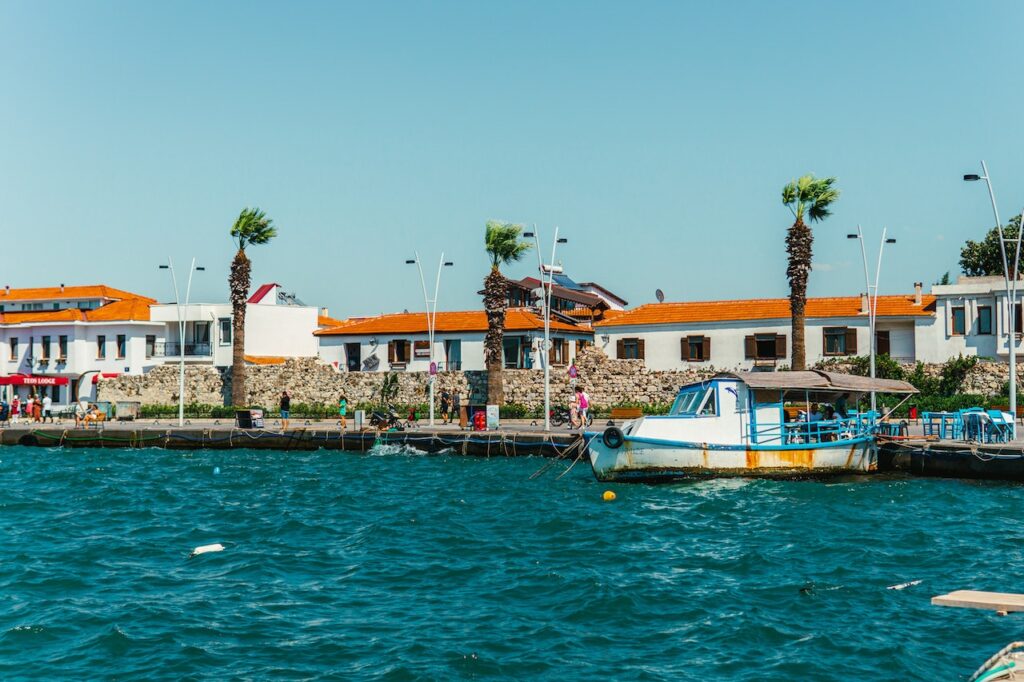 A boat tour offers a whole new perspective of Datça's beautiful coastline. With numerous tours available, you can choose to visit secluded coves, sail to nearby islands, or simply enjoy the azure waters of the Aegean Sea. Some tours even include a chance to snorkel or dive, offering a glimpse into the rich marine life.
7) Check out Datça Harbor
Spend a leisurely afternoon or evening at Datça Harbor. Here, you can watch the boats come and go, explore the many shops and cafés lining the harbor, or simply sit on a bench and soak in the serene ambiance. As the sun sets, the view of the harbor, with its twinkling lights reflected in the water, is particularly enchanting.
8) Take a Private Tour
If you wish to explore Datça in-depth, consider taking a private or custom tour. These tours offer personalized itineraries, allowing you to explore the region's attractions at your own pace. Whether it's a full-day tour of Knidos and Old Datça or a trip to specific places of your interest, these tours promise a more immersive experience.
9) Explore the local markets
Local Saturday Market, Datca – Image credit: Source link
No visit to Datça is complete without a trip to the local markets. Teeming with fresh produce, local delicacies, and unique handicrafts, the markets offer a glimpse into the town's everyday life. Pick up some spices, local cheeses, or souvenirs to take back home.
With its mix of historical sites, natural beauty, culinary delights, and local experiences, Datça is a destination that offers something for everyone. Make sure to include these 12 activities in your itinerary, and you'll find yourself falling in love with all that this charming Turkish town has to offer.
Frequently Asked Questions
What are the top attractions to visit in Datça?
The top attractions to visit in Datça are a blend of historical sites and natural beauty. These include Knidos Antik Kenti, an ancient city with impressive ruins; Old Town Datça, known for its charming cobbled streets and historic buildings; Can Yucel's House, a museum dedicated to the famous Turkish poet; and of course, the stunning beaches such as Hayitbuku Plaji, Ovabuku Plaji, and Akvaryum Koyu. Don't miss the local markets for a taste of the vibrant local life.
What are the best outdoor activities in Datça?
Datça's beautiful natural environment offers a wealth of outdoor activities. The town's beautiful beaches are ideal for swimming, sunbathing, and beach games. A stroll or jog along the scenic path of Kumluk Yolu is another outdoor pleasure. Boat tours offer an opportunity to explore the azure waters of the Aegean Sea, visit nearby islands, or swim in secluded coves. Lastly, exploring the vineyards and enjoying wine tasting at the Datça Vineyard & Winery is a treat for nature lovers and wine enthusiasts alike.
What are the most popular things to do in Datça with kids?
Datça offers many kid-friendly activities. The beaches, with their calm waters, are great for swimming and building sandcastles. Kids will also enjoy the boat tours, especially if they include opportunities for snorkeling. Visiting Can Yucel's House can be an educational experience, introducing them to Turkish literature and culture. A trip to the local markets can be made fun with a little treasure hunt game for local goods and souvenirs.
What is Datça famous for?
Datça is famous for its serene beaches, rich history, and delightful local cuisine. The town is known for the ancient city of Knidos, located at the tip of the Datça Peninsula, which was a major cultural and trading center in antiquity. Datça's vineyards and winery are also well-regarded for their locally produced wines. Furthermore, the town is renowned for its seafood and Mediterranean-inspired cuisine, which draws food lovers from far and wide. The charming Old Town and the picturesque harbor add to the town's appeal, making it a sought-after destination for those seeking a blend of history, nature, and culinary delights in Turkey.