When it comes to the stunning Turkish Riviera, the district of Dalaman often plays the underrated sibling to more popular destinations. But the truth is, Dalaman is a treasure trove of adventures, waiting for explorers like you. Whether you're a history buff, an adrenaline junkie, a nature enthusiast, or a leisure seeker, this hidden gem of Turkey has something for you.
10 Things To Do In Dalaman
1) Sarsala Koyu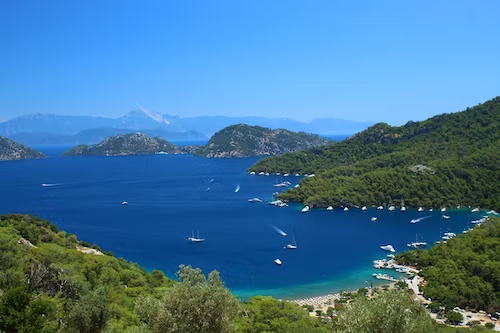 Immersed in lush greenery and surrounded by the crystal-clear Aegean Sea, Sarsala Koyu is a paradise on earth. Whether you're an adventure enthusiast who loves swimming or someone who prefers basking under the sun, Sarsala Koyu is perfect for everyone. Enjoy a quiet picnic with your family, or dive into the pristine waters, Sarsala Koyu will leave you spellbound.
2) The Dalyan River
Board a boat and sail down the enchanting Dalyan River. Bask in the region's natural beauty, enjoy the diverse flora and fauna, and if you're lucky, you might even spot the enigmatic loggerhead turtles that call this river home.
3) The Lycian Rock Tombs
The Lycian Rock Tombs, carved intricately into the hillside, offer a fascinating glimpse into Lycian burial traditions. A symbol of Dalaman's rich historical past, these ancient tombs are a must-visit for all history enthusiasts.
4) Paragliding in Ölüdeniz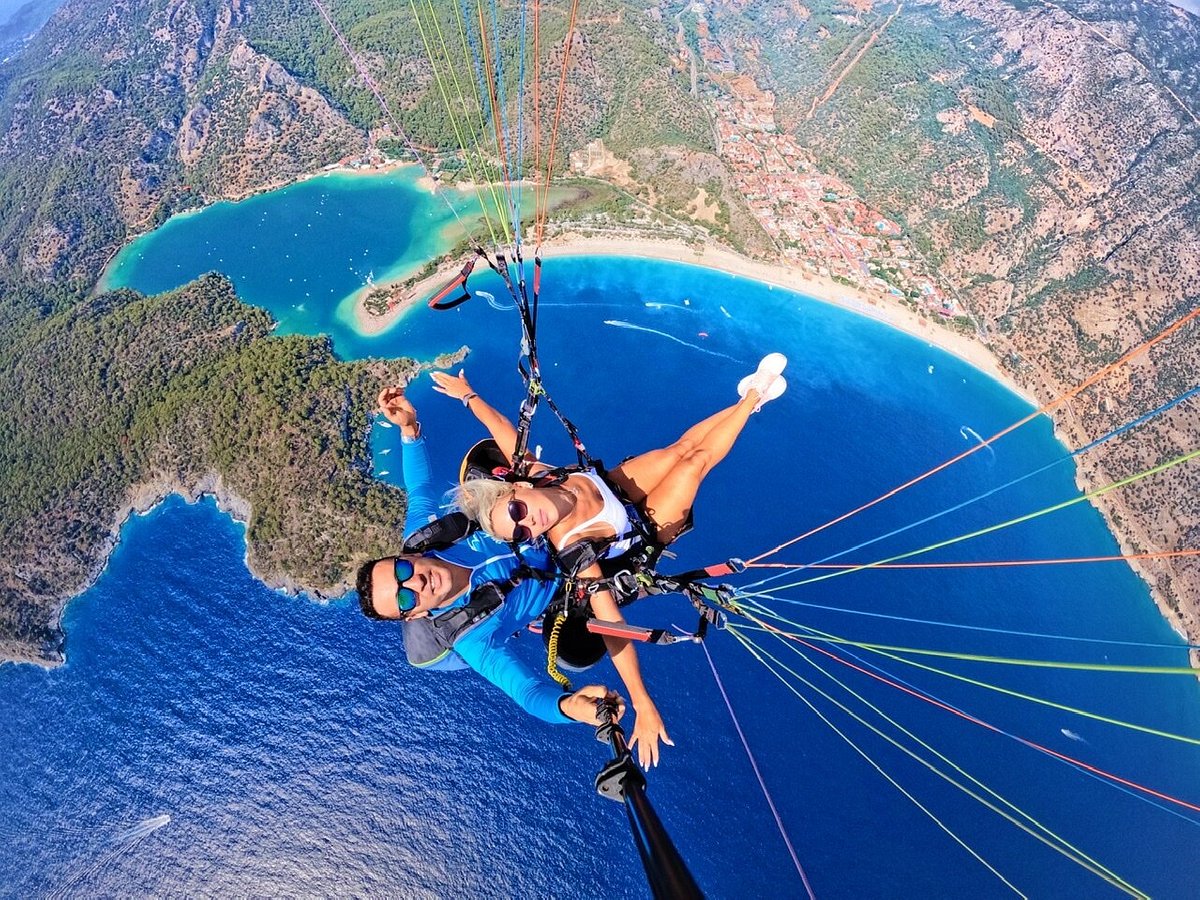 Credit: Source link
If adrenaline rush is your thing, then paragliding over the breathtaking landscape of Ölüdeniz is a must. The unforgettable experience of soaring over the Turquoise Coast, combined with the panoramic aerial views, is simply mesmerizing.
5) Kayaköy Ghost Town
Roam through the eerie beauty of Kayaköy, an abandoned Greek village, with deserted stone houses and narrow streets whispering tales of civilizations past and events of historical significance. This ghost town, with its haunting charm, is a unique exploration opportunity.
6) Azmak River & Akyaka
Credit: Source link
Embark on a discovery tour of Akyaka, a quaint little town, and the bewitching Azmak River. Known for its crystal-clear waters, the river teems with aquatic life. Take a leisurely boat ride and immerse yourself in the scenic natural beauty.
7) Selimiye
The picturesque seaside village of Selimiye offers a harmonious blend of tranquility and vibrant local life. Stroll around the harbor, dine at traditional Turkish restaurants, and enjoy a peaceful sunset at this charming location.
8) Dalyan Mud Bath
Looking for a unique experience? Try a therapeutic mud bath in Dalyan. Renowned for its skin rejuvenating properties, these mud baths offer an unconventional yet fun way to pamper yourself.
9) The Blue Lagoon, Ölüdeniz
The Blue Lagoon, known for its turquoise waters and white sandy beach, is a natural wonder. Engage in swimming, snorkelling, or simply lounge on the beach while soaking up the majestic views.
10) Sehit Fethi Bey Parkı
Wrap up your day at Sehit Fethi Bey Parkı, a well-maintained park in the heart of Dalaman. Embrace the serene atmosphere, take a leisurely walk, or watch the locals go about their day.
Dalaman truly has something for everyone. From its rich historical past to stunning natural beauty, this gem of Turkey caters to a diverse array of interests and tastes. During your next visit to Turkey, make sure to explore the enchanting town of Dalaman and create memories that you'll cherish for a lifetime.
Frequently Asked Questions
How many days do you need in Dalaman?
The amount of time you should spend in Dalaman really depends on your interests and the pace at which you like to travel. However, a minimum of 3 to 4 days is usually recommended to truly appreciate what Dalaman has to offer. This will allow you enough time to explore the historical sites, enjoy the beaches, and experience some of the nature and adventure activities without feeling too rushed.
What are the most popular things to do in Dalaman with kids?
Dalaman offers a host of activities that are fun for the whole family. The beaches, such as Sarsala Koyu and Kille Sahili, are perfect for a fun day in the sun. Kids will love swimming in the calm, warm waters or building sandcastles. A visit to the Marmaris Honey House can be an educational and fun experience. Exploring the ruins of Kalynda or Lissai can spark children's interest in history, while a boat ride on the Dalyan River could allow them to spot a variety of wildlife. Lastly, the Sehit Fethi Bey Parkı is a great place for children to play and enjoy the outdoors.
What is the best time of year to visit Dalaman, Turkey?
The best time to visit Dalaman is from April to October when the weather is typically warm and sunny, perfect for beach activities and exploring the outdoors. The summer months of July and August can get quite hot, but they also offer the warmest sea temperatures for swimming. If you prefer fewer crowds and milder weather, consider visiting in the shoulder months of April, May, September, or October.
Is Dalaman in Turkey worth visiting?
Absolutely, Dalaman is definitely worth visiting. It might not be as well-known as some other Turkish destinations, but it has plenty to offer. From historical sites like the Lycian Rock Tombs and the ancient city of Kalynda, to the beautiful beaches of Sarsala Koyu and Kille Sahili, and adventurous activities like paragliding in Ölüdeniz or boating on the Dalyan River, there's something for everyone. Not to mention, Dalaman is a great starting point for visiting other attractions in the region, such as the city of Marmaris or the quaint village of Selimiye. So whether you're a history buff, a nature enthusiast, an adventure seeker, or just looking to relax and soak up some sun, Dalaman offers a memorable vacation.