Are you traveling to Istanbul for the first time? Then Kadikoy might be the best place to book your hotel if you want to be close to all the most popular attractions and enjoy the fun city life in the district!
 Kadıköy is located on the Asian side of Istanbul, which connects two continents. This lively district of İstanbul has a shore of the Sea of Marmara. Another nice thing about staying in this district is that you can watch the history from a distance, right across the historical Peninsula on the European side of the Bosporus.
Most local people find Kadikoy the coolest place in the world with its lively atmosphere full of street art. No matter what you are looking for in Kadıkoy.
It is a great place to stay and enjoy the city.  It offers such easy access to the touristy areas, bars, and green parks.
Moda with its beautiful streets, the Kadikoy Bazaar with its history and coastline through Caddebostan, and Kalamis Marina with its sea view are popular attractions near Kadikoy that are worth a visit during your trip.
If you are planning a trip to the city, you might be wondering where to stay. I am sure you won't regret not choosing other options because no matter which hotel you choose, the time you spend inside and outside will not be different.
Kadikoyis a great destination to stay in Istanbul. There are hotels with great views where you can reach everywhere easily.
The impression of the city will surround you in all kinds of ways. You will likely tell your friends about your experience of staying in Kadıköy with these same expressions when you return home.
I suggest you book your hotels by using the most known websites, such as Booking website. However, there are also websites like Trivago, Agoda, Hostels, or the hotels' websites that you can search for a better price.
The planning part of visiting İstanbul is exciting, but arranging where to stay might be tricky. Don't worry. Our list of best hotels in Kadikoy will help you pick the best place for your time spent in İstanbul.
Here are the best hotel recommendations I choose for you!
1. Wyndham Grand Istanbul Kalamis Marina Hotel with a Terrace Swimming Pool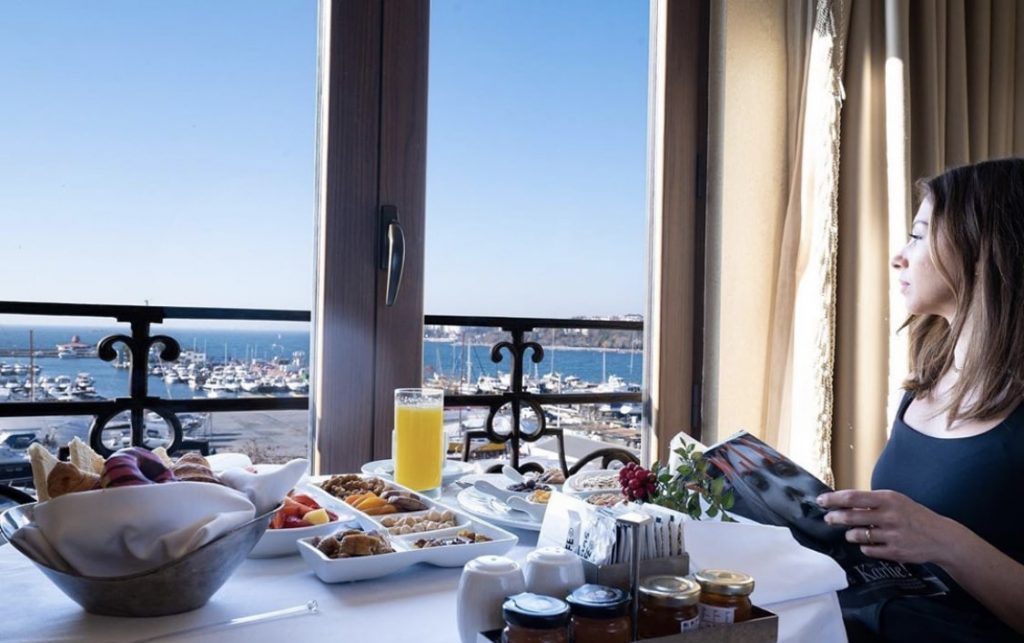 Wyndham Grand Istanbul Kalamış Marina is a luxurious and five-star hotel in Kadikoy. It is located in Kalamış Marina. It offers a breathtaking view of its position against the Marmara Sea.
You can get a comfortable room with a lovely sea view over the harbor of Kalamis. There is a restaurant on the left and nice bar on the right with a swimming pool on the middle on the roof.
There is also live music performed occasionally for their guests. There are two more swimming pools, and one is in the garden, the Spa saloon, and the rooftop bar. So most probably, you won't understand how your limited time in İstanbul passing. 
But do not waste your whole time indoors, especially explore the hotel's surroundings. For example, Wyndham Grand Istanbul is a 10-minute walking distance from Bagdat Street, the most famous shopping street along Kadikoy.
You can drink coffee, have fun, pass by and shop there. It is an exciting place where you can find the best quality of everything from shops with world brands. It is also near the sea; you can go for a walk or jogging for a couple of hours on a seashore walk.
Wyndham Grand hotel is 30 km from Sabiha Gökçen Airport and 55 km from Istanbul Airport.
Price Range: Approximately $100 in a night
Address: Fener Kalamis Caddesi No 38 Kalamis, 34726, Kadikoy/Istanbul
2. DoubleTree by Hilton Hotel İstanbul in Moda with an Extraordinary Architecture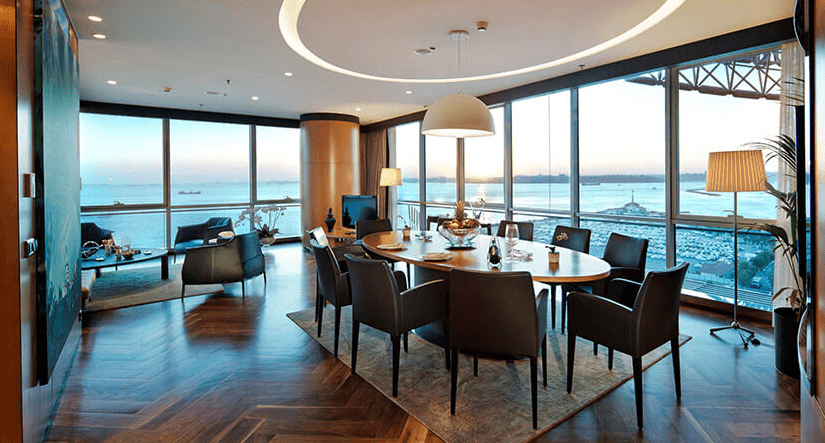 DoubleTree by Hilton Istanbul in Moda is a modern hotel located on the coastline of Kadıköy
There is a Rooftop restaurant named Hood on the terrace floor. It offers delicious food and cocktails accompanied by a panoramic view of Istanbul.
 From your window room, you can see the sunrise over the sea while relaxing in the hot tub. It has all you need for a good stay. The hotel also has a traditional Turkish bath (hammam), Spa, swimming pools, and a bar. It's worth to try it.  In the morning, you can enjoy a Turkish continental breakfast to its best taste.
DoubleTree by Hilton Istanbul is located 200 meters from the waterfront and ferry pier, less than 100 meters from the metro station. 
The hotel is a few steps from Kadıköy Bazaar, Fishermen's Bazaar, and Bar Street, one of the liveliest areas for nighttime entertainment in Kadikoy. Here you can find live music.
Price Range: Approximately $110 per night.
Address: Caferağa, Albay Faik Sözdener Cd. No:31, 34710, Kadikoy/İstanbul
3. Juliet Rooms & Kitchen with the Touch of Modern Art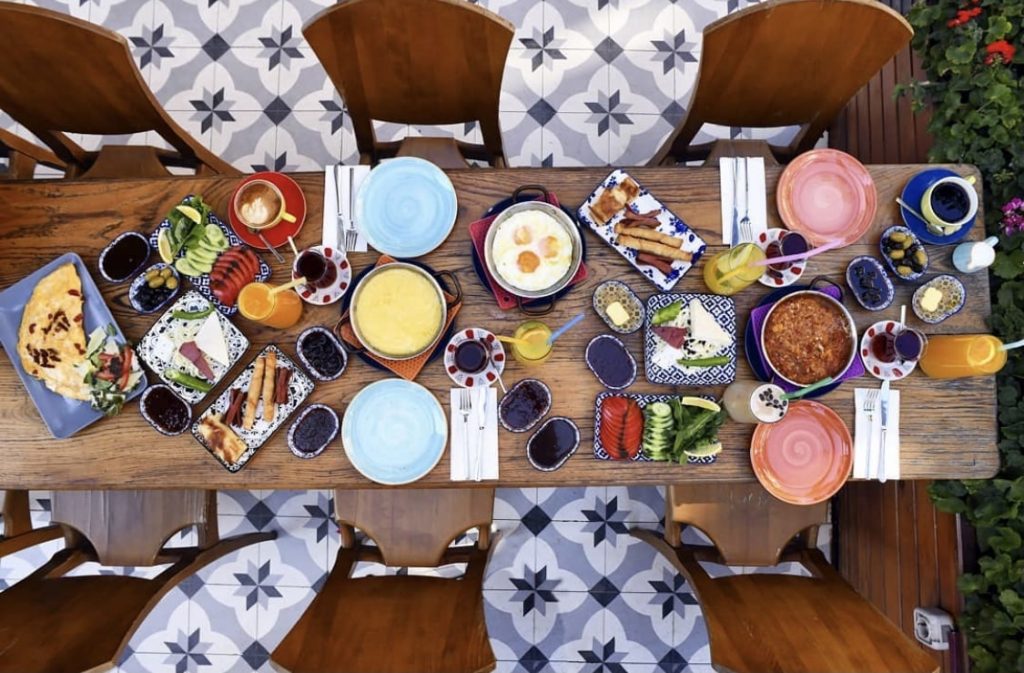 Juliet Rooms & Kitchen is a lovely boutique hotel hidden at the end of a beautiful street in Moda. Staying there makes you feel away from Istanbul. You will feel hopeful and peaceful while staying there.
The hotel is placed a block away from the Sea of Marmara, an 18-minute walk from the Kadıköy metro station, 16 km from shopping at the Grand Bazaar, and 18 km from the 15th-century Topkapı Palace.
Juliet Rooms & Kitchen has modern new stylish hotel rooms. Besides, the furniture used in the design is comfortable and contemporary. Their styles are full of details and have features of modern art.
Juliet, which is actually a hotel, is a lovely alternative place for Moda residents to work or chat. You can taste a nice variety of food & drink at its outdoor.
 Juliet Kitchen serves healthy breakfast, delicious snacks, and kinds of fresh fruit juice, coffee, and tea selections. It is like a café where you can sit with your friends. It is also an excellent option to start a new day with dessert with their Crepe Plate.
After the excellent breakfast, you can take a walk to the beach and watch the sailboats along the Moda Coastline. Enjoy the smell of the sea.
Price range: Approximately $75 per night
Addres: Caferağa Mah. Şifa Sok. No:31,Moda, Kadikoy/İstanbul
4.Pasha Moda Hotel with its Humble Atmosphere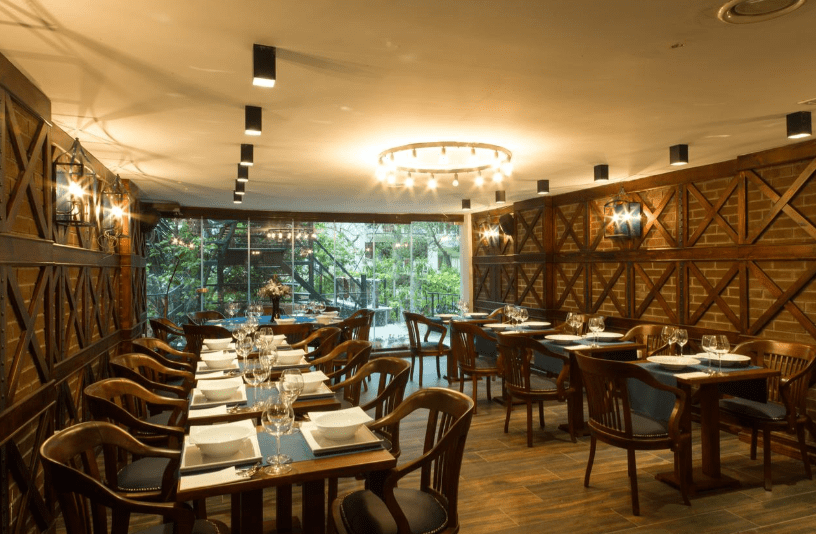 Pasha Moda Hotel is a warm and humble hotel. It has a great location in Kadikoy. Old Sureyya Opera house is only 5 minutes away by walking. And this hotel is a 15 minutes' walk from ferries at Kadikoy Pier, where you can take the ferry to go to Hagia Sophia Museum, which is 10 km away.
The Pasha Hotel offers accommodation in Istanbul, with nice airconditioned rooms. The rooms provide options with street or garden views. The hotel has a terrace and views of the sea.  You can enjoy a meal at the restaurant. In the same restaurant, you will start your day by having an open buffet breakfast. The breakfast is served as complimentary.
The price of this hotel for one night may be more affordable than others.
Price range: Approximately $25 per night
Address: General Asim Gunduz Cad. No 98 Caferaga Mah., Istanbul 34710
5. Broyt Suites with Modern Designed Rooms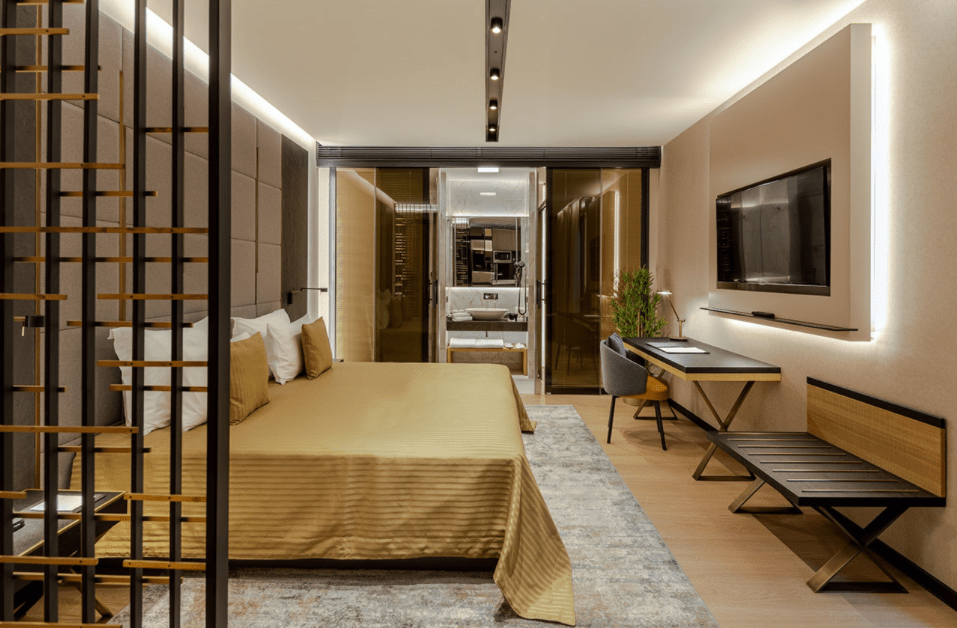 Broyt Suites is a relatively new hotel that opened in 2020 with 27 suites. It is located on Bağdat Street. You can also find plenty of different shops around in case you're in the mood to spend some money.
Broyt Suites has modern designed rooms and suites with a promise of comfort for their guests. its Broyt Suites cannot be considered only as an accommodation, but it is also a place for business meetings. The hotel has two meeting halls for official and social events.
Price range: Approximately $70 per night
Address: Caddebostan Mah. Bagdat Cad No:290, Istanbul 34728 Turkey
6. Holiday Inn Istanbul in Kadikoy with a Well-Equipped Fitness Room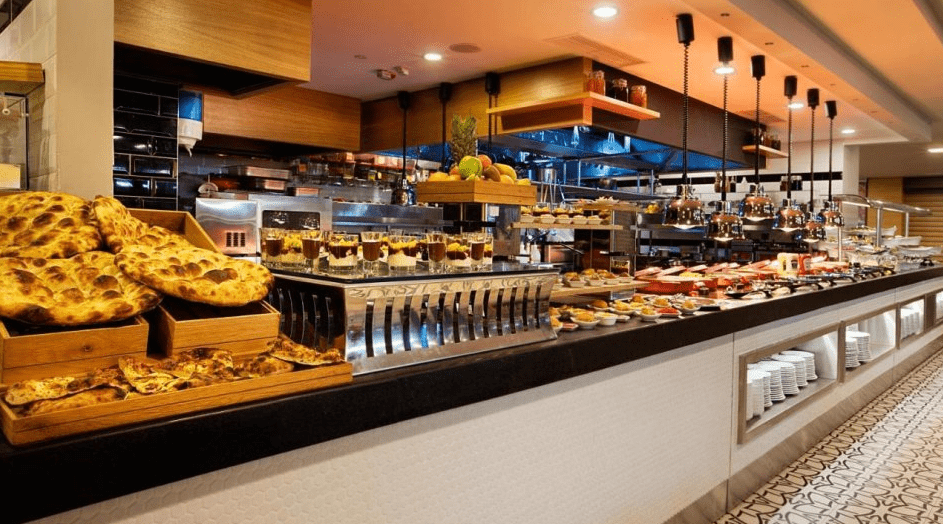 If you were looking for a gorgeous luxury hotel in Kadiköy, Holiday Inn Istanbul in Kadikoy is your choice!  This hotel is a stylish hotel located 25 minutes' walk from the ferry dock in Kadikoy.  
Go there, and do not hesitate to take a ferry ride to Istanbul's Old Town. The hotel is so close to the metro station named Sogutlucesme where you can catch the train to go to the European side of İstanbul to discover.
It will take just a few minutes' for you to walk to historical attractions and nightlife in Kadikoy from your lovely hotel. Topkapı Palace and the Blue Mosque are 10 kilometers away since the location of the hotel is very close to public transport stops.
Holiday Inn Istanbul offers its guests a well-equipped fitness room, sauna, steam bath, and a Turkish bath. Their rooms have free Wi-Fi, air-conditioning, underfloor heating, and bathroom cosmetics.
Price range: Approximately $50 for a night
Address: Hasanpaşa, Egitim Mahallesi, Poyraz Sk. No6, 34722 Kadıköy/İstanbul
7. Parkhouse Hotel with a Friendly Style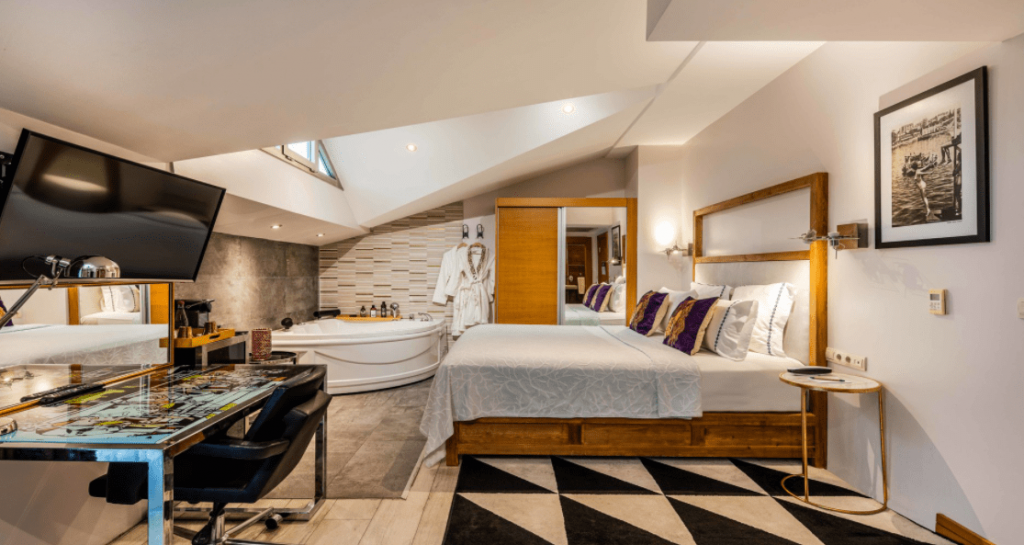 Parkhouse Hotel is the one for you. Suppose you're looking for a great luxurious place where to stay on the Asian side of İstanbul. This superb 3-star hotel is the right choice with a great location in the district.
The Parkhouse hotel must be one of the friendliest hotels. Staying one night there will give you the feeling of like you were staying with friends in their house.
The rooms of the hotel are spotless and comfortable with a spa-style bath. When you decide to visit  İstanbul,  you should make the necessary arrangement to stay at this hotel.
Especially in the room on the top floor with the sea view balcony. I can promise you that you will have a very relaxing afternoon while watching the sunset.
Price range: Approximately $60 for a night
Address: Osmanaga Mah Muhurdar Fuat Sk No12,34714 Kadikoy/ Istanbul
8. Kadıköy Rıhtım Hotel with the view of  the Breathtaking Sunsets of Istanbul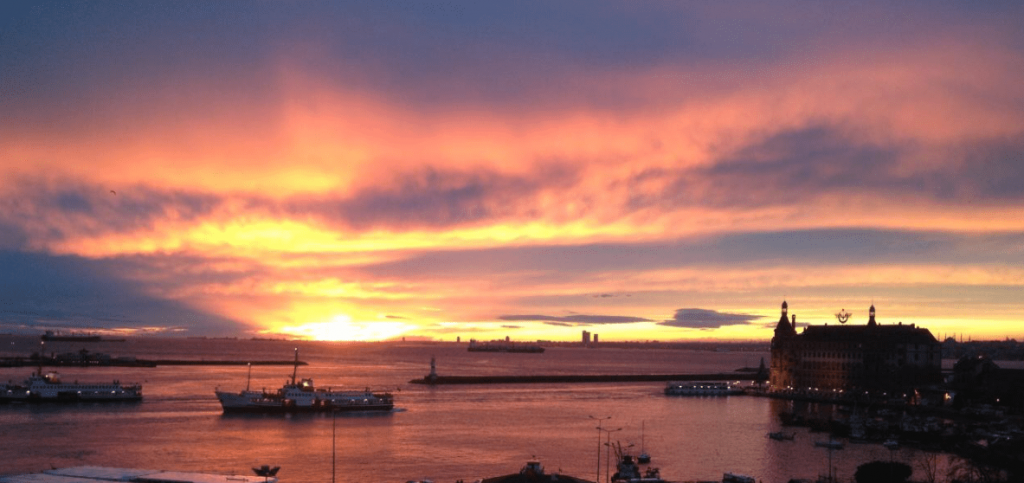 Are you looking for the best and hotel in Kadıikoy, in the heart of the neighborhood? Then Kadıköy Rıhtım Hotel is definitely for you! The hotel is a 3-star charming as an affordable option for your travel. All the rooms here are very clean and nicely decorated with Wi-Fi, flat-screen TVs and minifridges.
Kadıköy Rıhtım Hotel is a great place to view the breathtaking sunsets of Istanbul. Some of the other good things about staying here are the restaurant with waterfront views on the terrace.
The hotel is 1 km from Ayrılık Çeşmesi metro station and 5 km from walking paths at Fenerbahçe Park. It's 15 km from the 17th-century Blue Mosque in the historical Peninsula.
Price range: Approximately $47 for a night
Address: Rıhtım Caddesi Kadıköy Rıhtımı, 34710 Kadikoy/İstanbul
9. My Dora Hotel with a Perfect Location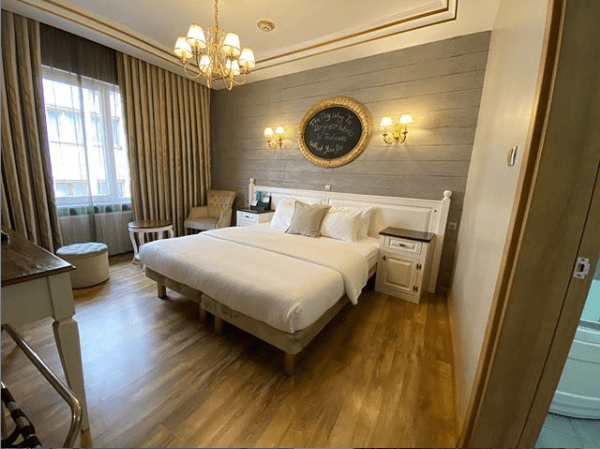 If you want to stay in an ideal location for enjoying Kadikoy on a budget? You should check out available rooms at My Dora Hotel.
The cozy hotel is cute and small, located very close to the bus terminal/ferry dock in Kadikoy. It is assumed to be the oldest certified hotel in the area that has everything you might need!
 Some of the best facilities here include a lovely lounge bar, an open buffet delicious breakfast served each morning, and more.
My Dora Hotel is one of the affordable hotels on this list.
Price range: Approximately $40 for a night
Address: Rihtim Cad. Recaizade Sok. No 6, 34716, Kadikoy/Istanbul
10. Hilton İstanbul Kozyatagi with the Bar in the Lobby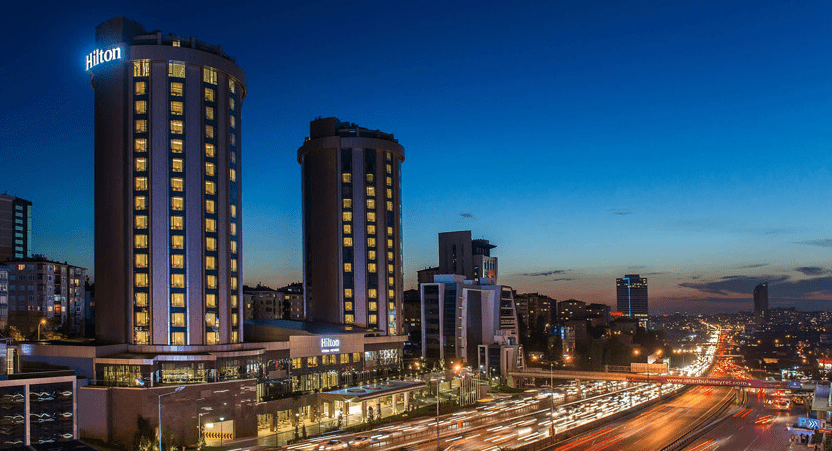 Hilton İstanbul Kozyatağı, a beautiful 5-star hotel, is another excellent choice for all those of you that want to be spoiled during their stay in İstanbul.
Some of the best things about staying in this 5-star hotel are the bar in the lobby, three restaurants with delicious recipes, one club, and the superb rooms, of course. There are also meeting rooms for weddings and parties, small meetings and conferences.
With its great location close to the highway. You can easily access the local mall and various other shops while being conveniently located in a prime business district.
However, the hotel is not close to historical places. No worries, you can reach the center of Kadikoy by metro in a short time.
The rooms are modern, clean, and with a nice bathrooms. If you are lucky enough to view the sea, you will not be disappointed, while the view in the opposite direction might be a bit disappointing.
Be aware that the rooms facing the motorway can have a problem with noises coming through. 
When luxury brings a high cost, the price is also higher than the others.
Price Range: Approximately $55 for a night
Address: Sahrayicedit Mah. Batman Sok. No:4 34734 Kadikoy/İstanbul
11. Hotel Suadiye Asia with the Excellent Service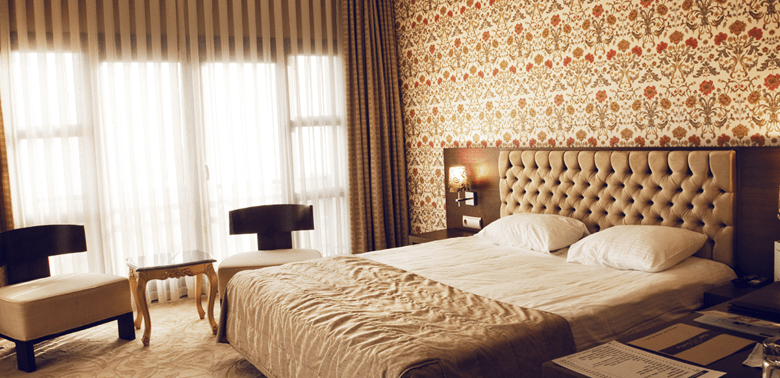 Hotel Suadiye is another awesome mid-range hotel close to the town center.  The hotel is located at the intersection of Suadiye coast and Bagdat Street.
The hotel awaits with beautiful rooms, friendly staff, and excellent service for you in respect of whatever your purpose of staying, business, or holiday.
The location is the best thing about this hotel.  Bagdat Street, the most famous shopping street along Kadikoy and restaurants, as well as the walking path along the seafront, are so close to this hotel. On a sunny day, you can enjoy spending time walking there.
Some of the best facilities here include a terrace, delicious breakfast served each morning, and more. By the way, staying here means you won't get bored. There are always things to do or to see.
Even if you don't think of it as a place to stay, you should definitely try its restaurant and make a reservation to have a delightful dinner there.
Price Range:  Approximately $70 for a night
Address:Suadiye Mh., Bağdat caddesi, Plaj Yolu Sk. No:27, 34740, Kadıköy/İstanbul
12. Sidonya Hotel with a Good Price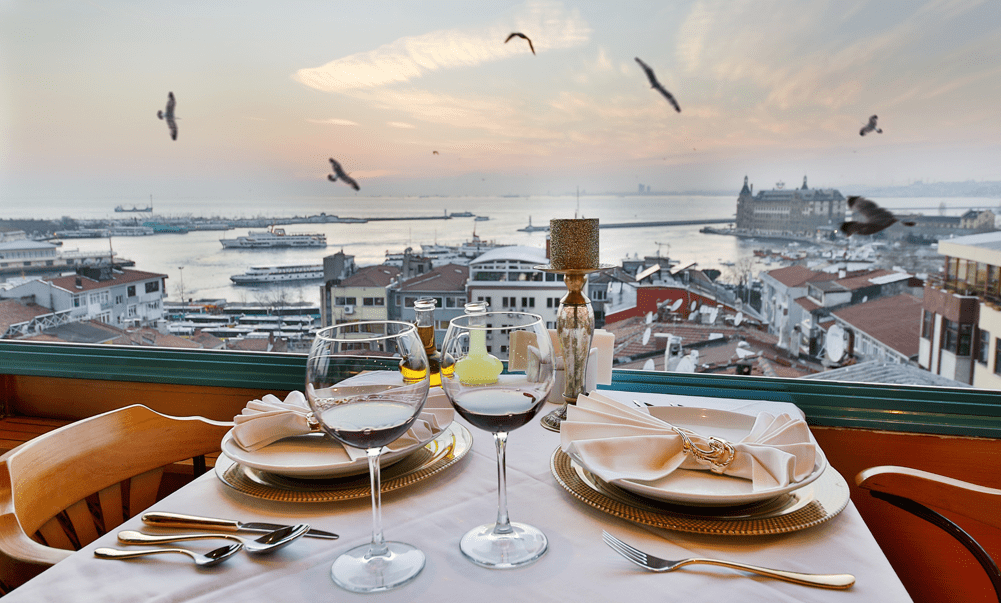 One of the most preferred Hotels in Kadikoy is Sidonya Hotel. Its quality, cleanliness, peaceful, trust, and friendly service makes this place favorable.
The hotel located in Kadıköy Rıhtım Street on the side of the Bosporus.  It has rooms with views of Nostalgic Haydarpaşa Train Station and Sea. You can soak up the atmosphere of the beautiful view of the Marmara Sea.
Sidonya Hotel also has other excellent facilities such as restaurants where traditional delicious Turkish food is served and top roof where you can organize a special day.
The price of this hotel for one night is quiet on the budget.
Price range: Approximately $55 for a night
Address: Rasimpaşa Mah. Rıhtım Cad. Nemlizade Sok. No : 34, 34716 Kadikoy/ istanbul
İstanbul In case you are staying in the city for a short time or a long time, business or holiday. I am sure that all those hotels that I listed for you will be a good option for you and will satisfy your curiosity about wondering the best hotels in Kadikoy. Finally, no matter which restaurant you go to, I hope you will have the best days in your life and leave İstanbul with an excellent memory in your mind.