As you know, Izmir is the third biggest city in Turkey. That means there are a lot of options to choose from. In this list, you may find my 15 favorite restaurants as a local. Maybe those would be your favorites too!
No more talking, let's get this tour started!
1- One of the Best Kebap Restaurant: Tavaci Recep Usta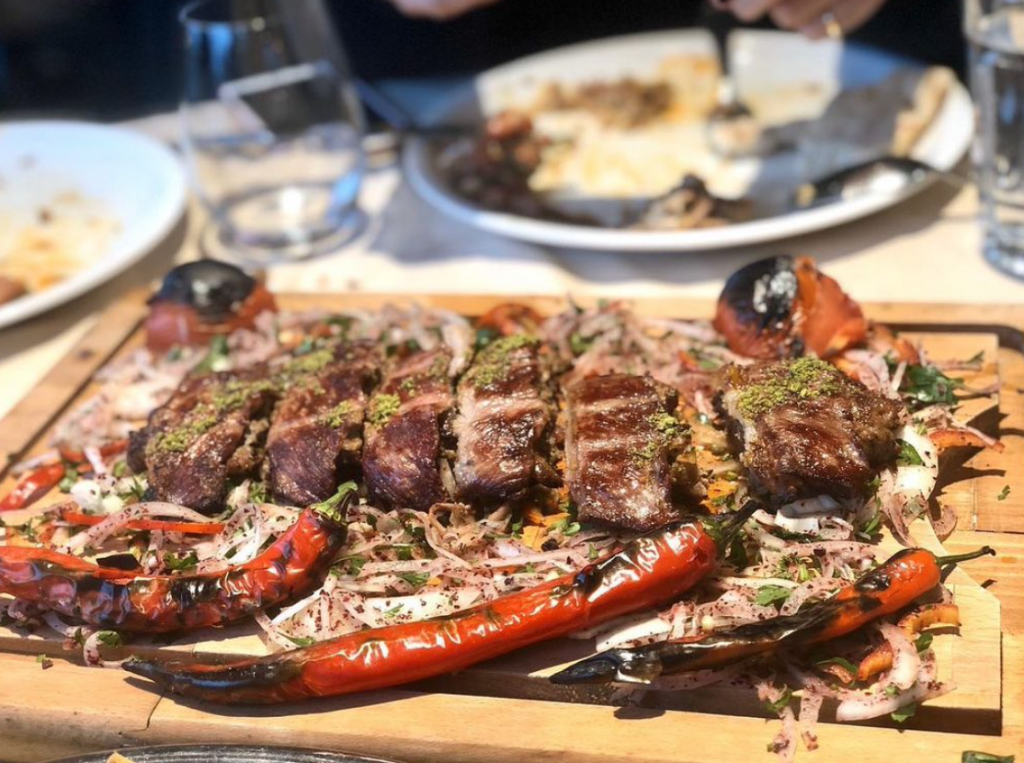 Tavaci Recep Usta is located in Alsancak, the center of Izmir. Located at the beginning of the Kordon coastline, this beautiful steak restaurant has been in service for a long time.
After a delicious meat or kebab meal, they serve dessert and tea. Among these desserts are baklava and semolina halva. An excellent choice for those who want to experience Turkish culture to the fullest.
It can be a good choice for a nice dinner accompanied by the sea view and greenery of Kordon. Tavaci Recep Usta's tandoori and rice, ribs, and kebabs are especially delicious.
Tavaci Recep Usta serves from 8.30 in the morning to 10 in the evening every day. The reason it serves in the morning is that it also has breakfast here, but frankly, I prefer to go to dinner.
Address: Ataturk Cd. No: 364 Alsancak / Izmir
2- A French Dining Place: La Cigale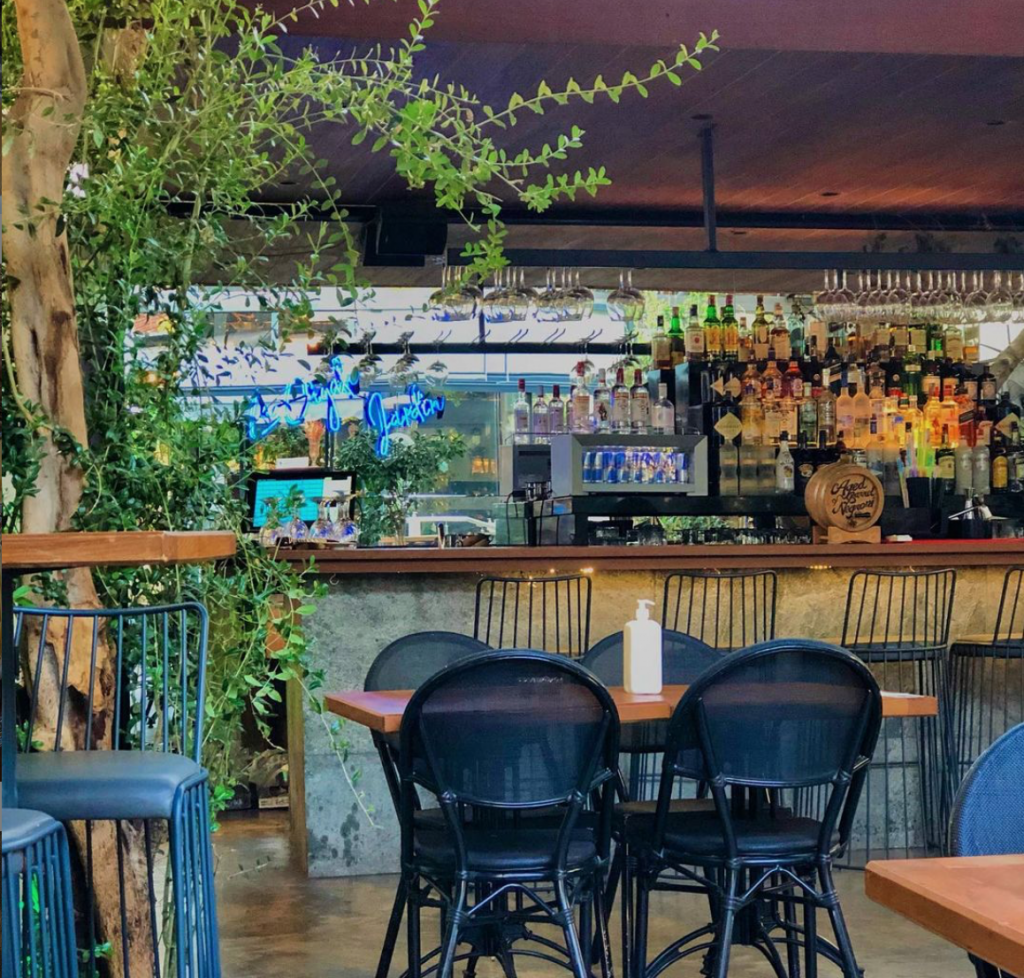 La Cigale, a French word, means "cicada" in English. Of course, it is a matter of curiosity whether the name of the restaurant refers to the story of ant and cicada.
Located in Alsancak, the center of Izmir, La Cigale is located right next to the French Cultural Center, as its French name shows. At the French Cultural Center, you can take private lessons in French, read books and visit exhibitions.
At La Cigale, you can eat French culture and have a pleasant day with wines or cocktails in a stylish and garden ambiance. You can see La Cigale, which was restored a few years ago, in its renovated form when you go. I think it's much more beautiful.
La Cigale is only closed on Sundays. It serves every other day from 11 AM to 12 AM.
Addresses: Alsancak, Kultur Mahallesi Alsancak Mahallesi Fransiz Kultur Merkezi Cumhuriyet Bulvari, D:No:152, Alsancak / Izmir
3- Enjoy the Live Music in Cafe Plaza Brasserie Bomonti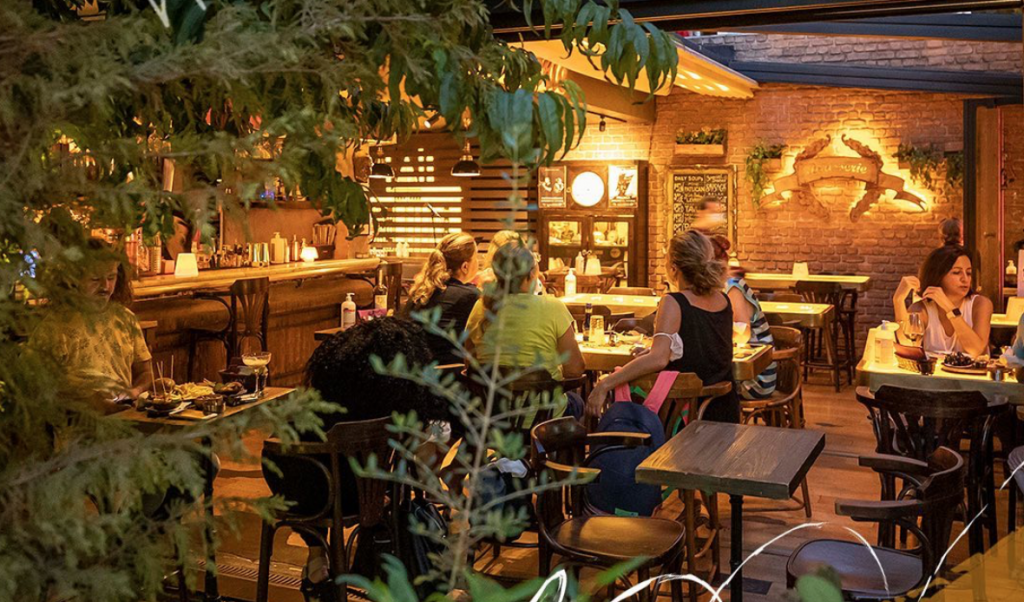 Cafe Plaza, located on Gul Street, the busiest place in Alsancak, is a very pleasant place especially for celebrations. Live music is also played here from time to time. You can follow the program on social media while you are in Izmir.
Normal music also plays on days when there is no live music. In Cafe Plaza Brasserie Bomonti, where especially beer varieties are abundant, of course, not only beer, you can also ask for wine and other types of drinks.
When I went here for a celebration, I ate a snack plate and it was delicious. If you do not want to get away from the crowdness of the street and the liveliness of the city while having fun on the one hand, this may be the right place for you.
Besides, I suggest you to make reservations for Saturday meal times. Because it gets very full especially from the afternoon. It is very likely that you will not find a place in the evenings.
Cafe Plaza Brasserie Bomonti serves every day except Sundays. You can find it open from 11 AM to 2 AM.
Address: Kultur Mah, Dr. Mustafa Enver Bey Cd. No:3/A, Alsancak / Izmir
4- An Amazing Atmosphere in Less Ordinary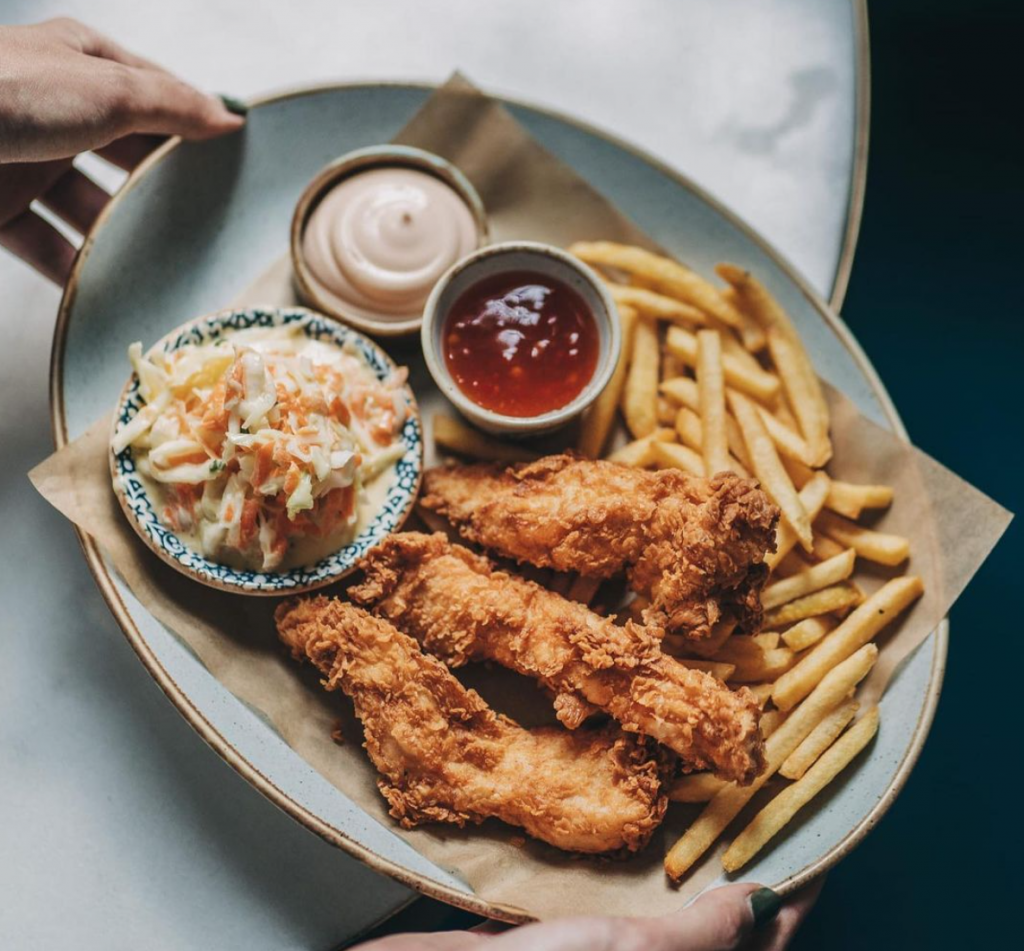 Less Ordinary… It is impossible not to fall in love with this gastropub. This is my stop whenever I go to Izmir.
You have coffee, good food, dessert, and on top of that, they have incredibly beautiful cocktails. Among these cocktails, there are also flavors that you cannot find easily in other places, such as lavender.
Besides all this, it has such a peaceful and pleasant environment! The open garden at the back, the bar, the sitting areas upstairs … All of them have been designed with real thought and effort.
It seriously gives you an experience that is far from routine. This place emerged with the renovation of an old mansion from the outside, so it has two floors. You also get the air of that old mansion, the place itself draws you in.
It is a very enjoyable place to go both day and night. This is also a very local place, which is already on a side street of Kordon. So it's not easy for everybody to find it, you are in luck!
Less Ordinary is open every day. The working hours are from 11 AM to 1 AM. Only on Fridays and saturdays the closing hour is 2 AM.
Address: 1469. Sk. No:1, 35220 Alsancak / Izmir
5- Delicious Food in %100 Cafe & More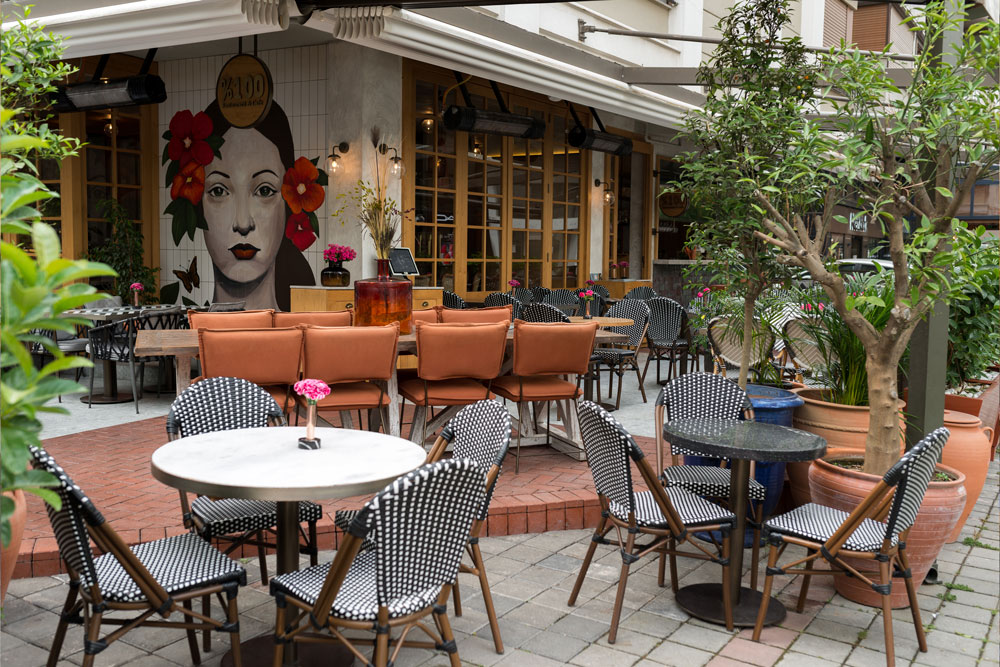 % 100 Rest Cafe & More is located in Alsancak, right in the middle of Gul Street.
The place is a bit more expensive than classic restaurants, but it is a very enjoyable place. It was renovated a few years ago and now you can sit in its renovated version, I think it is now more stylish, it is nice.
At 100%, there are many foods you can think of such as meat, chicken, fish, hamburger, vegetarian, and sushi. Their food is also quite delicious, at least I enjoyed it the last time I went.
I especially like to have wine-cheese concept snacks here. Because, in my opinion, cheese plates are more satisfying compared to other restaurants. It is quite enough for two people. Their wines are also quite diverse.
Another activity I like at 100% is to sit outside and watch the passers-by. I watch everyone, women, families, and young people shopping from Gul Street. Sometimes acquaintances can come out.
100% also has branches in Karsiyaka and Konak Pier. It serves from 10 AM to 12 AM every day. In case you want to go, I will leave the addresses of the branches in Karsiyaka and Konak Pier.
Addresses: Kultur Mahallesi, Dr. Mustafa Bey Caddesi, Alsancak / Izmir; Konak Mahallesi Ataturk Cad. Konak Pier Alisveris Merkezi D:No:19, D:4, Konak / Izmir; Yali Mahallesi , 6522 Sokak No:3, Karsiyaka / Izmir
6- Have Your Meal by the Sea in North Pier's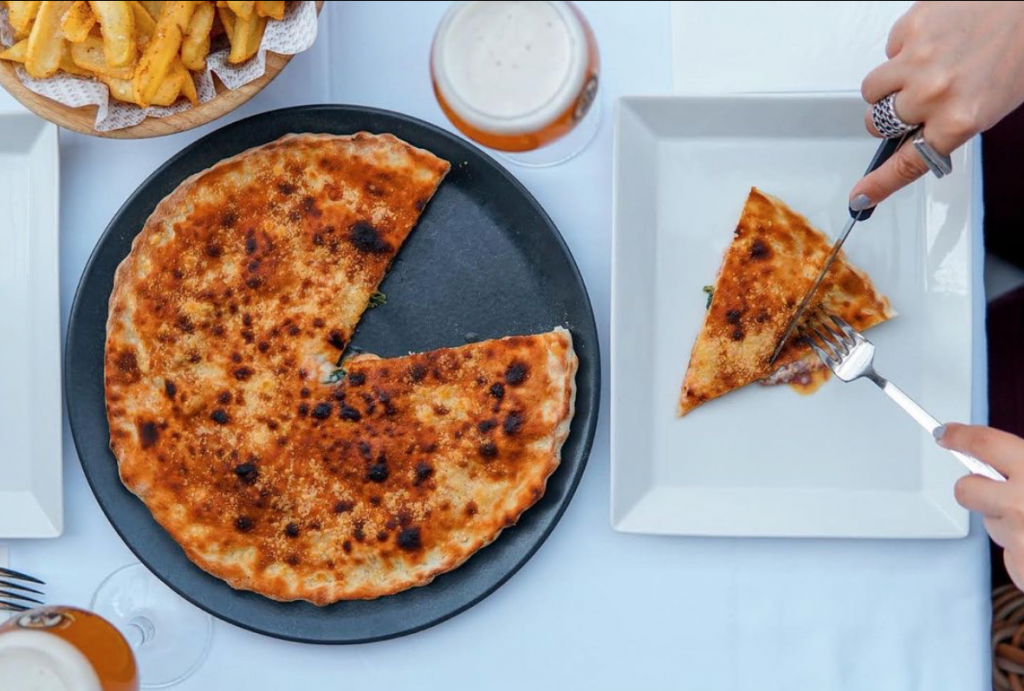 As the name suggests, North Pier's is located inside Konak Pier, the only shopping center in the Alsancak region. Synthesizing European and Turkish cuisine, North Pier's is also very popular with its seafood and wines.
You can see the magnificent sea view of Konak Pier and Pasaport Pier with North Pier's. Veal schnitzel and seafood dishes are especially popular here.
I definitely recommend you to visit this delicious and beautiful ambiance before you finish your Izmir trip. I'm sure you'll want to at least have a drink against the sea. You can take care of your food and beverage here and maybe visit a store in Konak Pier.
North Pier's is open every day from 10 AM to 1 AM. The reason for opening at 10 AM is that it is in the shopping center. Because the opening hours of shopping centers in Turkey is 10 AM.
Address: Ataturk Caddesi, Konak Pier Alisveris Merkezi No: 19/HI-J Alsancak / Izmir
7- Delicious Hamburgers in B'ready Snacks & Bites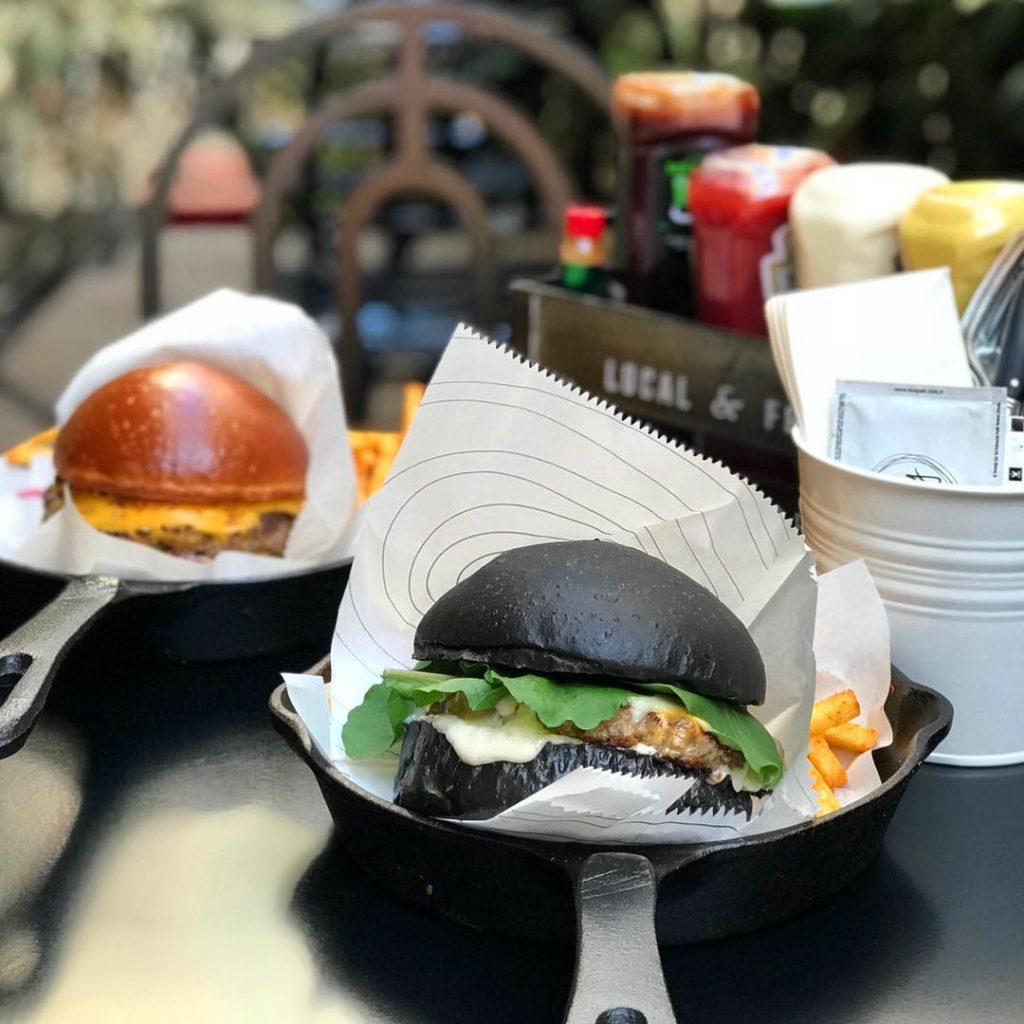 Our next guest on the list is B'ready, the best burger restaurant in Izmir! They serve the burgers and fries inside a black pan.
B'ready has a great concept and the place is very popular. They have different kinds of burgers. They also do have desserts and they are so good too! B'ready has amazing food and drinks options.
They have an amazing iced tea with cherry sorbet. It has a sweet and sour taste, but it is also quite refreshing! I love homemade iced teas and if you love them too, you should definitely try it.
B'ready is located in Alsancak, near Gul Street. The place is closed on Mondays. It is open from Tuesday to Sunday. B'ready is open from 11.30 AM to 9.30 PM.
Address; Zuhal Yorgancioglu Sk. No:9/B, Alsancak / Izmir
8- Right Place for an Italian Night: Ristorante Pizzeria Venedik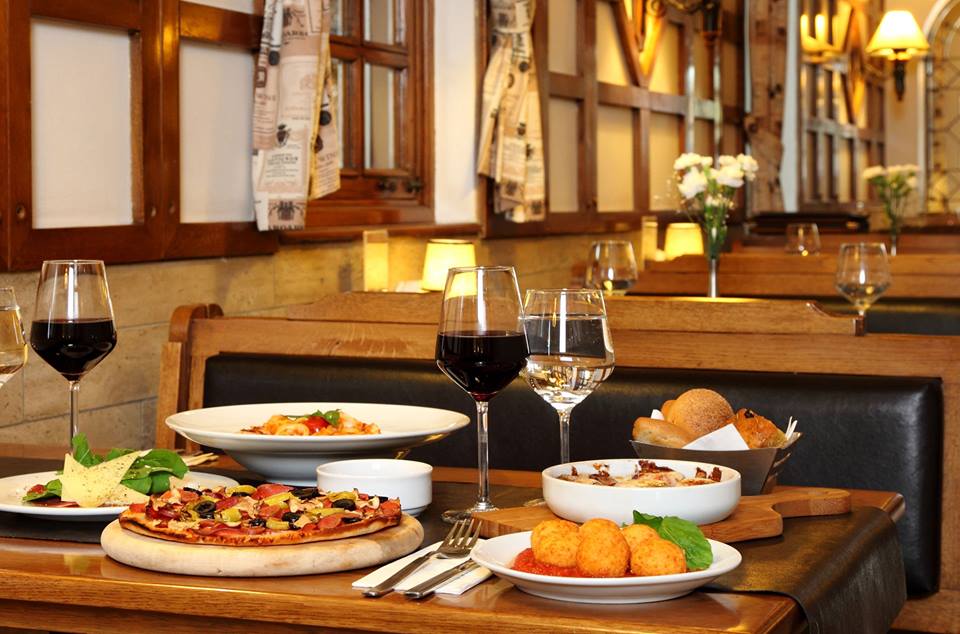 Ristorante Pizzeria Venedik is a very old Italian restaurant, specialized in pizza but their plates of pasta are so delicious too! The restaurant has been in Izmir for 40 years. Pretty old, huh?
Their the essence of pasta prepared with traditional methods, village eggs, semolina and the freshest products from their fields will be remarkable for you in this restaurant. Everything you will eat is going to feel like you are in Italy.
My favorite dishes here in Ristorante Pizzeria Venedik are their special Pizza Venedik and pasta in a parmesan wheel. Yes, they really serve the pasta from the parmesan wheel and it would be full of cheese. Pizza Venedik has sausages and mushrooms as the main ingredients.
They also have Italian kind of appetizers and soups, if you don't want to eat pizza or pasta. Options for everyone is the best thing in the world!
Let me give you the good news now; they have a limoncello shot treat when you order the bill. It is of course, free of charge. The place is open every day from 11.30 AM to 9.45 PM.
Address: Kultur Mah. 1382 Sokak, Gul Sk. No:10/A-B, Alsancak / Izmir
9- Feeling Healthy in Chop Chop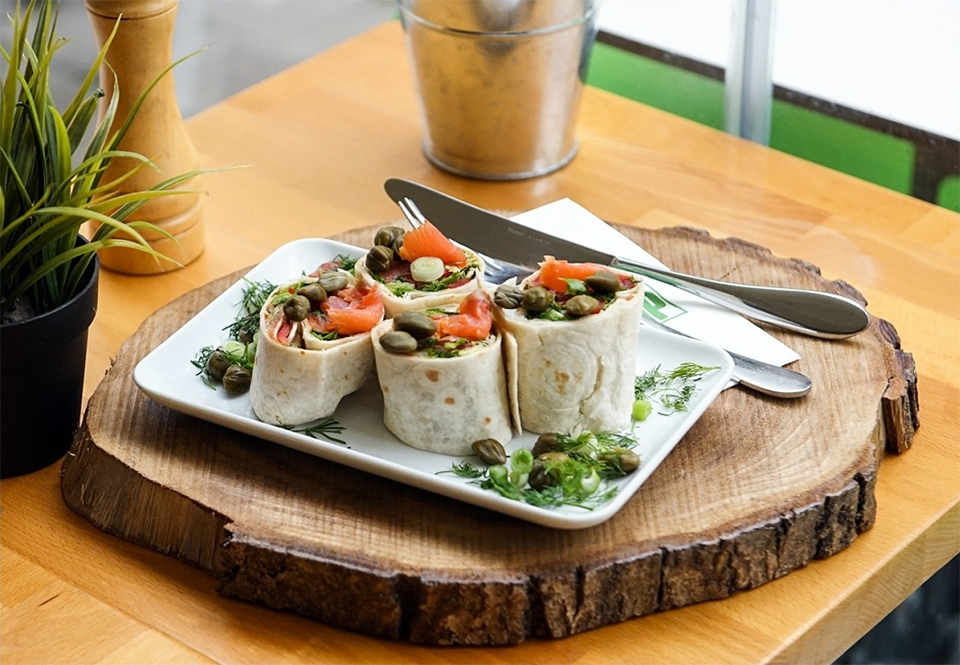 Are you now sick of unhealthy choices like pizza or hamburgers? So, this option comes for you. I didn't forget to put a healthy option to the list.
Chop Chop is a great place if you want to have a healthy meal. They have various kinds of salad and salad wraps. The good thing is that Chop Chop is very different than any other place. In here, you are the boss.
What did I mean when I say "You are the boss"? I mean, you can make your salad. You can choose your greens, your ingredients such as proteins, beans, or anything you want, and also you can decide what dressing you want to put on your salad.
If you don't feel like you're full after eating salad, salad wraps will come to your rescue!
By the way, the place is open every day from 10 AM to 9.30 PM.
Address: 1387. Sk. No: 5 D:B, 35220 Alsancak / Izmir
10- Italian Vibes in Murano's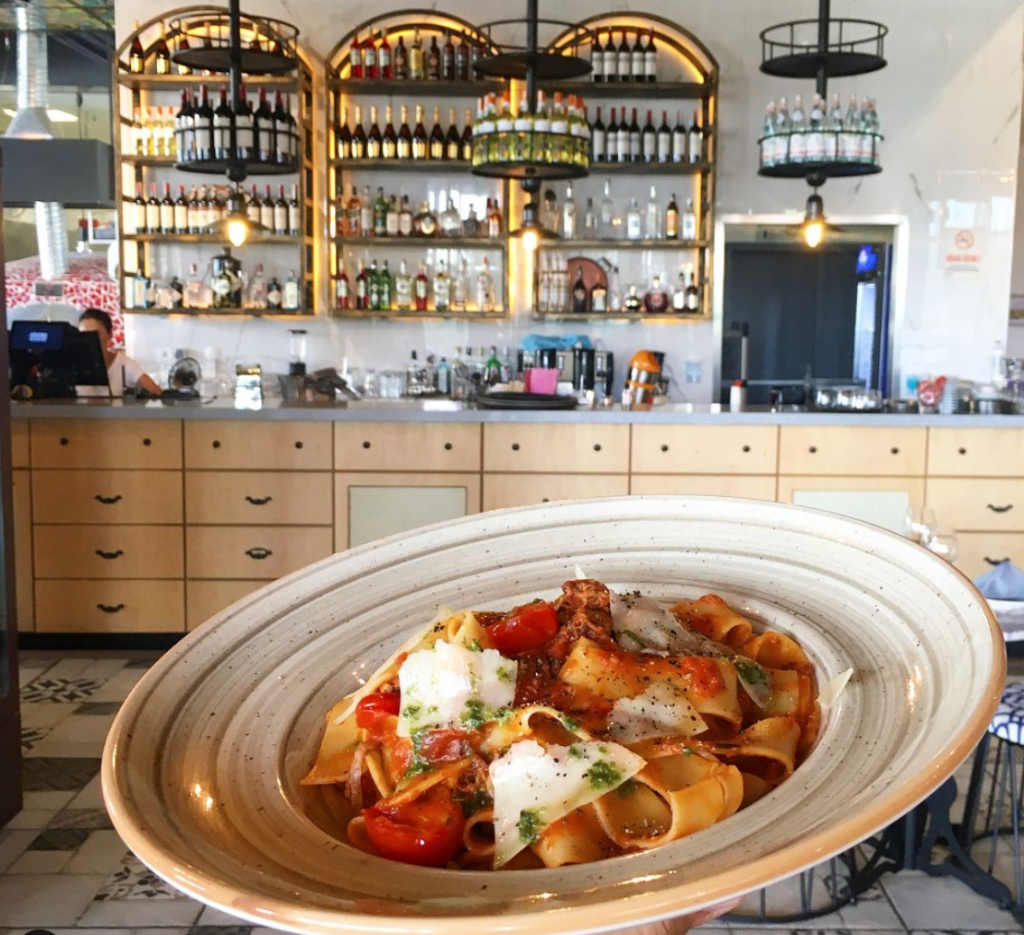 Which of us wouldn't like Italian cuisine? Even when I say pizza, pasta, cheeses, desserts, my mouth gets watery. Imagine a place that is outside of Italy but includes all of Italy inside. Yes, you got it right, this is Murano. I think here is the best Italian restaurant in Izmir.
They are especially inspired by Northern and Southern Italian cuisine and adopt the philosophy of "cooking in the simplest way with the best ingredients" and using the highest quality ingredients. Maybe that's exactly why I felt like I went to Italy while I was here.
I would like to give you another nice detail about Murano's; You can buy your uncooked pasta here. So you can set your sauce on that beautiful Italian pasta and go on your journey to Italy within yourself. If you have those who don't want to deal with sauce, good news for them, they also sell sauces!
Murano's is currently located in Alsancak as a restaurant and serves daily from 9 AM to 12 AM.
Address: Kultur Mah. The Alsancak Apt, Umran Baradan Sokak No:7 A, Alsancak / Izmir
11- Have a Good Evening in Soiree Restaurant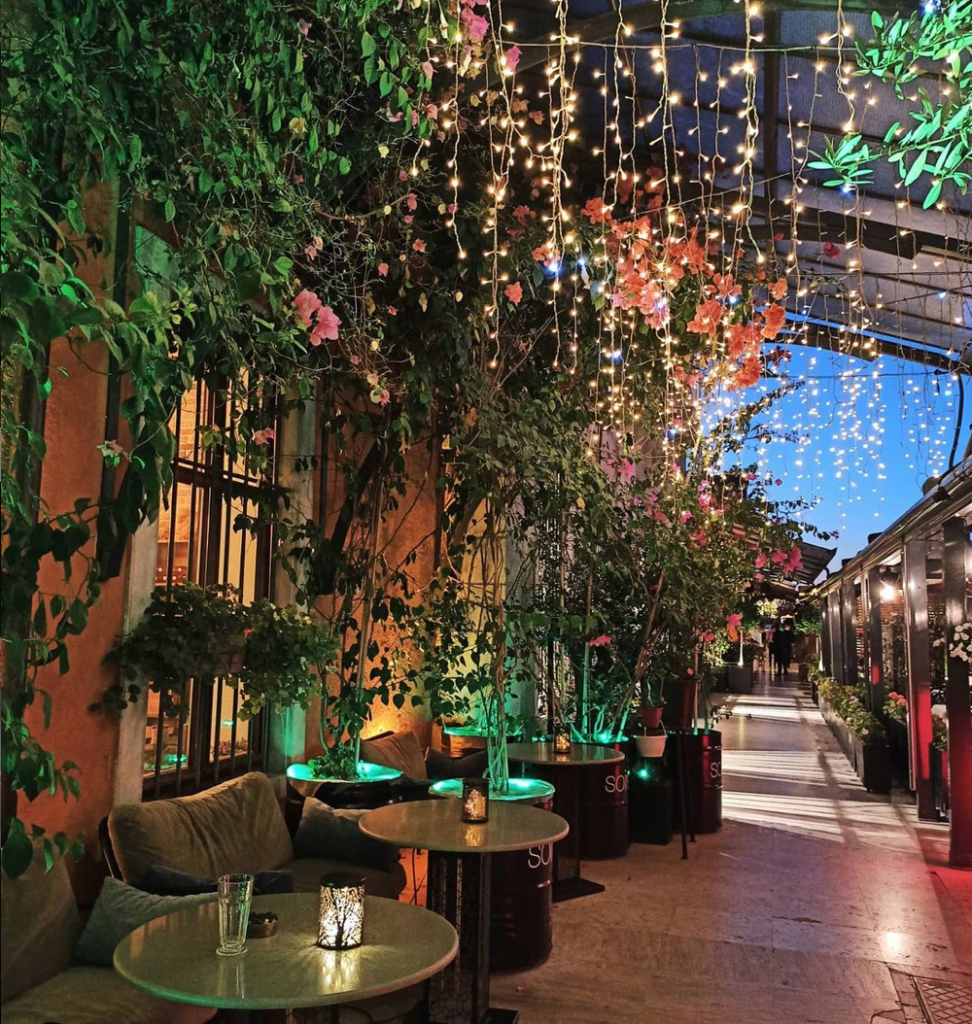 Soiree is located in Konak Pier shopping center just like North Pier's. I think the word "soiree", which means "evening" in French, gave its name to it.
Since this place is in Konak Pier, you can watch the sea view and breathe sea air. It is a highly preferred place with its pleasant garden concept and delicious food.
Although I think its name comes from the word "evening", the breakfast service here is also generally appreciated. In this place, which has a mixed breakfast concept, there are also breakfast foods other than mixed breakfast.
In addition to all these, it is a great combination when you try one of their nice cocktails.
Soiree serves from 10 AM to 1 AM every day, just like North Pier's.
Address: Akdeniz Mah. Ataturk Cd. No:19/l Konak Pier AVM, Alsancak / Izmir
12- Best Seafood Restaurant in Izmir: Kordon Yengec Restaurant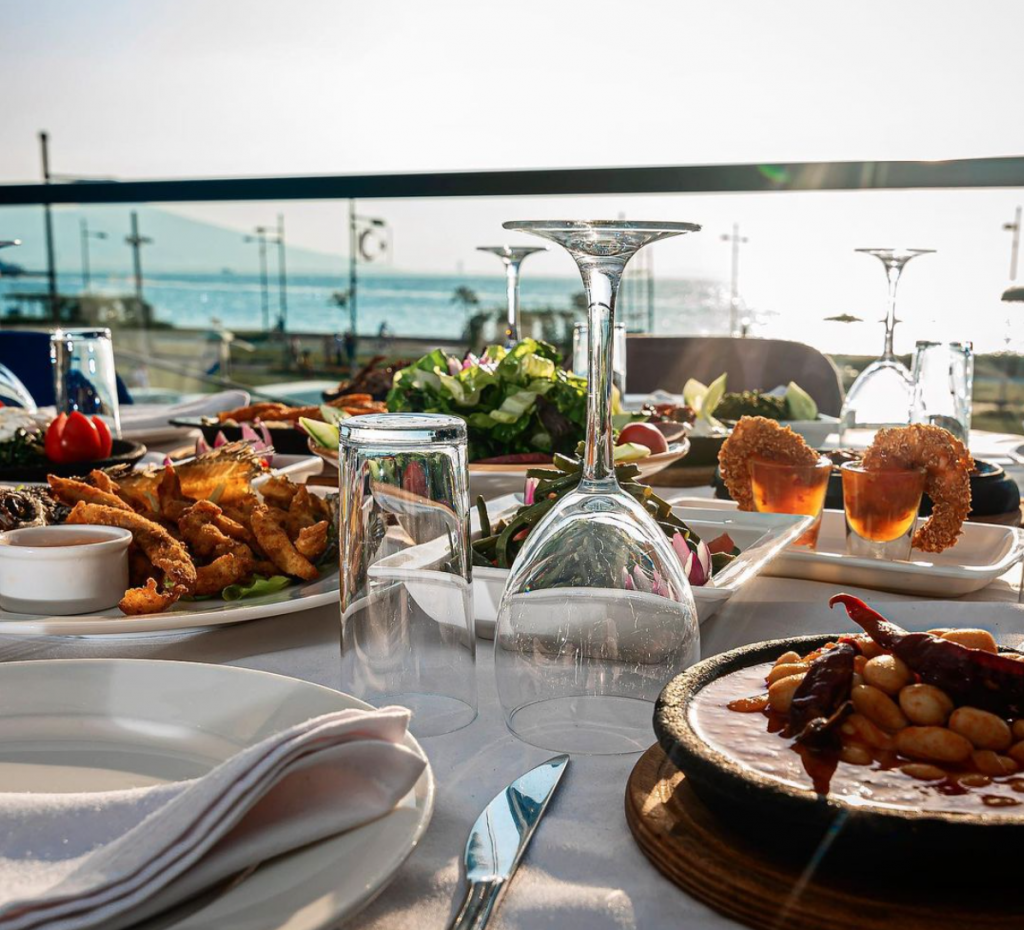 I have a great suggestion for those who love to eat fish and those who want to have a nice fish while coming to Izmir! I think one of the best fish restaurants in Izmir is Kordon Yengec Restaurant.
Its customers are so satisfied that many restaurant guides are on the site, this is a place that has managed to be the 1st seafood restaurant of Izmir city and the 5th among all restaurants in Izmir.
When you come here with the rich seafood and original dishes on the menu, you may want to think about when you will come again. Another favorite part of the restaurant is that it is in Kordon and it has a magnificent view.
Even if the weather is cold, feel free to sit inside, the interior decoration of the restaurant is also very stylish. They preferred a stylish and pleasant ambiance instead of the shabby of other fish restaurants.
Kordon Yengec Restaurant serves from 10 AM to 12 AM every day. You may need to make a reservation especially if you are going on the weekend because it is very busy.
Address: Ataturk Cad. No: 314/1 Alsancak Kordon, Against Alsancak Ferry Pier, Alsancak / Izmir
13- First Food Market of the City: Atmosphere Izmir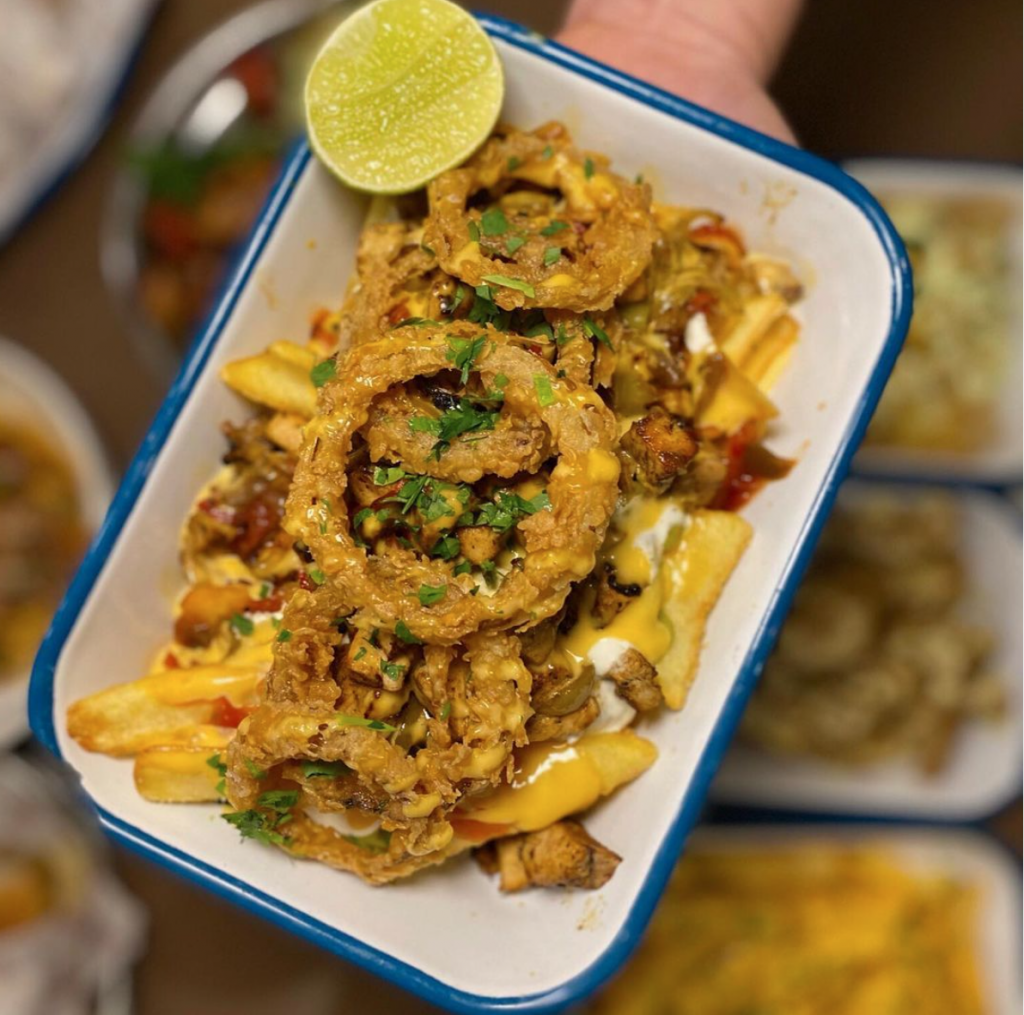 Atmosphere, Izmir's first Food Market, has the distinction of being both a market and a restaurant. Here, you can have fun street delicacies and fast foods, as well as do your food shopping.
Located in Izmir's Bornova district, Atmosphere, in my opinion, actually targeted the young adult audience. Both the street food concept and its opening in Bornova, a university district, show this.
I think Atmosphere, which has a wide variety of delicious dishes, can be tried because it has a very different concept than other restaurants in Izmir. You can also reach this area by metro, transferring from Alsancak, apart from taxi and vehicle.
Atmosphere Izmir serves every day from 10 AM to 10 PM. It was very good that the openings and closings were at the same time.
Address: Kazimdirik Mah., Sanayi Cd. No:28/B, Bornova / Izmir
14- A Brand New Italian Place: Litany Ristorante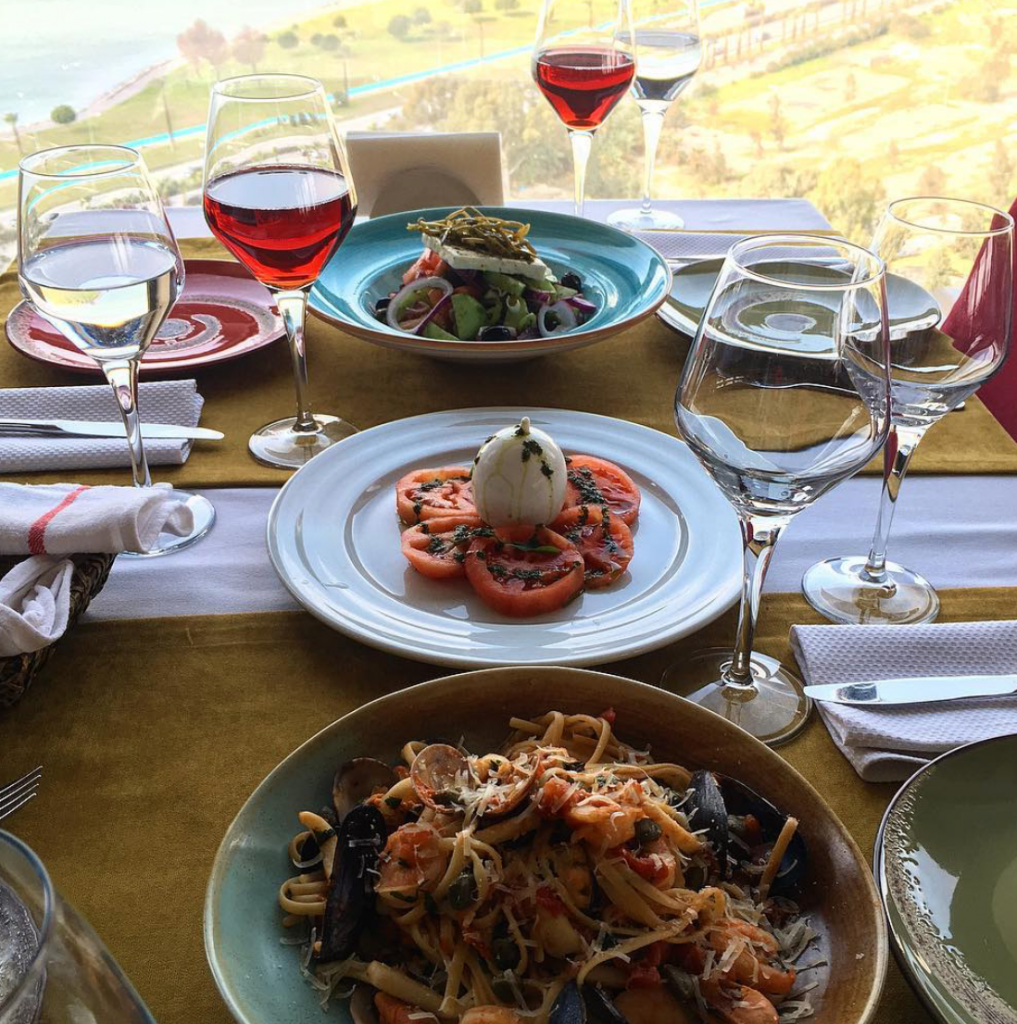 I will recommend you another Italian restaurant, an alternative to Murano's! Litany Ristorante is located in the newly developing district of Bayrakli in Izmir. Recently, this district has undergone urban transformation and many workplaces are located in newly built buildings here.
One advantage of Litany is that it is located in these newly built high-rise buildings. Because the upper floors of these buildings have a magnificent view, even bringing almost all of Izmir to your eyes!
I think the idea of watching Izmir while eating your pasta or pizza is wonderful, do you think?
Lasagna, risotto, linguine and pizzas … They are all served very successfully, and very tasty. Although it has just been opened, it should not be surprising that it is so admired.
For those who wonder; Litany operates from 12 PM to 11.30 PM every day.
Address; Anadolu Caddesi No:40 Tepekule Kongre Sergi ve İs Merkezi, Bayrakli / Izmir
15- Red Dragon Sushi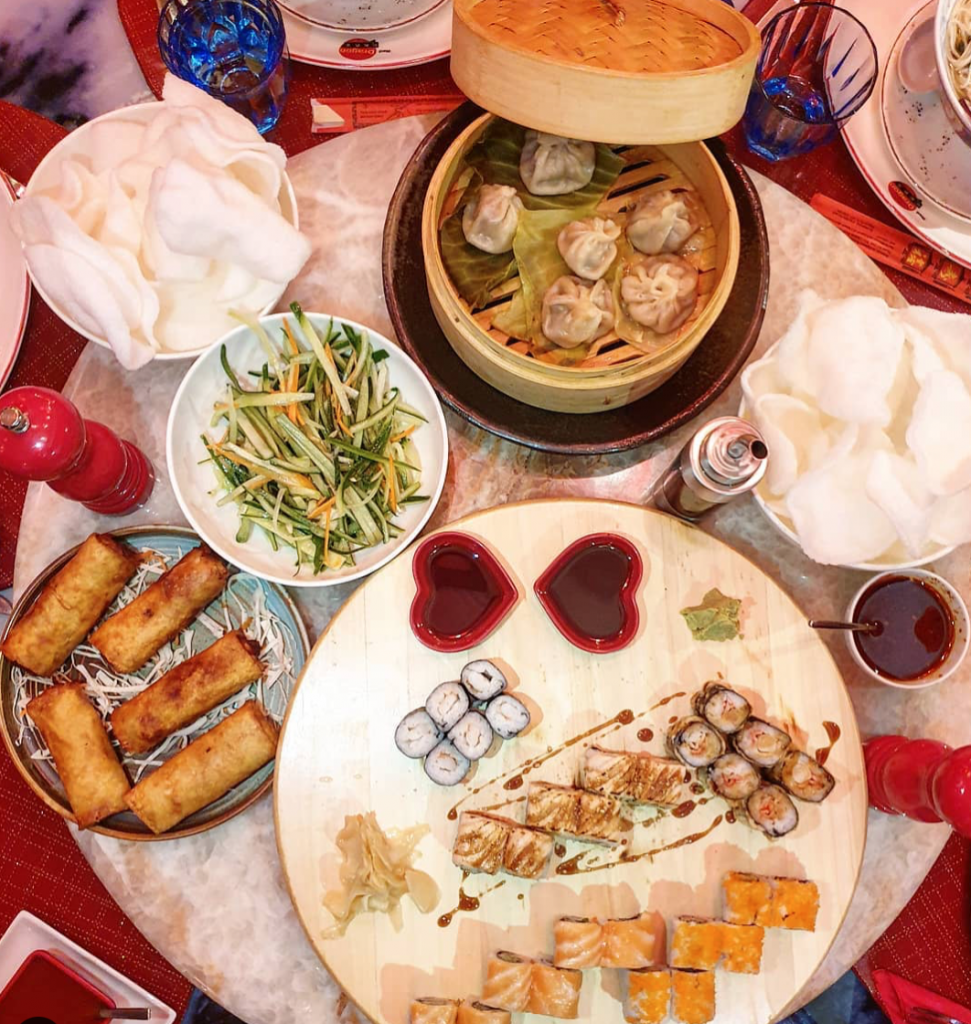 All my previous suggestions belonged to European and Turkish cuisine. Now I wanted to put Far Eastern cuisine, one of my favorite cuisines, in the last place. One of my favorite sushi restaurants in Izmir is Red Dragon.
You know, the red dragon is a very popular figure in the Far East. Especially in China, so I think this place chose this name. You can find many delicious foods from Chinese and Far East cuisine here.
Red Dragon is located in Alsancak. It is rated as the 2nd best among 9 Chinese Restaurants in Izmir.
This place serves every day. It opens at 11 AM from Monday to Friday, while it opens at 11.30 AM on the weekend and closes at 11 PM each day.
Address: Alsancak Efes Is Hani, Sevket Ozcelik Sk. No:57A, Konak / Izmir
Izmir has a wide range of restaurant options but those 15 restaurants were my favorite.
I have tried to include every cuisine and more of local spots but of course some of them are also touristic. I hope you could find somewhere for your own taste from this list!