Discover the culinary paradise of Kalkan, a charming coastal town on Turkey's Turquoise Coast. In this delightful destination, many exceptional dining experiences await, making it a haven for food enthusiasts. Unveil the finest restaurants in Kalkan, each offering a captivating blend of flavours and ambience.
From traditional Turkish ocakbasi grills, serving succulent kebabs and mouth-watering mezes, to elegant seafood eateries boasting the freshest catches of the day, Kalkan's diverse dining scene caters to every palate. Kalkan has it all, whether seeking an intimate waterfront dinner, a romantic rooftop setting with panoramic views, or a laid-back alfresco ambience. Join us on a gastronomic journey through this enchanting coastal gem, where every meal celebrates taste, culture, and indulgence.
Best Restaurants in Kalkan
#1. Rose Restaurant Antalya: Where Gastronomic Delights Blossom with Flavorful Elegance!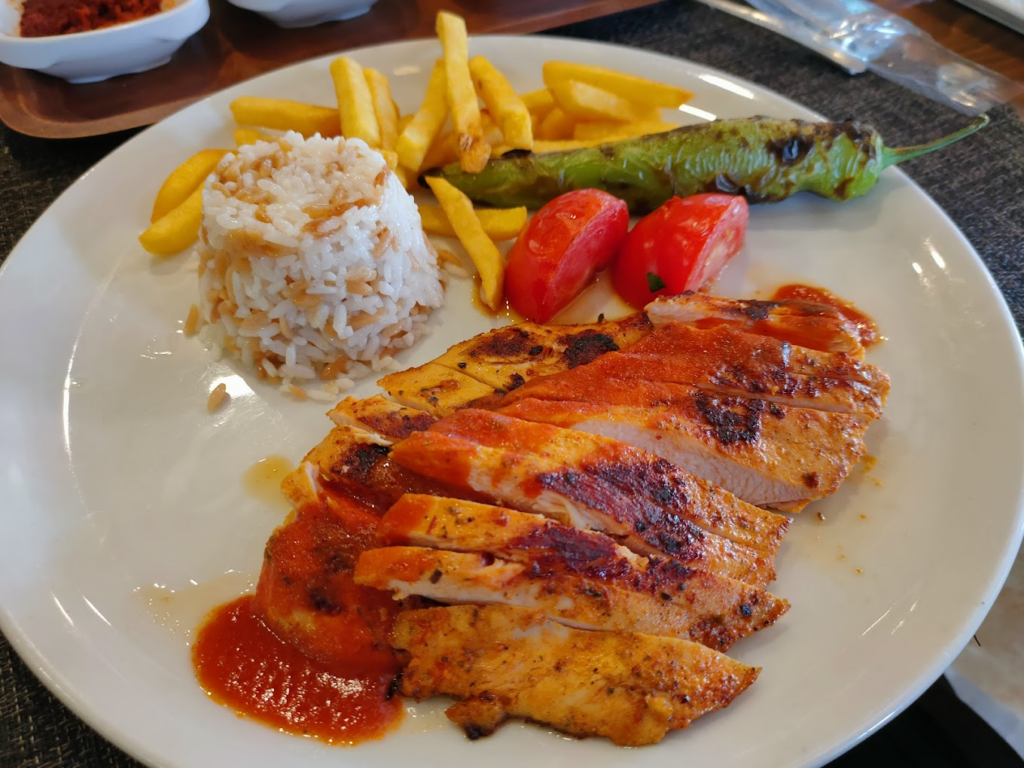 Rose Restaurant Antalya is known for its extensive menu that primarily offers traditional Turkish cuisine with a modern touch, appealing to local residents and tourists.
One of the highlights of Rose Restaurant Antalya is its emphasis on Turkish dishes, ensuring guests can experience authentic local flavours. Dishes like Adana Kebab, Manti (Turkish dumplings), and a variety of Mezes (appetisers) frequently appear on the menu. You'll also find classic Turkish breakfast options, with a spread of cheeses, olives, bread, and jams.
Besides traditional Turkish fare, Rose Restaurant Antalya also provides a selection of international dishes to cater to a wide range of palates. This includes pasta, grilled meat, and seafood, prepared using both local and imported ingredients. For dessert, the restaurant offers a variety of traditional sweets such as Baklava and Künefe, along with a selection of Turkish teas and coffees, providing a perfect end to a meal.
Address: Kalkan Eski, Ortaokul Cd. No:5, 07580 Kaş/Antalya, Türkiye
#2. Ata Mezze Grill: Discover the Authentic Charms of Mediterranean Flavors!
Specialising in Mediterranean and Middle Eastern cuisine, Ata Mezze Grill Kalkan provides an extensive menu that features mezze and grilled items. Mezze, small plates typically served at the beginning of multi-course meals, are a significant part of their offerings. In addition to mezze, the restaurant serves a selection of local cheeses, stuffed vine leaves known as dolma, and a variety of seasoned olives. Fresh bread is also a notable part of the meal, often served with different kinds of dips.
Grilled items, the other mainstay of the menu, cover a variety of meats and seafood. These range from classic shish kebabs, and grilled lamb chops to marinated seafood options like calamari and prawns. Vegetarian grill options are also available, making the restaurant's menu inclusive for a range of dietary preferences.
For dessert, Ata Mezze Grill Kalkan offers a selection of traditional sweets. Baklava, a rich, sweet pastry made of layers of filo filled with chopped nuts and sweetened with syrup or honey, is a customer favourite.
Address: Kalkan, Şehitler Cd. no:21, 07960 Kaş/Antalya, Türkiye
#3. "Oz Adana Restaurant: Savor the Rich Flavors of Adana Cuisine Like Nowhere Else!"
Oz Adana Restaurant is an eatery distinguished for its dedication to Southern Turkish, specifically Adana, culinary traditions. This restaurant creates a unique dining experience by focusing primarily on Adana kebab and other regional specialities that encapsulate the essence of this particular Turkish cuisine.
The menu is characterised by its emphasis on hearty, spiced meat dishes. The Adana kebab, a spicy minced meat skewer named after the 5th largest city in Turkey, is a standout item. Expertly seasoned with local spices, this iconic dish is charcoal-grilled and typically served over warm, fresh bread with sides of various salads and pickles.
Beyond the Adana kebab, the menu further explores regional cuisine with dishes like lahmacun, a thin piece of dough topped with minced meat, vegetables, and herbs before being baked. Another crowd-pleaser is the Ali Nazik kebab, a harmonious blend of grilled eggplant, yogurt, and seasoned lamb.
Address: Kalkan, Menteşe Mah, Şehitler Cd., 07580 Kaş/Antalya, Türkiye
#4. Mussakka Restaurant: Relish Timeless Tastes of Mediterranean Tradition!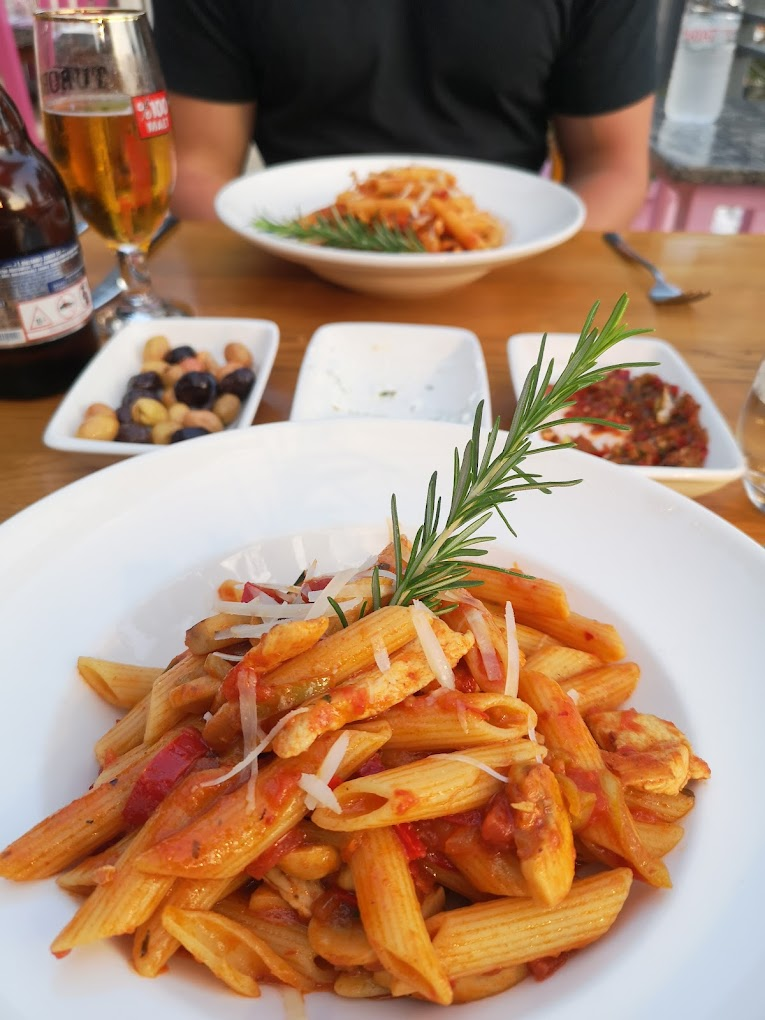 Mussakka Restaurant is an establishment that takes its inspiration from the diverse culinary traditions of the Mediterranean, with a specific focus on the signature dish that gives the restaurant its name. Found in various forms across the region, from Greece to Turkey and the Middle East, the namesake dish, moussaka, is a baked casserole-style entrée known for its layers of eggplant, meat, and béchamel sauce.
The menu at Mussakka Restaurant offers a creative exploration of this classic dish, providing several versions of moussaka that cater to a variety of tastes. Traditional versions feature layers of sautéed eggplant, spiced lamb or beef, and a creamy béchamel sauce, all baked to a golden perfection. However, there are also versions with other vegetables like zucchini or potato, and even a vegetarian moussaka, substituting the meat with a variety of hearty vegetables and lentils.
Address:Kalkan, Mustafa Kocakaya Cd., 07580 Kaş/Antalya, Türkiye
#5. Marina Restaurant Kalkan: Where Exquisite Dining Meets Seaside Serenity!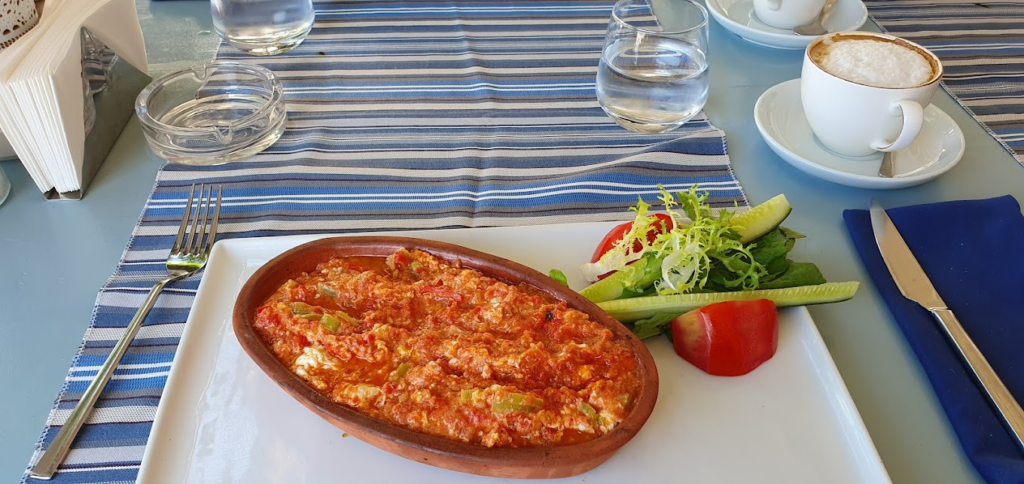 Marina Restaurant Kalkan is known for its stunning sea views and extensive menu, this restaurant focuses on offering fresh, local, and seasonal dishes with a heavy emphasis on seafood. The menu at Marina Restaurant Kalkan is a reflection of its seaside location. It showcases an impressive selection of fresh seafood caught locally and prepared in ways that celebrate Turkish culinary traditions. Customers can enjoy dishes like grilled octopus, seasoned calamari, and a variety of fish ranging from sea bass to turbot, all prepared with an array of Mediterranean spices and herbs.
But seafood isn't the only specialty at Marina Restaurant. Their menu also includes various traditional Turkish dishes catering to meat lovers and vegetarians alike. These range from classic kebabs and lamb dishes to mezzes featuring local cheeses, olives, and vegetable-based recipes. Marina Restaurant also boasts an extensive wine list, featuring local Turkish wines as well as international selections, providing the perfect accompaniment to any meal.
Address: Kalkan, İskele Sk., 07580 Kaş/Antalya, Türkiye
#6. Belgin's Kitchen Restaurant: A Culinary Journey of Flavors Crafted with Love!
Belgin's Kitchen Restaurant is renowned for its traditional and contemporary Turkish cuisine blend. Set in a comfortable and welcoming environment, the restaurant is committed to providing authentic flavours and a memorable dining experience for all its visitors.
The menu at Belgin's Kitchen is a testament to the rich culinary traditions of Turkey. It features a comprehensive selection of dishes, combining classic recipes with modern interpretations, all prepared using fresh, locally-sourced ingredients. The main course options are equally diverse. The restaurant is particularly noted for its succulent kebabs, slow-cooked casseroles, and various lamb and chicken dishes, all flavoured with a unique blend of spices that typify Turkish cuisine. There's also a good selection of vegetarian dishes, with vegetable casseroles, stuffed bell peppers, and eggplant dishes taking centre stage.
Address: Kalkan Yalıboyu Mh, 3. Sk. No: 16, 07960 Kaş/Antalya, Türkiye
#7. Trio Restaurant Kalkan: A Symphony of Taste, Ambiance, and Warm Hospitality!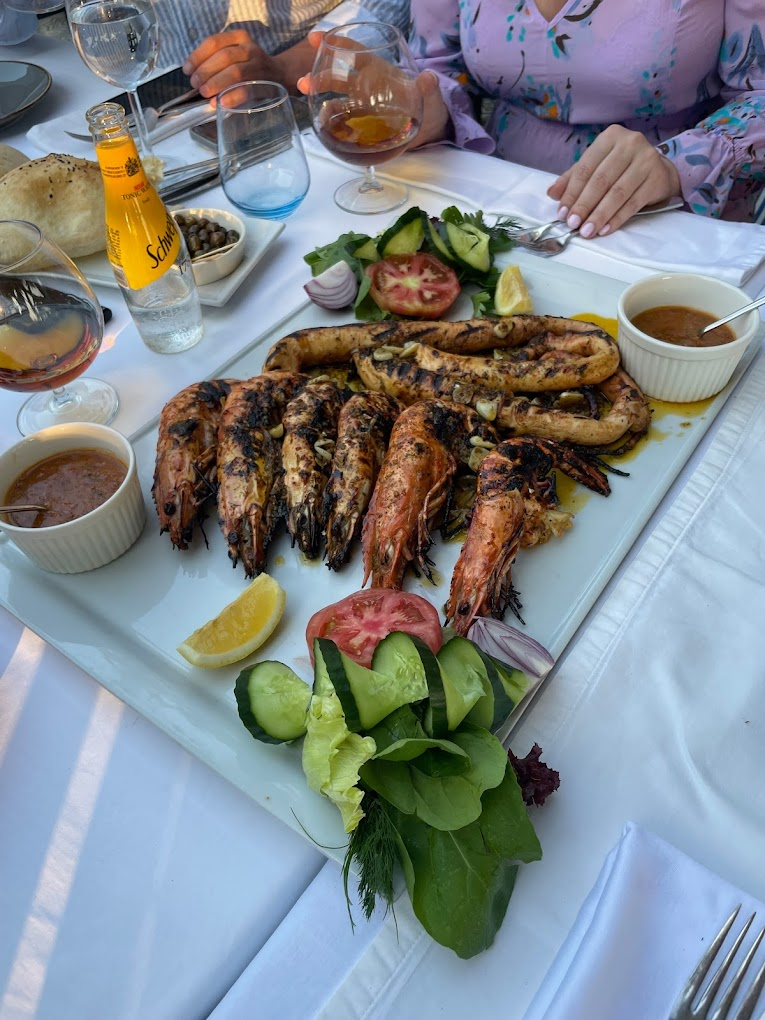 Set against the backdrop of the breathtaking Kalkan harbour in Turkey, Trio Restaurant boasts a harmonious blend of local Turkish, Mediterranean, and international cuisines.The starter options at Trio Restaurant are a combination of globally recognized dishes and Turkish mezze. These include traditional Turkish dips and appetisers alongside unique dishes like Trio's special prawns, showcasing the restaurant's fresh, local seafood cornerstone.
For the main course, Trio Restaurant offers a wide-ranging selection that embraces the flavours of the Mediterranean and beyond. Guests can savour everything from classic Turkish kebabs and grilled seafood to pasta dishes and steaks, reflecting global tastes. A distinct feature of the menu is the thoughtful inclusion of vegetarian dishes, providing a breadth of choices for those with different dietary preferences.
Address: Kalkan Harbour, İskele Sk. no:11, 07960 Kaş/Antalya, Türkiye
#8. Salonika 1881: Timeless Flavors from the Heart of Tradition!
"Salonika 1881" is a Greek-inspired restaurant located in Kalkan, offering an authentic dining experience that incorporates elements from the traditional Greek kitchen dating back to the 19th century. The restaurant primarily serves Greek, typically Mediterranean cuisine, focusing on fresh, locally-sourced ingredients. The menu features a wide selection of meals, from meze starters to hearty main courses and delightful desserts.
Among the starters, you'll find classics such as Tzatziki, Dolmades (stuffed vine leaves), and Taramosalata (fish roe dip), reflecting the restaurant's commitment to traditional Greek recipes. Main courses include iconic dishes like Moussaka, a baked dish made with eggplant or potato, lamb, and a creamy béchamel sauce, and Souvlaki, a popular Greek fast food consisting of small pieces of meat and sometimes vegetables grilled on a skewer.
Address: Kalkan, Süleyman Yılmaz Cd. No:9, 07580 Kaş/Antalya, Türkiye
#9. Baharat Restaurant & Bar: A Fusion of Spices and Spirits for Exquisite Dining Experience!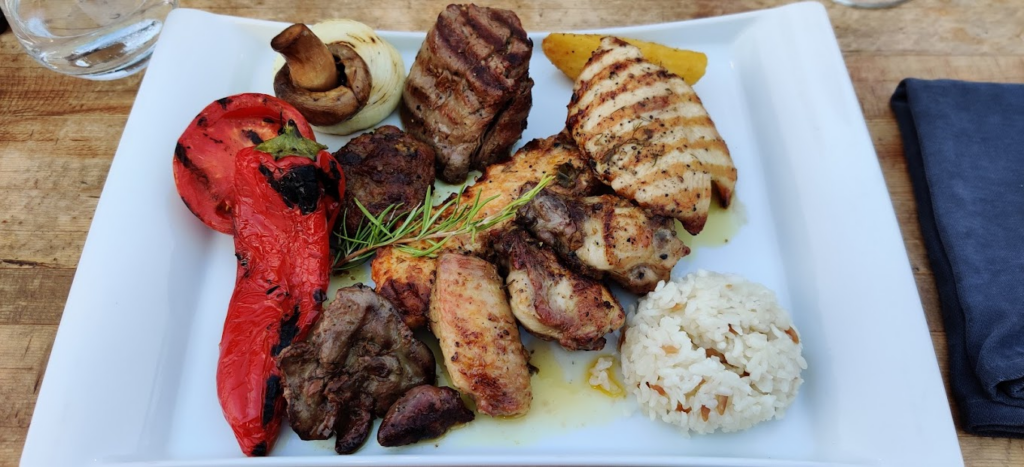 As its name suggests ("Baharat" translates to "spices" in Turkish), the restaurant specialises in serving dishes that are rich in a variety of spices, delivering a distinct gastronomical experience that is deeply rooted in Turkish and broader Mediterranean culinary traditions. The restaurant offers a variety of dishes, with a particular emphasis on meat-based meals prepared on the grill. These include traditional kebabs, lamb chops, and steaks, all carefully seasoned with spices that add a unique, flavorful touch to each dish.
The menu also provides a wide selection of vegetarian dishes and seafood meals, reflecting the versatility of Mediterranean cuisine. For instance, seafood lovers can find grilled sea bass and calamari dishes. At the same time, vegetarians might enjoy options like vegetable moussaka or Imam Bayildi, a famous Turkish dish of stuffed eggplant. Baharat Restaurant & Bar also offers a range of appetizers, or "meze", typical of Turkish dining culture.
Address: Kalkan, Hasan Altan Cd No:12, 07960 Kaş/Antalya, Türkiye
#10. KUŞHANE TENCERE YEMEKLERİ: Discover the Flavors with Your Eyes!
"Kuşhane Tencere Yemekleri" is a restaurant that offers a unique dining experience by focusing on traditional Turkish cuisine, specifically "tencere yemekleri" or "pot dishes". This restaurant is located in Turkey, allowing customers to savour age-old recipes cooked in pots, just like in Turkish homes.
The menu features a variety of slow-cooked stews, casseroles, and braises, prepared using fresh, locally-sourced ingredients. Main courses at Kuşhane Tencere Yemekleri include traditional Turkish pot meals like "Etli Taze Fasulye" (green beans with meat), "Sulu Köfte" (meatball soup), "Karnıyarık" (stuffed eggplants), and "Kuru Fasulye" (white bean stew). These dishes balance vegetables, grains, and proteins, creating healthy meals.
Address: Kalkan Mahallesi Gul Sokak No 52, Kalkan 07960 Türkiye
#11. Nova Restaurant Kalkan: Where Culinary Innovation Shines Bright!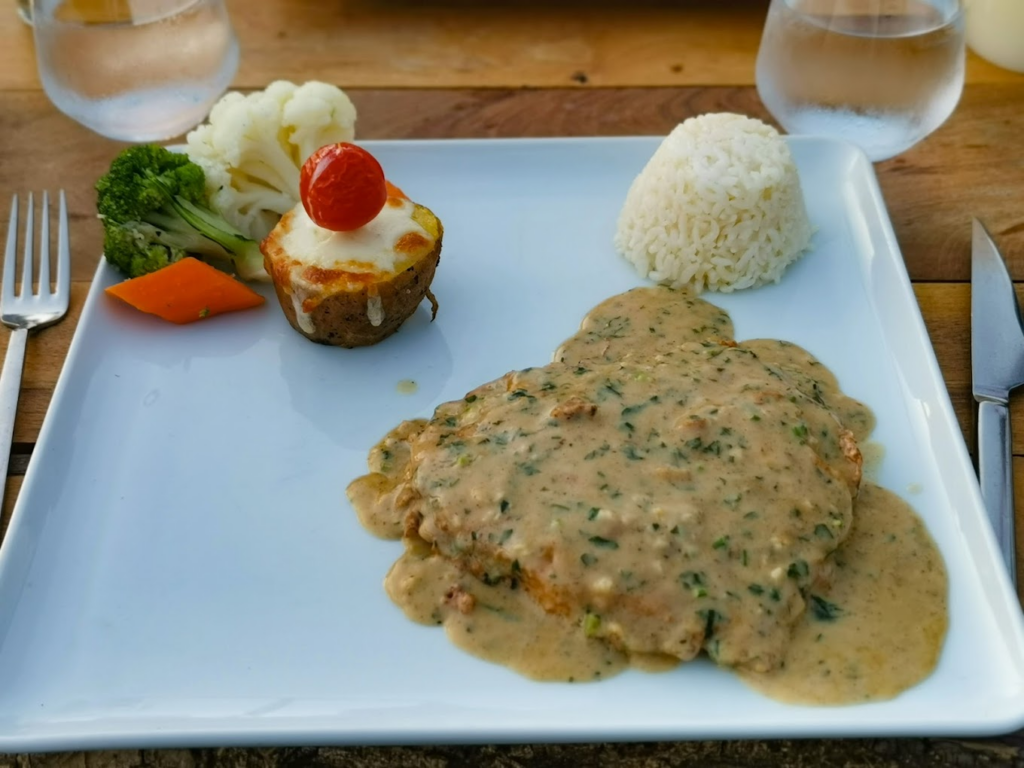 Nova Restaurant Kalkan is a contemporary dining establishment located in the scenic town of Kalkan. For starters, patrons might find options like stuffed vine leaves with a modern twist, grilled halloumi with Mediterranean herbs, or unique creations incorporating local seafood. Each starter is designed to whet the appetite while showcasing the restaurant's culinary approach.
Main courses at Nova Restaurant can range from local favourites like kebabs and 'Lokum' (a dish made from specially cooked beef), to international fare such as risottos and pasta dishes, all prepared with a unique Nova twist. Seafood, sourced from the local coast, features prominently on the menu, with dishes like grilled sea bass or calamari served with various sauces and sides that reflect Nova's fusion philosophy.
Address: Kalkan, Hasan Altan Cd No:3, 07960 Kaş/Antalya, Türkiye
#12. PALMİYE OCAKBASI KALKAN: Savor the Timeless Charms of Turkish Grilled Delights!"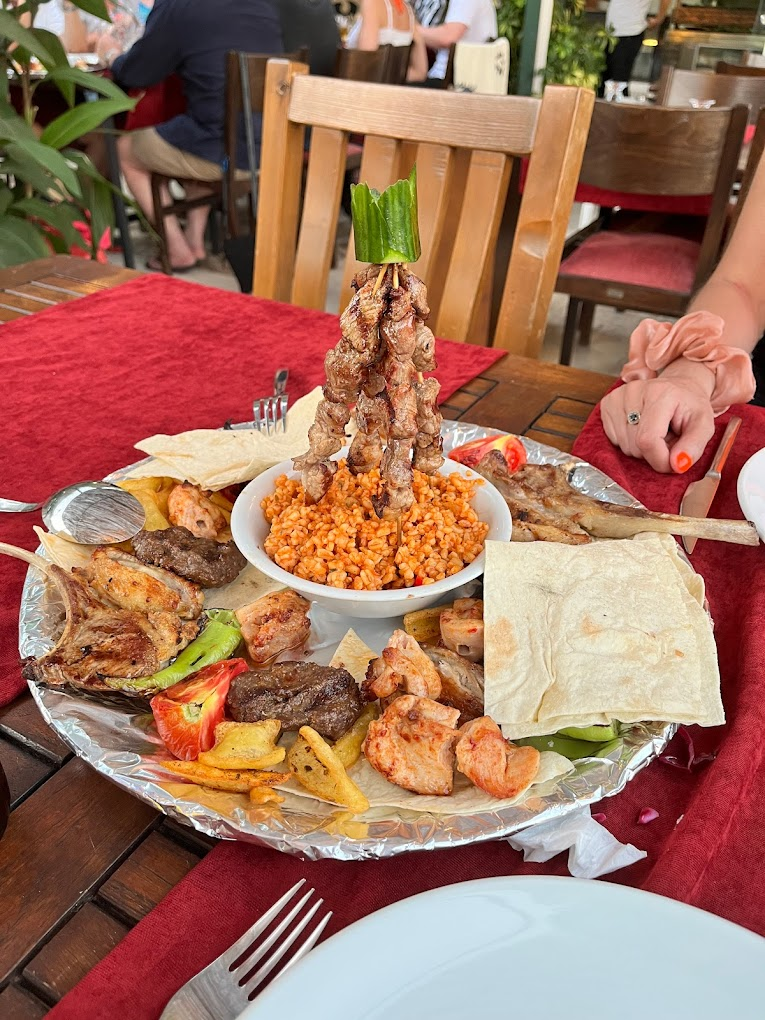 "Palmiye Ocakbaşı Kalkan" is a restaurant known for its commitment to classic Turkish grill culture. "Ocakbaşı" generally refers to eateries where the grilling is done in an open, central area, allowing guests to observe their prepared meals, often providing an interactive and immersive dining experience.
The menu at Palmiye Ocakbaşı Kalkan primarily revolves around an array of meat-based dishes, which include classics like Adana kebab, a skewer of minced meat seasoned with chilli, and Shish Kebab, featuring chunks of marinated meat grilled on skewers. The menu also showcases a selection of lamb and chicken dishes prepared in the traditional "Ocakbaşı" style.
For those preferring seafood, given its coastal location, Palmiye Ocakbaşı Kalkan serves a variety of locally-sourced fish and shellfish, often prepared on the grill for a smoky flavor. Vegetarian options are also available, with grilled vegetables and various salads providing a range of flavors and textures.
Address: Kalkan, Mustafa Kocakaya Cd. NO:2 /19, 07580 Kaş/Antalya, Türkiye
Conclusion
Kalkan truly lives up to its reputation as a culinary haven with a delightful array of restaurants that cater to every taste and preference. Whether you are a fan of traditional Turkish cuisine, fresh seafood, or international flavours, the dining scene in Kalkan offers something to please every palate. The picturesque setting of this coastal town, combined with the warm hospitality of its people, elevates the dining experience to new heights. From savouring authentic dishes at ocakbasi grills to relishing elegant meals with stunning views, each restaurant in Kalkan has a unique charm that leaves a lasting impression on visitors.