Often overlooked in favor of more tourist-driven cities, Datça's restaurant scene vividly displays Turkey's diverse gastronomy. From local meyhanes, where the day's catch is served alongside a wide variety of mezze, to elegant terrace restaurants offering panoramic views and delectable dishes, the choices are as diverse as they are delectable. The restaurants in Datça offer a gastronomical journey that introduces diners to the flavors and hospitality of Aegean Turkey. Let's discuss some options in detail! 
Best Restaurants in Datca
#1 Datça Meze Evi: Savor the Authenticity of Aegean Delights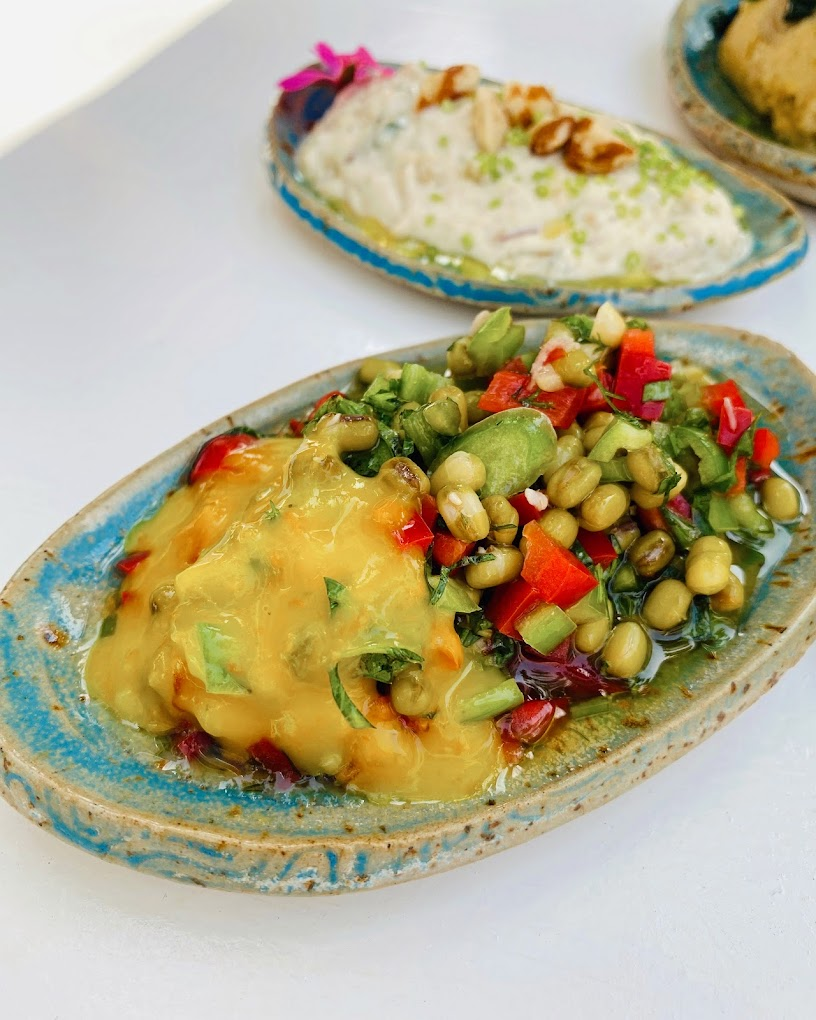 Datça Meze Evi is a restaurant located in Datça, a small town on the southwestern coast of Turkey known for its stunning natural beauty. This restaurant is particularly known for its 'meze', a selection of small dishes that can be served as an accompaniment to drinks, as a starter, or as the main meal.
It offers a wide variety of dishes, including various traditional Turkish mezes, seafood, and grilled meats. Vegetarian options are also available, reflecting the restaurant's commitment to catering to diverse dietary preferences. The ingredients are locally sourced, supporting the local farming and fishing communities and ensuring the food's freshness.
The atmosphere of Datça Meze Evi is relaxed and informal, enhanced by the decor that is simple yet charming, reminiscent of a traditional Turkish home. Regarding location, Datça Meze Evi offers a unique advantage: its proximity to the sea. Some diners even comment on the joy of watching the sunset over the water while enjoying their meal.
Address: İskele, Ambarcı Cd. 15/D, 48900 Datça/Muğla, Türkiye
#2 Meyhane Datca: Where Tradition Meets Taste in Every Dish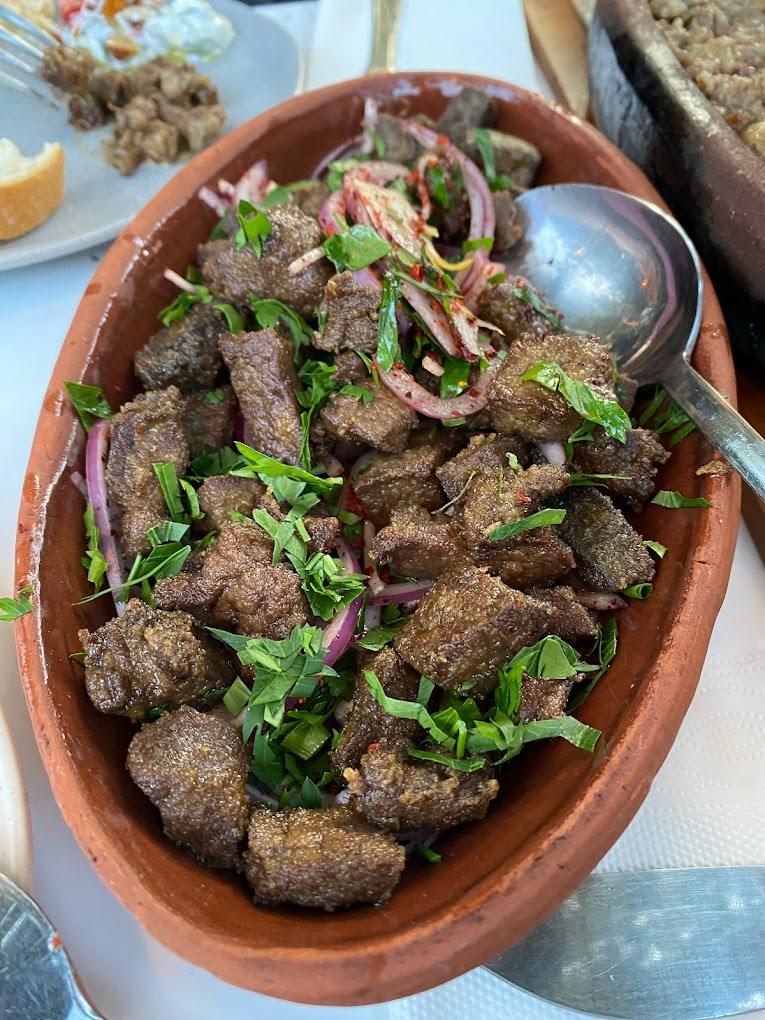 Meyhane Datca is an eatery located in Datça, a small town in southwestern Turkey renowned for its tranquil seaside atmosphere. True to its 'Meyhane' name, which refers to traditional Turkish taverns, the restaurant embraces a convivial spirit focusing on shared meals and beverages.
The menu at Meyhane Datca is diverse and regionally influenced, featuring an array of meze (small plates), seafood dishes, and other options inspired by local cuisine. The restaurant strongly emphasizes using fresh ingredients, many of which are locally sourced. The beverage list includes a range of local and imported wines, beers, and traditional drinks like raki, complementing the food offerings.
The ambiance at Meyhane Datca mirrors classic Turkish taverns—lively and relaxed, fostering a sense of community among diners. The decor is simple and traditional, adding to the overall charm of the establishment.
Address: İskele, Ambarcı Cd. No:9, 48900 Datça/Muğla, Türkiye
#3 Yeşim Teras Restoran: Dine in Elegance, Above the Ordinary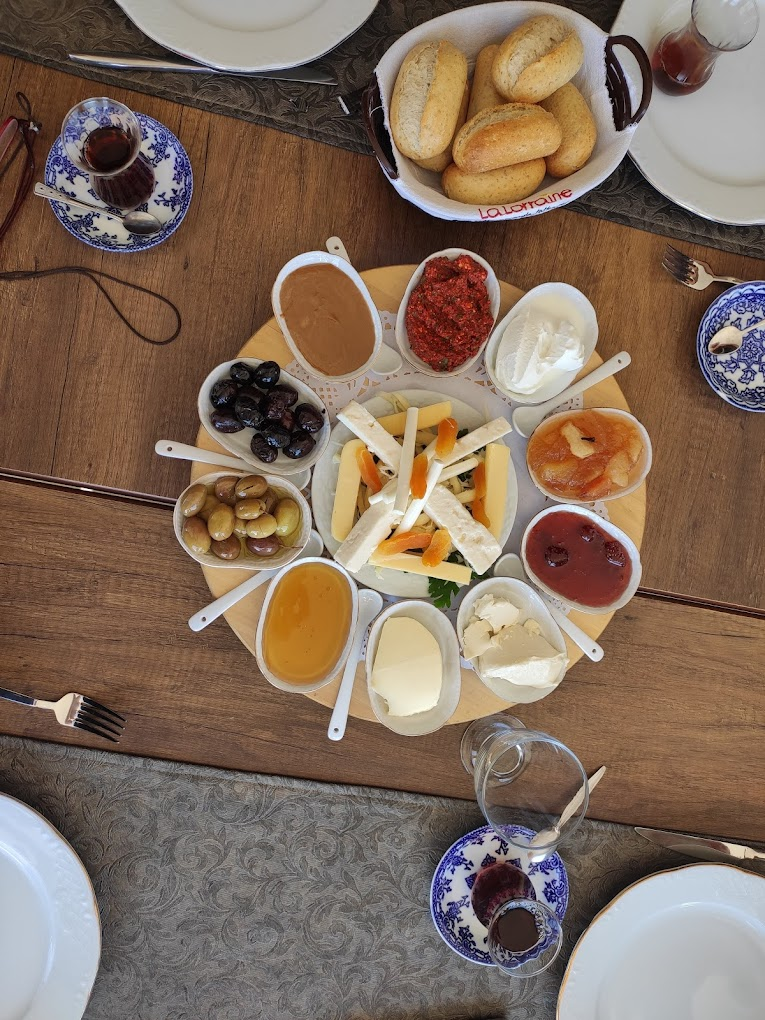 Yeşim Teras Restoran is a dining establishment that offers an extensive menu comprising a wide variety of food items. Located in an urban setting, the restaurant is known for its inviting atmosphere and aesthetically pleasing decor. It features indoor and outdoor seating, with the terrace section providing panoramic views of the surrounding cityscape.
The diversified menu offers a blend of traditional and contemporary cuisines to cater to a broad range of taste preferences. The kitchen uses fresh, locally-sourced ingredients for the preparation of their dishes. In addition to the regular menu, the restaurant also offers daily specials and a selection of desserts.
The restaurant is equipped with amenities such as Wi-Fi and parking space. It is also wheelchair-accessible, which makes it suitable for customers with mobility issues. Reservations are recommended, particularly for larger groups or during peak dining hours.
Address: Datça, 48900 Datça/Muğla, Türkiye
#4 Eski Meyhane: Where Timeless Flavors Echo Through Generations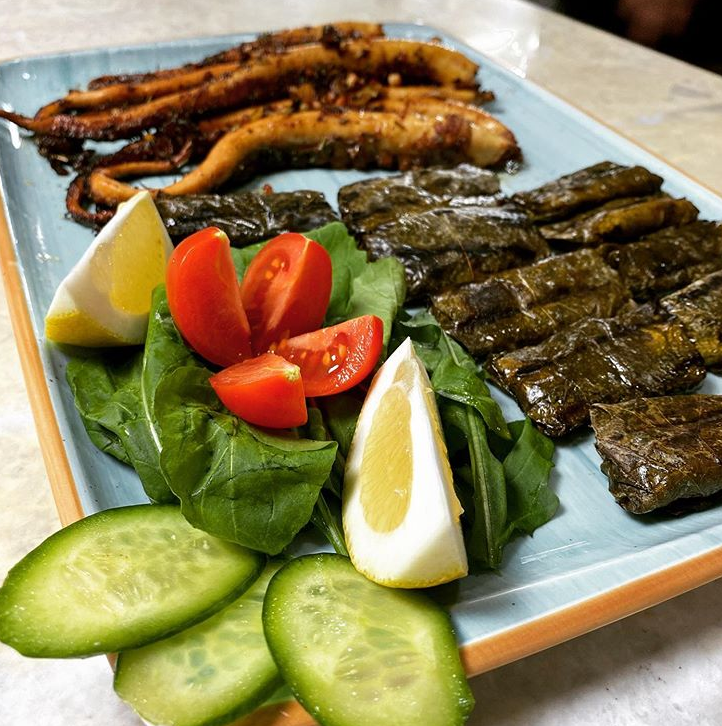 Eski Meyhane is a traditional Turkish tavern known for its warm and welcoming environment. Situated in a historic part of the city, the restaurant's architecture and decor offer a glimpse into the past, lending an old-world charm to the establishment.
The restaurant's menu primarily focuses on classic Turkish cuisine, featuring various dishes made from locally sourced, seasonal ingredients. From cold and hot meze selections to kebabs and seafood, the choices at Eski Meyhane are abundant. Traditional Turkish beverages, including raki, beers, and wines, are also part of the restaurant's offerings. It is a smoke-free establishment, aligning with health and safety regulations. The restaurant also provides facilities for customers with physical disabilities, ensuring an inclusive dining experience.
Address: İskele, 70. Sk. no:1/B, 48900 Datça/Muğla, Türkiye
#5 Nermin Teyze: Embracing Tradition with a Heartwarming Touch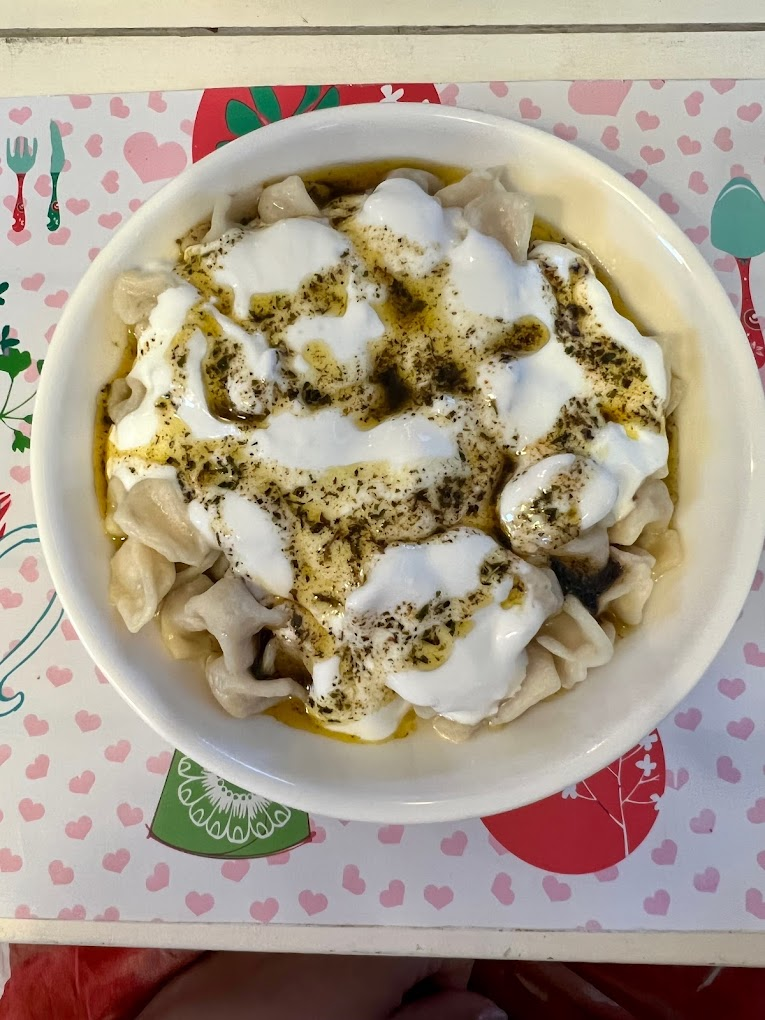 Nermin Teyze is a homestyle restaurant cherished for its authentic, homemade culinary delights. The name, translating to "Aunt Nermin," reflects the cozy, familial atmosphere of the establishment, further enhanced by its homely decor.
The menu at Nermin Teyze is varied, offering something for every palate. It is an homage to the depth and richness of Turkish cuisine, featuring hearty stews, comforting soups, oven-baked dishes, and an array of salads. Ingredients are locally-sourced, ensuring the freshness and authenticity of each dish. Alongside the savory offerings, the restaurant also provides a selection of traditional desserts, offering a sweet conclusion to the dining experience.
In addition to its regular menu, the restaurant often presents seasonal specials, showcasing the versatility of Turkish cooking with the freshest ingredients of the season.
Address: İskele, Atatürk Cd. 86/A, 48900 Datça/Muğla, Türkiye
#6 Sevinç'in Lezzet Sofrası: A Symphony of Flavors, Served with Joy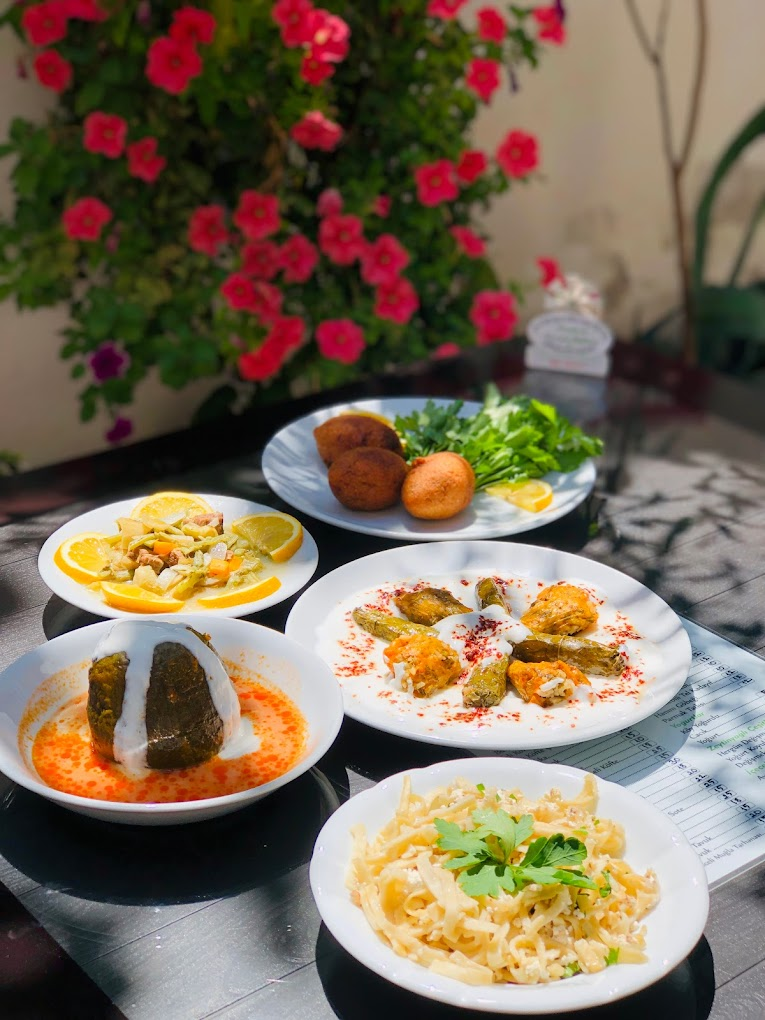 Sevinç'in Lezzet Sofrası is a dining establishment specializing in Turkish cuisine, offering a wide range of flavors and dishes. The menu encompasses various aspects of the country's culinary landscape, providing patrons with various choices for different tastes and dietary preferences.
At Sevinç'in Lezzet Sofrası, food is prepared using fresh, locally sourced ingredients, focusing on maintaining each dish's authenticity and richness. The restaurant offers an assortment of meze, grilled meat dishes, fresh seafood, and traditional stews. 
The food at Sevinç'in Lezzet Sofrası is known for its generous portions and satisfying flavors, demonstrating the restaurant's commitment to providing hearty, wholesome meals. In line with the culinary traditions of Turkey, the dishes feature a balance of spices and herbs, lending a distinct flavor profile that is both delightful and memorable. The restaurant is also mindful of dietary restrictions and preferences, offering vegetarian and gluten-free options. 
Address: İSKELE MAH. 86 SK, Atatürk Cd. No:26 Kapı No:2 AB, 48900 Datça/Muğla, Türkiye
#7 Maradona Restaurant: A Culinary Goal in Every Bite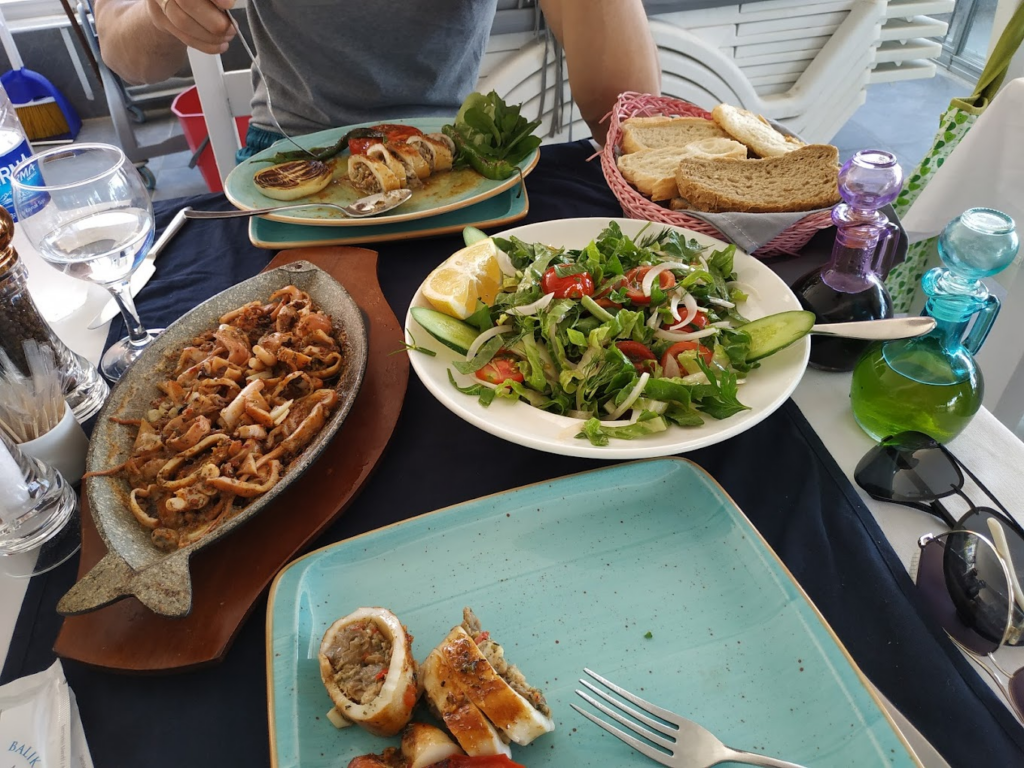 Maradona Restaurant is a distinctive dining spot known for its diverse menu that celebrates global cuisine. It provides a relaxed and casual setting where guests can savor various international flavors.
The culinary offerings at Maradona Restaurant are as varied as they are flavorful. Drawing inspiration from multiple global cuisines, the restaurant presents an eclectic mix of dishes. Whether you're craving the robust flavors of Mediterranean fare, the comfort of Italian pasta, the exotic tastes of Asian stir-fries, or the zest of Latin American cuisine, Maradona Restaurant has something to cater to every palate.
Maradona Restaurant also features a selection of drinks worldwide in line with its international theme. This includes a variety of wines, beers, and specialty cocktails, perfect for pairing with the food or enjoying on their own.
Address: İskele, Kumluk Yolu Caddesi No:30, 48900 Datça/Muğla, Türkiye
#8 Betül'ün Mutfağı: Home-Styled Delights, Crafted with Love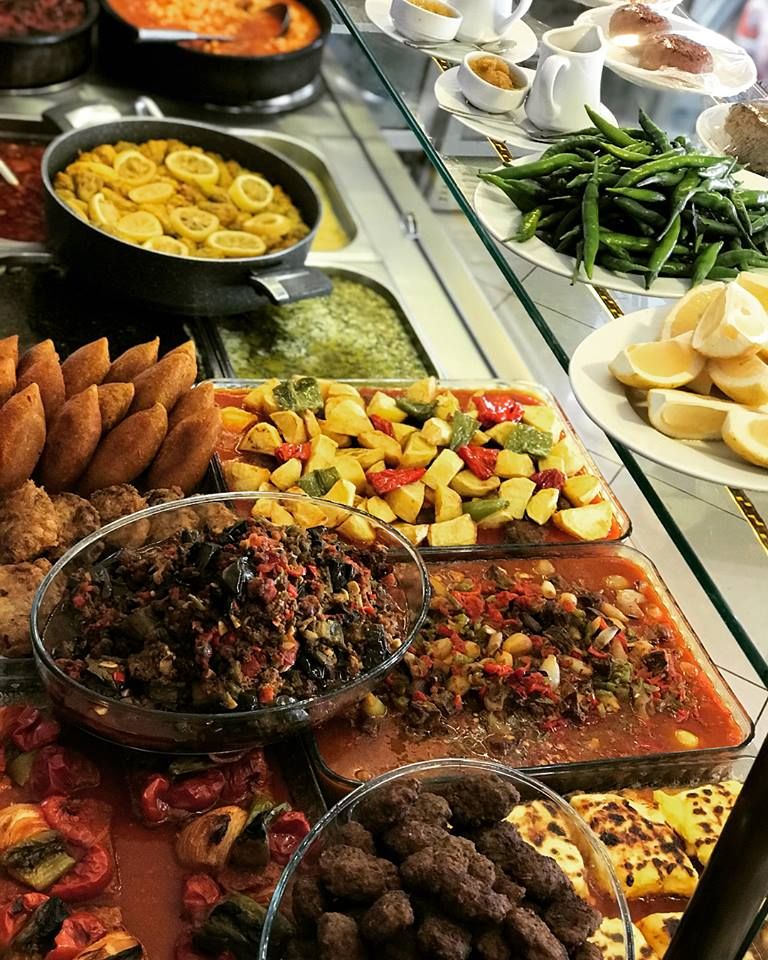 Betül'ün Mutfağı, or Betül's Kitchen, is a restaurant that truly embodies a home kitchen's charm and warmth. It stands out for its menu that brims with dishes steeped in tradition while also offering modern interpretations of classic recipes.
The heart of Betül'ün Mutfağı lies in its food, which tells a story of heritage and authenticity. The menu is a delightful mix of traditional and contemporary, featuring a range of dishes from Turkish cuisine. Whether you opt for time-honored classics or explore innovative creations, quality ingredients, and expert preparation are emphasized in every bite.
The restaurant adheres to a farm-to-table philosophy, committed to fresh, local, and seasonal produce. This respect for ingredients translates into vibrant, flavorful, and satisfying dishes. The menu also offers a selection of vegetarian and vegan options, ensuring there's something for everyone.
Address: İskele, Hasan Efendi Caddesi, Hasan Efendi Cd 4/B, 48900 Datça/Muğla, Türkiye
Conclusion
In conclusion, Datça, with its beautiful blend of historical significance, natural splendor, and vibrant culinary scene, offers a unique and enriching experience for every visitor. The restaurants in this charming peninsula serve delightful dishes and capture the essence of Datça's warm hospitality and rich cultural heritage. Whether you're a seasoned foodie or a casual traveler searching for local flavors, the diverse selection of eateries in Datça ensures a dining experience that will leave a lasting impression.