Top 3 art tours we recommend:
#1 Vivid Strokes of Istanbul: A Private Balat Walking Tour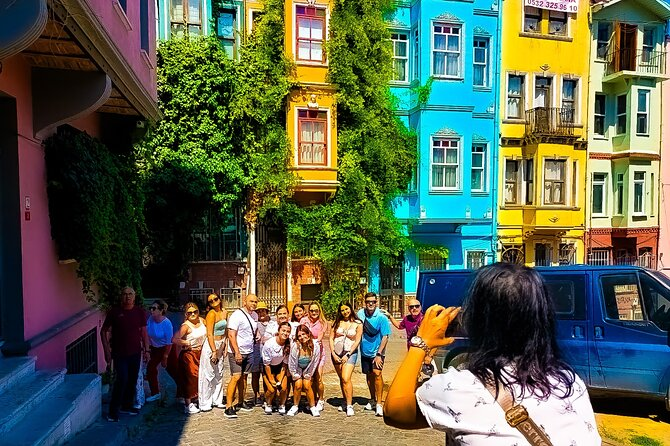 Take a private walking tour in Istanbul and find yourself diving into the vibrant Fener and Balat neighborhoods, often overlooked by the usual crowd. Stroll past the multihued buildings and quaint local shops, soaking in the intertwined Greek Orthodox, Jewish, and Muslim histories that your guide will enlighten you about. This tour is not merely a walk but a cultural treasure hunt with landmarks such as the bustling Spice Market, sacred Saint George's Church and Ecumenical Patriarchate, and the unique Saint Stephen's Orthodox Church (Bulgarian Iron Church).
Why Join This Tour?
Historical Diversity: Step into the multicultural heart of Istanbul, experiencing the Greek Orthodox, Jewish, and Muslim histories firsthand.
Unique Architecture: Be amazed by the distinctive architecture of Saint Stephen's Orthodox Church, also known as the Bulgarian Iron Church.
Vibrant Palette: Explore the colorful and often overlooked Fener and Balat neighborhoods, each telling a unique story through its vibrant buildings.
Expert Guide: Benefit from the insights of a professional guide, providing a comprehensive understanding of the area's rich history and culture.
Customizable Schedule: Enjoy the flexibility of beginning the tour at your convenience, making it the perfect fit for your vacation schedule.
Prepare to be captivated by the rich palette of experiences that these neighborhoods offer, each corner a splash of color, every building a piece of history. At the end of this tour, expect to have a deeper understanding and appreciation for Istanbul's diverse cultural fabric, enriched by its multicultural past.
#2 Elegance on the Waves: Luxury Bosphorus Dinner Cruise with Private Table & Complimentary Wi-Fi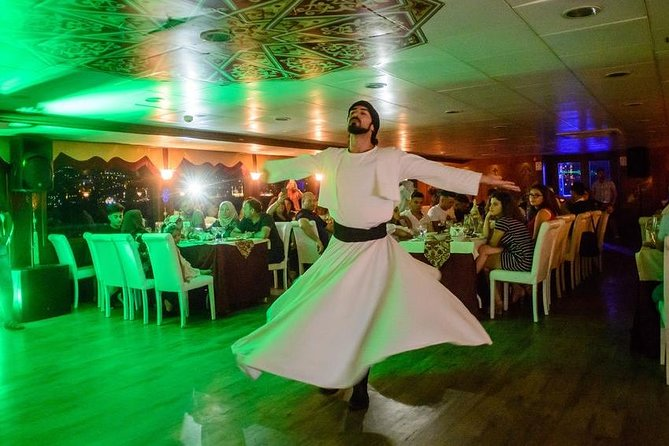 Dive into an unforgettable night, set between the borders of Europe and Asia on the Bosphorus. Savor an exquisite 3-course Turkish meze menu, harmonized with a selection of local soft drinks and alcoholic beverages, while feasting your eyes on the radiant city shoreline. As you sail under the grandeur of the Fatih Sultan Mehmed Bridge and the Bosphorus Bridge, an ensemble of traditional Turkish entertainment keeps the spirits high. This dinner cruise is not just a meal; it's a panoramic journey across two continents.
Why Join This Tour?
Gourmet Delights: Enjoy a 3-course menu of traditional Turkish meze, beautifully accompanied by unlimited local soft drinks and alcoholic beverages.
Spectacular Views: Absorb the enchanting views of the city skyline, including iconic sites like the Fatih Sultan Mehmed Bridge and the Bosphorus Bridge.
Local Entertainment: Revel in a captivating show of traditional Turkish entertainment, adding an extra sparkle to your evening.
Convenience: With included pick-up and drop-off services, your comfort and convenience are assured from start to finish.
Unlimited Wi-Fi: Stay connected with complimentary Wi-Fi throughout the cruise, ensuring you can share your unforgettable moments in real time.
This Bosphorus dinner cruise promises an elegant evening on the shimmering waves, combining gourmet delights with panoramic views and vibrant entertainment. Step aboard and prepare for a night where the flavors of Turkey come alive and the city skyline paints the perfect backdrop. This journey promises to leave you with enchanting memories of Istanbul by night, a sight that truly sparkles.
#3 Divine Dance: Witnessing the Whirling Dervishes at Hodjapasha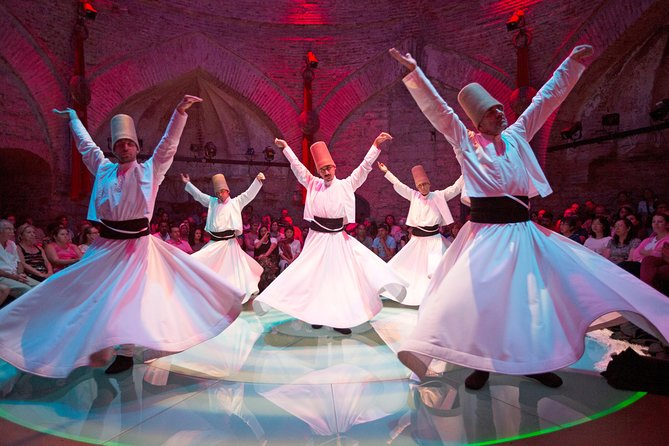 Dive deep into the mystic world of Sufism and witness the captivating Mevlevi Sema Ceremony at Istanbul's Hodjapasha. This 800-year-old tradition, listed on UNESCO's Intangible Heritage of Humanity, unfolds right before your eyes as the Whirling Dervishes perform their unique spiritual rituals. Accompanied by a live orchestra and immersive 360-video projections, this hour-long show will captivate and enlighten. The experience also includes exploring the Whirling Dervishes' museum and learning about their intriguing history.
Why Join This Tour?
Cultural Insight: Engage with Turkish culture by witnessing an authentic Mevlevi Sema Ceremony, a significant part of their heritage.
Unique Experience: Be mesmerized by the hypnotic movements of the Whirling Dervishes performing their spiritual rituals.
Enriching Knowledge: Explore the Whirling Dervishes' museum and delve into the history of this mystic practice.
Live Orchestra: Enhance your experience with the accompaniment of a live Turkish orchestra, adding depth to the ceremony.
Multilingual Booklet: Gain further insights into the ceremony with a multilingual booklet provided, enhancing your understanding.
Refreshing Beverages: Complimentary bottled water is provided to keep you refreshed throughout the experience.
The "Divine Dance" tour offers more than just a show; it's a window into the spiritual world of Sufism and a reflection of the deeply-rooted traditions that shape Turkish culture. Come prepared to be fascinated and leave with a profound appreciation for the serene beauty and discipline of the Whirling Dervishes. This journey will undeniably enrich your understanding of Turkish heritage and its timeless traditions.
#4 Marvels of Istanbul: Half-Day Morning Tour of Must-See Landmarks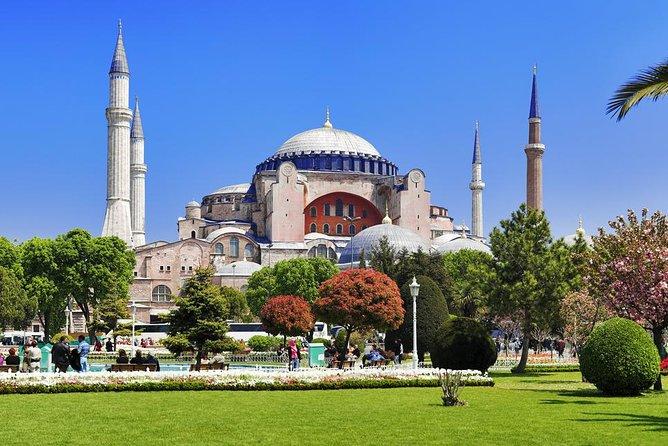 Immerse yourself in Istanbul's rich heritage with our meticulously curated half-day morning tour, "Marvels of Istanbul". This small-group guided walking tour takes you through the city's magnificent monuments, such as the sublime Hagia Sophia Museum, the resplendent Blue Mosque, the historical Hippodrome of Constantinople, and the significant German Fountain. With the group size limited to 15 people, you can enjoy a more personalized and intimate exploration of Istanbul's intertwined history.
Why Join This Tour?
Architectural Wonders: Marvel at the beauty of the Hagia Sophia Museum and Blue Mosque, testament to Istanbul's architectural prowess.
Historical Insights: Discover the intertwined histories of these significant landmarks, narrated by a professional guide.
German Connection: Understand Turkey's close ties with Germany as you explore the German Fountain.
Small Group Size: Limited to a maximum of 15 people, the tour ensures a personalized and intimate experience.
Hotel Pick-Up: Enjoy the convenience of being picked up from your hotel, ensuring a hassle-free start to your exploration.
As you navigate the city under the expert guidance of a professional guide, expect to discover Istanbul in a new light, gaining a deeper understanding and appreciation for its vibrant culture and history. This tour promises a morning well spent, leaving you with unforgettable memories and insights.
#5 Illuminated Istanbul: Bosphorus Dinner Cruise with Enthralling Turkish Night Show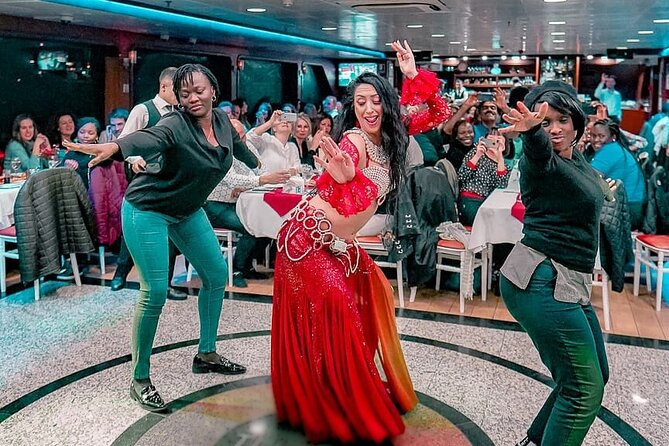 Ignite your evening in Istanbul with our 3.5-hour "Illuminated Istanbul: Bosphorus Dinner Cruise with Enthralling Turkish Night Show". Engage in an evening brimming with delectable food, fine wine, and top-notch entertainment. Feast your eyes on the scintillating views of illuminated palaces, mosques, and bridges along the Bosphorus Strait while savoring a scrumptious dinner paired with choice drinks. Get entranced by the captivating performances like Whirling Dervish, Turkish Gypsy Dance, and belly dance, to name a few.
Why Join This Tour?
Spectacular Views: Witness the radiant beauty of Istanbul's illuminated palaces, mosques, and bridges from the vantage of a Bosphorus cruise.
Gastronomic Delights: Enjoy a delectable dinner with unlimited soft drinks or alcoholic beverages, topped off with desserts like Baklava and fruit.
Live Performances: Get lost in the mesmerizing performances ranging from Whirling Dervish to belly dance, encapsulating the richness of Turkish culture.
Celebrations: If you're celebrating a special occasion or a loved one's birthday, this tour offers an exceptional opportunity to make it unforgettable.
Hotel Transfers: The tour includes convenient hotel pick-up and drop-off from centrally located hotels.
As you sail along the Bosphorus Strait, the city's glowing visage mirrored in the water and the echoes of Turkish music will create a mesmerizing atmosphere, making your evening truly unforgettable. This tour promises an unparalleled experience of Istanbul, illuminated under the night sky.
#6 Transcendent Tunes: Rhythm of the Dance Show at Hodjapasha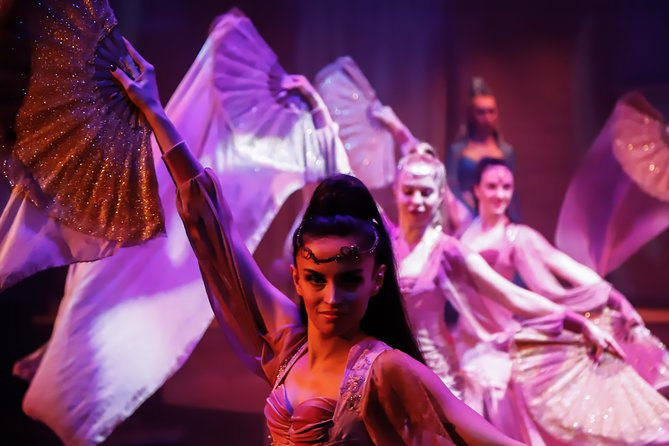 Brace yourself for a whirlwind of unending entertainment with a captivating 75-minute "Transcendent Tunes: Rhythm of the Dance Show" at the iconic Hodjapasha in Istanbul. Immerse yourself in the pulsating rhythms of Turkey as you witness the graceful movements of belly dancers, the vibrancy of folklore dances, and the brilliance of dazzling costumes, all accompanied by live music and 360-degree video projections.
Why Join This Tour?
Dance Extravaganza: Witness the enchanting belly dance performances, energetic folklore dances, and the spectacular showcase of costumes.
Live Music: The dance performances are complemented by the enticing live music that adds a layer of authenticity to your experience.
360-Degree Video Projections: Engage in a multi-dimensional experience with the 360-degree video projections that create an immersive environment.
Family Entertainment: A fun and entertaining way to spend your evening with your family, the tour is appropriate for all ages.
Refreshments: The tour includes bottled water to keep you refreshed throughout the show.
As you lose yourself in the electrifying rhythms, the mesmerizing dance movements, and the splendid costumes, you'll gain a deeper understanding of Turkey's rich cultural heritage. This unique tour promises an unforgettable evening that will leave you humming to the transcendent tunes of Istanbul long after the curtains fall.
#7 A Walk Through Time: Essential Istanbul Small Group Tour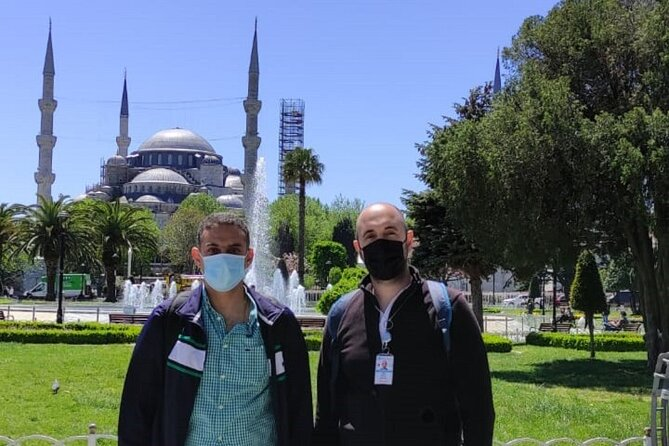 Discover the enchanting allure of Sultanahmet (the old city) on a full-day guided exploration of its top attractions. Immerse yourself in a world of UNESCO World Heritage sites and renowned monuments in Istanbul, including the breathtaking Topkapi Palace, the majestic Hagia Sophia, the elegant Blue Mosque, and the historic Hippodrome. Accompanied by your well-informed guide, stroll through the bustling Grand Bazaar, perusing the stalls of hundreds of vendors offering an array of textiles, jewelry, perfumes, spices, and more.
Why Join This Tour?
Heritage Hotspots: Unravel the history behind Istanbul's UNESCO World Heritage sites and iconic monuments, such as Topkapi Palace, Hagia Sophia, and Blue Mosque.
The Grand Bazaar: Explore one of the largest and oldest covered markets in the world, and engage in a unique shopping experience amidst an exotic array of goods.
Insightful Guidance: Benefit from the rich knowledge of your professional guide who will provide a detailed understanding of Istanbul's layered history.
Comfortable Transfers: Enjoy the convenience of hotel/port pickup and drop-off in an air-conditioned minivan.
Small Group Advantage: With a limit of 10 participants, ensure a more personalized and intimate touring experience.
Experience the magic of Istanbul's past and present on this "A Walk Through Time: Essential Istanbul" tour. As you traverse the fascinating sites of Sultanahmet and delve into the vibrancy of the Grand Bazaar, you will come to appreciate the city's deep-rooted history and cultural richness. Whether you're a history buff, a culture enthusiast, or an avid shopper, this tour promises to cater to your interests, leaving you with unforgettable memories of your Istanbul adventure.