Embark on a culinary journey across Kemer's diverse dining scene with these distinctive restaurants. From seaside delights to garden tranquility, each eatery presents a unique blend of flavors and ambiance. Indulge in seafood feasts, savor Turkish authenticity, or relish global cuisine. So, join us as we explore a selection of Kemer's finest restaurants, where gastronomy and atmosphere unite to create unforgettable dining experiences.
9 Best Restaurants With a View in Kemer in 2023 
#1 Captain Pirate Restaurant Bar: Where Flavor Sets Sail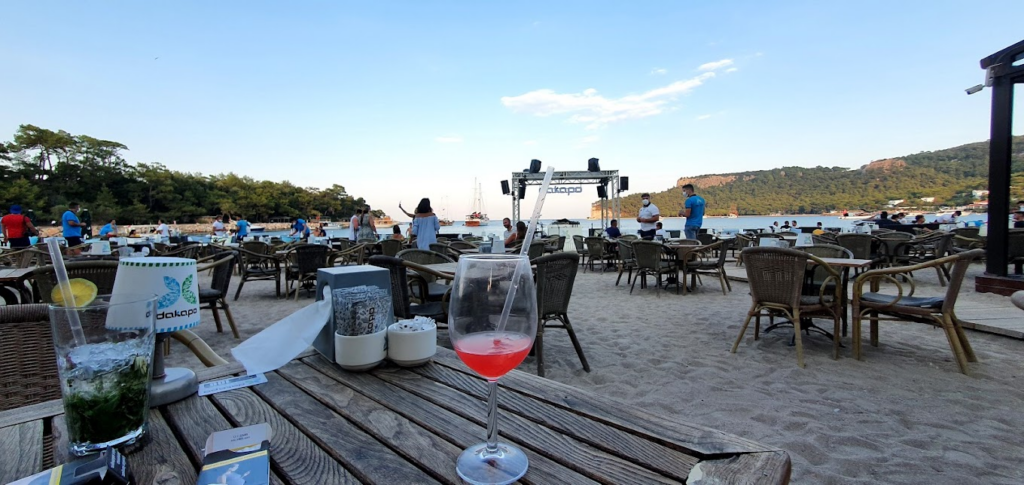 Captain Pirate Restaurant Bar offers a diverse menu of seafood, grilled dishes, and hearty pub-style fare. The restaurant's atmosphere blends nautical elements with a casual vibe. Enjoy your meal surrounded by pirate-themed decor and a view overlooking the waterfront.
Whether you're craving fresh seafood or a classic burger, there's something for everyone. The indoor and outdoor seating options provide a relaxed setting for families, friends, and couples. With its unique theme, varied menu, and scenic view, Captain Pirate Restaurant Bar is a welcoming spot for a satisfying meal in a laid-back environment.
Address: Merkez, Münir Özkul Liman Cd. No:36, 07980 Kemer/Antalya, Türkiye
#2 Merhaba Garden Restaurant: Where Culinary Delights Blossom
Merhaba Garden Restaurant offers a variety of dishes inspired by Turkish cuisine. From kebabs to mezes, their menu showcases traditional flavors. The restaurant's serene ambience is complemented by a garden setting, providing a relaxing dining experience.
With a focus on fresh ingredients and authentic flavors, Merhaba Garden Restaurant aims to offer guests a taste of Turkish culture in a welcoming environment. Whether you're enjoying a leisurely lunch or a cozy dinner, the restaurant's warm ambiance and flavorful cuisine invite you to savor a slice of Turkey in every bite.
Address: Merkez, Atatürk Cd. No: 44/A, 07980 Kemer/Antalya, Türkiye
#3 Grace Rooftop Kemer: Elevate Your Dining Experience
Nestled in Kemer, Grace Rooftop presents an array of culinary choices ranging from local delicacies to global flavors. Its rooftop vantage point offers diners a sweeping vista of the surroundings, enhancing the dining experience.
Perched within Kemer, Grace Rooftop stands out with its diverse menu encompassing local tastes and international fare. The overall atmosphere strikes a comfortable chord, making Grace Rooftop Kemer a versatile destination suited for everyday dining and noteworthy moments alike.
With a rooftop setting, the restaurant provides a panoramic view of the surroundings, creating a pleasant atmosphere for diners. The ambience is relaxed and inviting, suitable for both casual outings and special occasions.
Address: Merkez, Yalı Cd. no:2, 07990 Kemer/Antalya, Türkiye
#4 Casa La Luna: Culinary Odyssey Under the Moonlit Roof
Casa La Luna is a restaurant that offers a diverse menu of Mediterranean-inspired cuisine. At Casa La Luna, the menu is a symphony of flavors that takes inspiration from both local and international influences. From thoughtfully curated starters to enticing main courses, each dish is a testament to the restaurant's commitment to creating a dining experience that transcends expectations.
The ambiance at Casa La Luna is a fusion of rustic elegance and cozy comfort. The decor embraces a warm palette and artful details that envelop guests in an atmosphere that's both inviting and stylish. It's a space that encourages patrons to unwind and savor the moment.
Address: Merkez, Atatürk Cd. 19/a, 07980 Kemer/Antalya, Türkiye
#5 Monte Kemer Restaurant: Elevating Culinary Experiences
At Monte Kemer Restaurant, the menu is a fusion of local flavors and global inspirations, carefully crafted to tantalize the senses. From inventive appetizers to captivating main courses, each dish is a testament to the restaurant's dedication to culinary excellence.
The restaurant's ambiance seamlessly integrates with its natural setting, creating an environment that both complements and enhances the dining experience. The design elements blend contemporary aesthetics with rustic charm, inviting guests to relish their meals amidst the tranquility of the outdoors.
Address: Merkez, 125. Sk. No: 58, 07980 Kemer/Antalya, Türkiye
#6 Mouna Restaurant & Lounge: Where Flavors and Ambiance Unite
Offering a diverse menu of global cuisine, Mouna is an eatery that focus on satisfying various tastes. The restaurant features a serene and cozy atmosphere, making it suitable for both casual dining and relaxed gatherings. With a focus on quality ingredients and flavors, Mouna presents a mix of traditional and contemporary dishes.
Guests can enjoy their meals while taking in scenic views from the restaurant. The comfortable and inviting ambience enhances the dining experience, making it an ideal spot for individuals and groups looking for a tranquil yet flavorful dining destination.
Address: Merkez, 179. Sk. 3/1, 07980 Kemer/Antalya, Türkiye
#7 Pushkin Sea Food: Where Ocean Flavors Come to Life
Anchored on the shores, Pushkin Seafood Restaurant embarks on a maritime journey that celebrates the bounty of the sea. With its prime waterfront location, this establishment invites diners to set sail on a gastronomic exploration that captures the essence of the ocean. From succulent starters to show-stopping main courses, each dish pays homage to the purity and diversity of seafood.
The restaurant's ambiance evokes a maritime ambiance, seamlessly integrating elements of the sea into its design. With a nautical palette and touches reminiscent of coastal charm, guests are transported to a space that echoes the beauty of the ocean.
Address: Merkez, Yalı Cd., 07980 Kemer/Antalya, Türkiye
#8 Qualista Restaurant Marina: Exquisite Dining at Marina's Finest
ualista Restaurant Marina offers an unparalleled dining experience that celebrates the marriage of sea-inspired cuisine and waterfront luxury. The main courses at Qualista Restaurant Marina are a testament to the art of seafood preparation. Whether it's succulent grilled fish, expertly seared scallops, or elegantly presented lobster, each dish embodies a dedication to excellence and innovation.
Beyond its gastronomic delights, Qualista Restaurant Marina fosters an atmosphere of connection and celebration. With a focus on creating memorable experiences, the restaurant serves as a backdrop for shared moments and cherished gatherings.
Address: Merkez, Qualista Restaurant Marina, Yalı Cd. No 5/A, 07990 Kemer/Antalya, Türkiye
#9 Friends Restaurant: Where Good Food and Great Company Meet
Offering a diverse menu of dishes, ranging from local favorites to international cuisine, Friends Restaurant can be a great place for good company and food.
From hearty classics that evoke the comfort of home-cooked meals to innovative renditions of beloved favorites, the menu caters to diverse palates while honoring the essence of comfort.
The ambiance at Friends Restaurant mirrors the warmth of its name, creating a welcoming space that encourages laughter, storytelling, and the forging of connections. The decor strikes a balance between cozy and chic, providing an inviting backdrop for gatherings with friends and loved ones.
Address: MERKEZ M LİMAN C 28/A, 07130 Kemer/Antalya, Türkiye
Conclusion
In the heart of Kemer, these restaurants bring more than just delectable dishes; they cultivate memories. From the moonlit allure of Casa La Luna to the nautical charm of Captain Pirate, each spot has its story.
As the flavors mingle and the ambiance envelopes, one thing remains constant: the joy of sharing a meal with loved ones. Whether it's a casual outing, a cherished celebration, or an everyday indulgence, Kemer's restaurants offer a gateway to unforgettable moments.
With each bite, the flavors echo, and with each visit, the memories linger – a true testament to the union of good food and great company.