Nestled amidst Turkey's vibrant history, Selcuk offers a delightful mix of gastronomic wonders coupled with awe-inspiring views. These best restaurants in Selcuk not only bring exquisite Turkish cuisine to your plate but also present stunning panoramas. This guide will take you through these culinary havens, serving delectable dishes amidst captivating backdrops, transforming each meal into an unforgettable experience. Be ready to satisfy your taste buds while soaking up the unique charm of Selcuk through its best view-oriented eateries.
6 Best Restaurants With View In Selcuk
#1. Nur Restaurant: Elevating Tastes, Nestled in the Heart of the City."
Nur Restaurant, positioned centrally in Selcuk, is a haven for those with an appetite for local culinary treasures. On the menu, visitors can find an array of traditional dishes, including shish kebabs and other regional specialties. Notably, while the establishment serves quintessential Turkish dishes, they also provide a twist with offerings like pizza and tuna, showcasing a blend of global and local tastes. To round off the meal , guests can indulge in beverages like apple tea, coffee, or juice, which have garnered positive remarks from many who've dined here.
Perched in a location that offers a panoramic perspective, diners can gaze out at the intricate blend of Selcuk's historic architecture and its modern skyline. The restaurant is close to various prominent landmarks, the most notable of which is the Selcuk Efes Kent Bellegi-History Museum. This proximity allows patrons to easily combine a visit to the museum with a meal at the restaurant, making for a convenient and enriching day out. 
Address: Atatürk, Cengiz Topel Cd. no 9/D, 35920 Selçuk/İzmir, Türkiye
#2. Tat Cafe Restaurant: Savor the Authentic Taste of the Locale.
Positioned in Selcuk, Tat Cafe Restaurant stands as a hub of genuine local flavors.  Guests can expect to find dishes such as prawns, sea bass, and chicken curry on the menu. For those who are looking to pair their meals with beverages, the restaurant offers both beer and wine. For a non-alcoholic option, there's also the availability of great coffee.
Yet, what truly distinguishes Tat Cafe Restaurant is the immersive experience it provides. Situated strategically, the restaurant grants diners picturesque views that capture the essence of Selcuk's charm. Not too far off, one can spot remnants of historical architecture and traces of Selçuk's storied past. As visitors indulge in their meals, they can take in the sights of the bustling city streets, the timeless architectural gems, and the vibrant energy that defines the locale.
Address: Atatürk, Cengiz Topel Cd. 19 B, 35920 Selçuk/İzmir, Türkiye
#3. Yavuz's Restaurant: Where Passion for Food Comes Alive."
Within the heart of Selcuk lies Yavuz's Restaurant, The restaurant's menu includes succulent grilled meats , aromatic rice dishes and mouth watering desserts. For those who appreciate a touch of nature, Yavuz's Restaurant offers glimpses of the Yedi Uyuyanlar Mevki's natural beauty.
 The immediate vicinity of Yavuz's Restaurant includes a blend of residential buildings and local businesses, creating a balanced atmosphere. The area is known for its tree-lined streets and sidewalks, providing a pleasant setting for a leisurely stroll before or after a meal. The views from the restaurant include greenery and open spaces that provide a pleasant contrast to the urban environment. It's a place where you can enjoy a meal while catching glimpses of the surroundings, giving you a balanced experience between the city's liveliness and a serene backdrop.
Address: Atatürk Mh Atatürk Mah. Yedi Uyuyanlar Mevki, 35920, Türkiye
#4. Ejder Restaurant: A Majestic Feast for the Senses.
Ejder Restaurant  specializes in Mediterranean and Turkish cuisines. Among the notable dishes on their menu are the turkey, lamb kebabs, and grilled lamb. Guests frequently recommend trying the parfait, baklava, and ice cream for dessert.
Ejder Restaurant stands out for its combination of good food and great views. Located in a prime spot, the restaurant offers wide-ranging views of Selçuk. While dining, visitors can see nearby historical landmarks and the natural scenery that defines the Selçuk region. The surrounding area blends the buzz of city life with the calm of nature. So, a visit to Ejder Restaurant gives people both a meal and a feel for the place.
Address: Atatürk, Cengiz Topel Cd. 9 E, 35920 Selçuk/İzmir, Türkiye
#5. Villa Panorama: Where Scenic Views Meet Culinary Delights.
Villa Panorama is a restaurant situated in a location that offers expansive views of the surrounding landscape. As the name suggests, the establishment capitalizes on its panoramic vantage point, allowing diners to immerse themselves in a serene visual feast alongside their meals. The restaurant primarily serves "Mediterranean cuisine".
Directly from the restaurant, diners can observe varying landscapes, from gently rolling hills to the distant outlines of age-old structures. The area around Villa Panorama is known for its archaeological significance, with remnants and ruins from past civilizations intermittently dotting the landscape. Further enhancing the restaurant's visual offering is the natural greenery. Local flora, typical of the Mediterranean region, can be seen in the surroundings, lending a calm and refreshing vibe to the restaurant's environment.
Address: Zafer, 3046. Sk. No:15, 35920 Selçuk/İzmir, Türkiye
#6. Pervin Teyze Restaurant: Home-style Turkish Delights.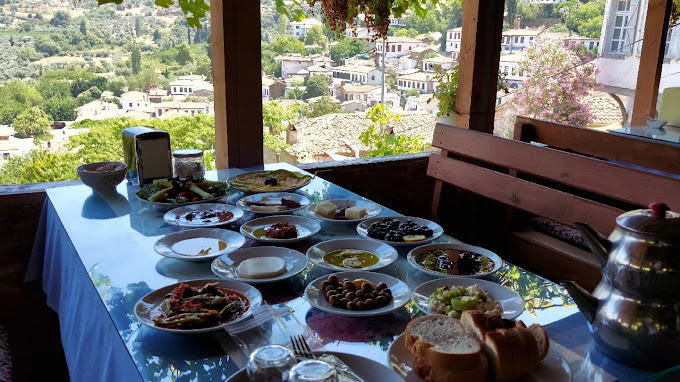 Pervin Teyze Restaurant is located in Şirince, within the Selçuk district of İzmir, Turkey. Şirince is a village known for its traditional houses and charming streets, set against the backdrop of the lush Aegean hills. Pervin Teyze Restaurant offers an authentic taste of Turkish home-style cuisine in Selcuk.  The menu features a diverse range of options, including flavorful kebabs, aromatic stews, freshly baked bread, and a selection of mezes (small appetizers). 
The restaurant boasts a scenic vantage point that overlooks the town and offers a picturesque panorama of historical landmarks such as the Ephesus Ancient City and the Temple of Artemis. The views include clusters of traditional stone houses that dot the hills. These structures, with their red-tiled roofs and whitewashed walls, often stand in contrast to the vibrant greens of the surrounding vegetation, creating a visually harmonious balance.
Address: Şirince, 35920 Selçuk/İzmir, Türkiye
Conclusion
Selcuk's unique combination of rich history, captivating landscapes, and culinary diversity makes dining in the city an experience unlike any other. The best restaurants with views in Selcuk create an enchanting atmosphere that elevates the enjoyment of traditional Turkish cuisine to new heights. Whether you're gazing upon the ancient ruins of Ephesus or the tranquil vistas of the Aegean countryside, these dining destinations provide a feast for all senses. Your journey through Selcuk's gastronomic scene is bound to be a memorable one, filled with delightful dishes and mesmerizing views.