Bodrum, a captivating coastal town in Turkey, not only boasts a rich cultural heritage but is also home to exquisite restaurants offering spectacular views. These dining venues, situated against the enchanting backdrop of the Aegean Sea and historic landmarks, serve a delightful range of Turkish and global cuisines. From romantic beachfront establishments to chic hilltop eateries, we'll guide you through an epicurean journey that promises not just tantalizing tastes, but also vistas that feast your eyes. Discover how the charm of Bodrum unfolds through its culinary scene, making each dining a feast for all the senses.
10 Best Restaurants With View In Bodrum
#1. The Garden Restaurant Bar: Where Delectable Cuisine Meets Breathtaking Views!
Located in the picturesque setting of Bodrum, The Garden Restaurant Bar offers patrons a blend of culinary delights set against an enchanting backdrop.The menu at The Garden Restaurant Bar is an ode to both local and global flavors. While many dishes pay homage to traditional Turkish cuisine with kebabs, mezes, and seafood selections sourced from the nearby Aegean Sea, there's also a touch of international flair with options like pasta, salads, and grilled specialties.
However, what sets this establishment distinctly apart is its location and the vistas it provides. Positioned strategically to overlook Bodrum's coastline, diners can feast their eyes on the sparkling waters, dotted with yachts and fishing boats, as they savor their meals. Depending on where one is seated, there's also a chance to catch a glimpse of Bodrum's historic castle, its silhouette contrasting beautifully against the setting sun.
Address: Çarşı, Cumhuriyet Cd. No:66, 48400 Bodrum/Muğla, Türkiye
#2. Churchill Bistro: A Culinary Haven for Food Enthusiasts.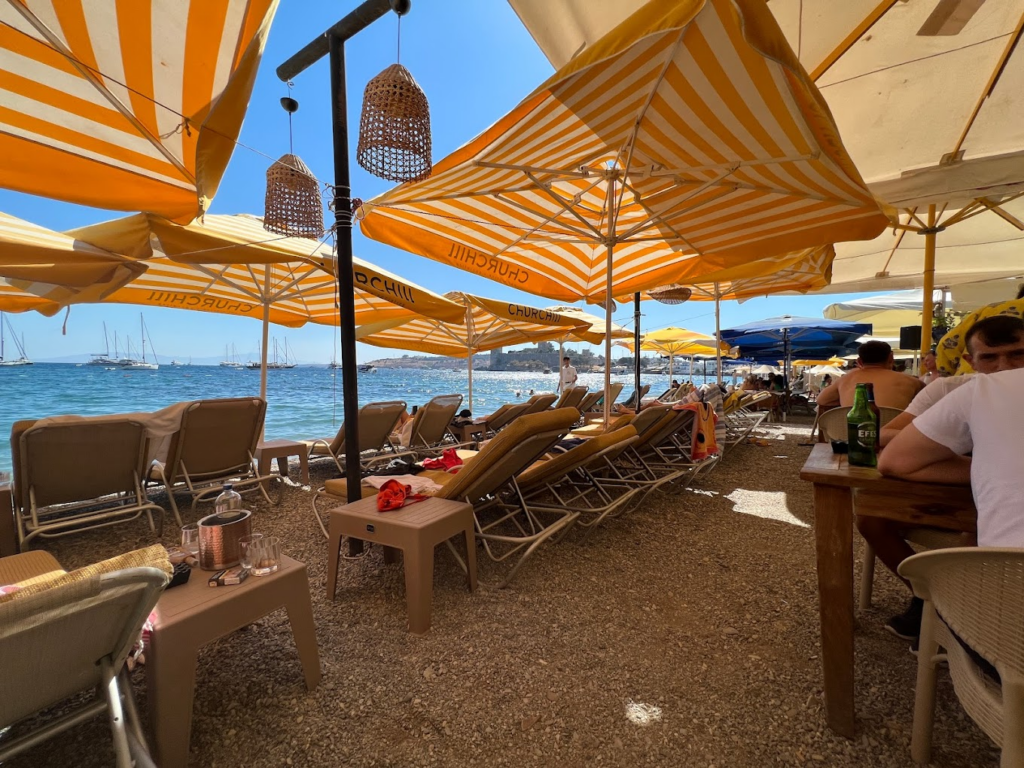 Churchill Bistro is centrally situated in Bodrum and has become a notable place to eat. Its menu balances traditional and modern dishes. They offer lamb shanks prepared until tender, risottos seasoned with local herbs, and a Bodrum-inspired seafood paella reflecting the flavors of the Aegean Sea.
Positioned to offer panoramic views of Bodrum's bustling harbor, diners are treated to the sight of boats swaying gently in the tide and the distant silhouette of the town's historic castle. As day turns to night, the shimmering city lights create a magical backdrop, enhancing the ambiance of the bistro.
Address: Kumbahçe, Cumhuriyet Cd. No:112, 48400 Bodrum/Muğla, Türkiye
#3. Mistral Bay Steak & Wine House: Savor the Taste of Excellence
Tucked away in a scenic corner of Bodrum, Mistral Bay Steak & Wine House beckons connoisseurs of fine dining. As the name suggests, this establishment has honed its expertise in two primary offerings: steak and wine. The menu is a veritable showcase of the finest cuts of meat. From the succulent Ribeye to the tender Filet Mignon, each steak is sourced from selected farms, ensuring premium quality. Complementing these hearty dishes is an expansive wine list.
Beyond its culinary offerings, Mistral Bay's location is a spectacle in itself. Perched overlooking the serene Bodrum bay, the restaurant offers majestic views of the azure waters, creating a tranquil ambiance. On a clear day, diners can gaze upon the boats dotting the horizon and watch the sun cast golden hues upon the rippling waves.
Address: Gümbet, Prime strak house, Melengeç Sk. No:16 No:16, 48400 Bodrum/Muğla, Türkiye
#4. New Season Restaurant: Embrace the Flavors of Change.
"New Season Restaurant in Bodrum stands as a testament to the ever-evolving beauty of both nature and cuisine. In spring, visitors might encounter a dish filled with fresh greens and herbs, while a winter stop could present a heartwarming stew. This flexibility ensures that each visit presents diverse and enticing options.
From its location, New Season Restaurant offers a captivating visual panorama. It overlooks the peaceful landscapes of Bodrum, with views ranging from green hills in spring to golden leaves in autumn. This shifting backdrop, paired with the variable menu, makes each visit distinct. It welcomes visitors to appreciate Bodrum's ever-changing beauty and the culinary variations each season brings.
Address: Bitez, Çökertme Cd. No:62, 48470 Bodrum/Muğla, Türkiye
#5. Bistro Marina Neyzar: A Place Where Food and Waterfront Views Dazzle.
Set against the backdrop of Bodrum's waterfront, Bistro Marina Neyzar has established itself as a preferred haunt for both discerning locals and travelers. At this restaurant, patrons can enjoy a range of authentic Turkish dishes, with notable offerings such as rack of lamb, meat kebabs, and turkey.
Positioned adjacent to the bustling marina, diners are privy to a live canvas of boats gliding by, the shimmering reflection of city lights on the water, and the rhythmic sound of waves kissing the shore. On select evenings, one might even catch the sight of local musicians serenading boat-goers, adding a melodious touch to the ambiance.
Address: Eskiçeşme, Milta marina, Neyzen Tevfik Cd. No:5, 48400 Bodrum/Muğla, Türkiye
#6. Annalivia Restaurant Gumbet: Where Taste and Tradition Blend
Annalivia Restaurant is situated in Gumbet and offers a diverse menu featuring dishes like peppercorn steaks, Mexican chicken, and turkey. For those with a sweet tooth, the restaurant presents an array of desserts including apple pie, lemon cheesecakes, and chocolate soufflés. Apart from its culinary offerings, Annalivia is also known for its drink selections. Guests can enjoy beverages ranging from rosé wine and strawberry daiquiri to house wine. For a milder option, the restaurant also serves a commendable coffee.
The locale of Annalivia further enhances its appeal. Gumbet, known for its sandy beaches and sparkling waters, offers a serene setting for the restaurant. While dining, patrons can enjoy views of the calm Gumbet bay, with its boats anchored peacefully, and the distant hum of the town's lively streets. The traditional architecture of the restaurant, juxtaposed with the modern interiors, echoes the theme of blending old and new.
Address: Gümbet, Şakir Esendemir Sk. No:6/B, 48409 Bodrum/Muğla, Türkiye
#7. Orfoz Restaurant Bodrum: "Bodrum's Oceanic Delight."
Perched along the shores of Bodrum, Orfoz Restaurant is an ode to the bounties of the sea, making it a must-visit for seafood aficionados. Orfoz's offerings revolve around the freshest catches of the day, From the delicate flavors of sea bass and grouper to the rich textures of octopus and calamari.
The ambiance at Orfoz is as refreshing as its menu. With a vantage point overlooking the azure waters of Bodrum Bay, diners are treated to the rhythmic dance of waves and the occasional sight of fishermen bringing in their daily haul. The interior of the restaurant reflects a nautical theme, with hints of blue and wooden accents, harmonizing the dining space with its marine surroundings.
Address: Kumbahçe, Zeki Müren Cd. No: 13/1, 48400 Bodrum/Muğla, Türkiye
#8. Bodrum Körfez Restaurant: Where Panoramic Views Meet Exquisite Cuisine.
Bodrum Körfez Restaurant is near Port Bodrum Yalikavak, a convenient spot for those who've been around the port. This place specializes in Turkish food. Guests can enjoy dishes such as zeama, sea bass, and grilled octopus. The dessert che is particularly popular among visitors. Additionally, the restaurant serves beverages like wine, rakia, and beer.
Elevated in a way to provide a panoramic view of the Bodrum bay, diners are treated to a mesmerizing tableau of blue waters, white yachts, and the sprawling coastline dotted with quaint architecture. As the sun sets, the restaurant becomes a vantage point for one of the most breathtaking sunsets, casting golden hues over the horizon and reflecting off the shimmering waters below.
Address: Çarşı, Neyzen Tevfik Cd. No:2, 48400 Bodrum/Muğla, Türkiye
#9. Folie Restaurant & Sea: Where Gastronomy Meets the Seascape.
Folie Restaurant & Sea in Bodrum provides a setting where tempting dishes are on par with the captivating sea views. Fresh seafood, a major highlight, is meticulously prepared, emphasizing its natural essence, be it straightforward grilled fish or a detailed seafood mix. Beyond seafood, the menu extends to diverse choices, from juicy meats to crisp salads. For those visiting Bodrum and seeking a union of delightful food and scenic beauty, Folie Restaurant & Sea stands out as a notable option.
Situated right at the edge where land meets the sea, diners can almost feel the gentle splash of waves, hear the distant calls of seabirds, and revel in the endless expanse of the blue horizon. The restaurant design, with its open terraces and large windows, ensures an uninterrupted view, making the seascape an integral part of the dining ambiance.
Address: Eskiçeşme, Değirmenler Mevkii, HAREMTAN COVE, Haremtan Sk., 48400 Bodrum/Muğla, Türkiye
#10. Kafedaki: A Cozy Hideaway for Coffee Enthusiasts
Kafedaki, named after the Greek term for "little coffee cup," is a café that gives special attention to the process of making coffee. They offer a range of coffee types, from traditional Turkish coffee with its rich aroma to modern lattes suited for contemporary tastes. Besides coffee, the cafe serves a selection of pastries and snacks, ensuring both hunger and the need for a caffeine fix are met. For those who appreciate a good coffee and a bite to eat, Kafedaki offers a welcoming space.
Positioned strategically, the cafe offers panoramic views of Bodrum's iconic coastline. As you sip your drink, you're greeted with the sight of azure waters, boats gracefully floating by, and the distant silhouette of Bodrum's historic landmarks. The cafe itself, with its ample outdoor seating and strategically placed windows, ensures that visitors get an immersive experience, merging the coziness of the interiors with the expansive beauty of the outside world.
Address: Cumhuriyet, Alarga Sk. No:4/1, 48440 Bodrum/Muğla, Türkiye
Conclusion
Bodrum's top restaurants offer a unique blend of delicious dishes paired with stunning views of the seafront and skyline. These eateries masterfully combine the scenic beauty of Bodrum with a variety of tasty meals, presenting both a visual and flavorful feast. Whether you're a passionate food lover or just looking for an exceptional place to eat, the restaurants in Bodrum with vistas are a must-visit. Dive into the rich mix of culture, food, and landscapes during your stay in this charming coastal town of Turkey. Indeed, the food offerings of Bodrum are as appealing as its scenic surroundings, showcasing the town's magnetic charm.